Mixes
Piknic Podcast - Nina Kraviz - MAY 27th by Piknic / Igloofest.
R_co's sounds. UGroove's sounds. Adriatique's sounds. Mixtapes | Music is 4 lovers. Lovecast 043 & Interview with Jade Jade is an artist who has had the rare opportunity to be mentored by some of her biggest musical inspirations – a product of her environment in every sense, she has already found her place amongst some of today's most influential electronic music producers.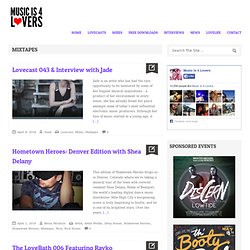 Although her love of music started at a young age, it [...] April 8, 2014SandLovecast, Mixes, Mixtapes Hometown Heroes: Denver Edition with Shea Delany. [New Mix] UGTV021 | My Favorite Robot: Crossing Wires | Music is 4 lovers.
---