Midialivre
Identity Ecosystem? Inside Uncle Sam's "trusted identity" plan. As we reported, on Friday the United States Department of Commerce and a host of privacy and security experts met at Stanford University to discuss the mapping out of an "Identity Ecosystem" for cyberspace.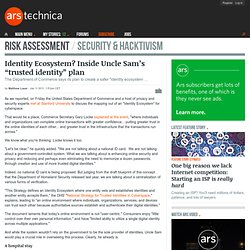 That would be a place, Commerce Secretary Gary Locke explained at the event, "where individuals and organizations can complete online transactions with greater confidence... putting greater trust in the online identities of each other... and greater trust in the infrastructure that the transactions run across. " We know what you're thinking. Locke knows it too. "Let's be clear," he quickly added. "We are not talking about a national ID card. Encontro com blogueiros no Palácio do Planalto.
O Hackday no Fórum de Cultura Digital. Ter, 23/11/2010 - 15:48 Atualizado em 03/02/2013 - 13:27 Por foo Nassif,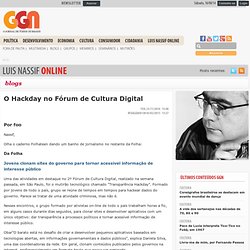 Cambaleanteglobo. Denuncian manipulación mediática en Brasil para desprestigiar a Dilma Rousseff. La presidenta electa de Brasil, Dilma Rousseff, se ha ganado de enemigas a las pocas familias que controlan el poder mediático por su empeño en democratizar a la prensa, denunció este jueves la socióloga brasileña Julia Mariano.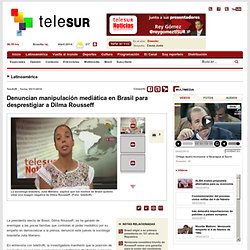 En entrevista con teleSUR, la investigadora manifestó que la posición de los medios en ese país suramericano es "utilizar la libertad de expresión como una carta blanca donde usan la bandera histórica de los comunicadores sociales para expresar lo que les da la gana". Explicó que la maquinaria mediática brasileña intenta, a través de campañas de desprestigio, socavar la gobernabilidad del Partido de los Trabajadores (PT) y el liderazgo de Rousseff.
"Quieren crear tensión, echar para atrás la gobernabilidad del Partido de Trabajadores (PT), para que parezca que Dilma (Rousseff) no está preparada para el Gobierno (...) buscan tener poderío económico a costa de lo que es el bienestar del pueblo", denunció.
---