Content
Ian Mitchell Twitter | Ian Mitchell Trending
Is the 1,9,90 Rule Outdated?
The BBC have just released some interesting research around participation online. The findings (the result of a "large-scale, long-term investigation into how the UK online population participates using digital media today") have raised a little controversy since they seem to indicate that the long-term model or view of participation online, the 1,9,90 rule , is outmoded. The so-called 1% Rule has been around (as far as I can work out) since 2006 when it was mentioned in a blog post by Ben McConnell of the Church Of The Customer blog who talked about how "small groups of people often turn out to be the principal value creators of a democratized community".
Erin Kissane gives a fascinating presentation of her thoughts on some of the missteps made so far by some brands, and suggests 3 qualities to strive for when creating content frameworks. She suggests that these provide a context for the usual references of UX and IA people, and those us marketing folk (useful, relevant, entertaining etc).
The Future of Content? | mitchado about much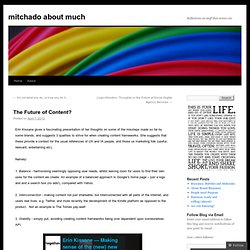 Q&A: Steffan Aquarone on online video best practice
in Share 6 in Share We caught up with the report's author, , to find out more about how the world of online video has changed since the last version of the guide, and what the future holds for this rapidly moving space.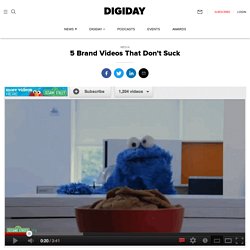 Twice a week this month, Digiday will examine ways of "Improving Web Video." We'll cover both challenges and opportunities in online video and highlight brands and publishers getting it right. The series is made possible through the sponsorship of Vizu .
5 Brand Videos That Don't Suck