Content Marketing
Content Marketing vs. Traditional Advertising [Infographic] We've posted a new infographic to our B2B Marketing blog that shows how content marketing is competing with traditional advertising these days — the advantages to content marketing, which types of companies are using it and how much they're spending on it, which tactics are the most popular, and which key challenges content marketers are facing now.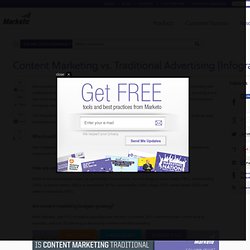 The infographic encompasses a variety of statistics and other information on how content marketing is being used, answering such questions as: Why should companies use content marketing? Future-Ready Content. The future is flexible, and we're bending with it.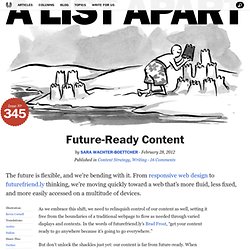 From responsive web design to futurefriend.ly thinking, we're moving quickly toward a web that's more fluid, less fixed, and more easily accessed on a multitude of devices. As we embrace this shift, we need to relinquish control of our content as well, setting it free from the boundaries of a traditional webpage to flow as needed through varied displays and contexts. In the words of futurefriend.ly's Brad Frost, "get your content ready to go anywhere because it's going to go everywhere."
Report: Content and the New Marketing Equation. Rebecca Lieb, my colleague at Altimeter Group released a new report, "Content: The New Marketing Equation Why Organizations Must Rebalance."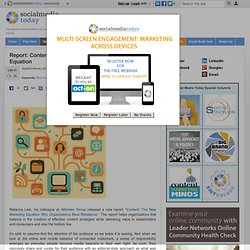 The report helps organizations find balance in the creation of effective content strategies while delivering value to stakeholders and consumers and also the bottom line. It's safe to assume that the attention of the audience as we knew it is waning. And when we look at the online and mobile behavior of connected customers, a sense of responsibility emerges as everyday people become media beacons in their own right. As such, they rigorously share and curate for their audience with an editorial-style approach as what was once a static audience is now an audience with an audience of audiences. Content Marketing Plan Development: Bricks vs. Feathers | Convince & Convert | Blogging and Content Creation.
Favorite Content Marketing Lessons 2011.
---