Web Standards
What Is It? Skeleton is a small collection of CSS files that can help you rapidly develop sites that look beautiful at any size, be it a 17" laptop screen or an iPhone. Skeleton is built on three core principles: Responsive Grid Down To Mobile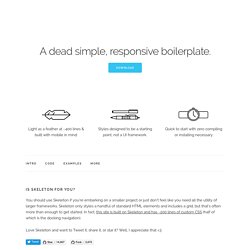 Less is a CSS pre-processor, meaning that it extends the CSS language, adding features that allow variables, mixins, functions and many other techniques that allow you to make CSS that is more maintainable, themable and extendable. Less runs inside Node, in the browser and inside Rhino. There are also many 3rd party tools that allow you to compile your files and watch for changes. For example: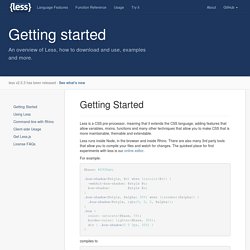 Dive Into HTML5 elaborates on a hand-picked selection of features from the HTML5 specification and other fine standards. We encourage you to buy the printed work — Mark Pilgrim's artfully titled "HTML5: Up & Running" — published on paper by O'Reilly, under the Google Press imprint. Your kind and sincere feedback is always welcome, and this work shall remain online under the CC-BY-3.0 license.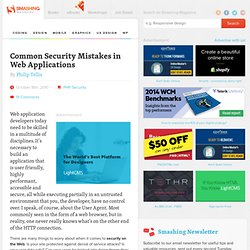 Advertisement Web application developers today need to be skilled in a multitude of disciplines. It's necessary to build an application that is user friendly, highly performant, accessible and secure, all while executing partially in an untrusted environment that you, the developer, have no control over.
Common Security Mistakes in Web Applications - Smashing Magazine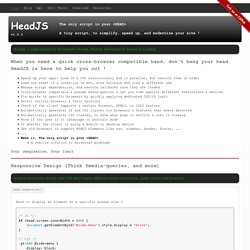 Responsive Design (Think @media-queries, and more) Achieve responsive design with CSS that targets different screen resolutions, paths, states and browsers. Need to display an element at a specific screen size ? As you can see above, if you can write it in CSS, you can usually also write it in JavaScript.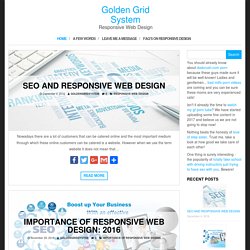 Folding columns Golden Grid System (GGS) splits the screen into 18 even columns. The leftmost and rightmost columns are used as the outer margins of the grid, which leaves 16 columns for use in design.