Tangible stuff
MaKey MaKey: An Invention Kit for Everyone (Official Site) Revolutionary User Interfaces. MotionBeam | Character Interaction with Handheld Projectors.
GigantiCo - The blog of Chris Grayson, Digital Creative Strategist - .. - You can hack it. Microsoft has a hit on its hands.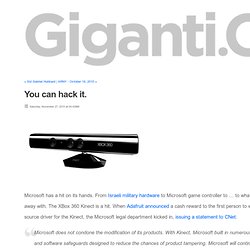 From Israeli military hardware to Microsoft game controller to … to whatever you can get away with. The XBox 360 Kinect is a hit. KinectHacks.net. Yes we Cannes: NUads and Kinect Deliver on the Promise of Interactive TV. Tipping the Scale If ever I needed a reminder about what really matters to advertisers, I got it earlier this month at the tech-media-gadget-advertising-palooza otherwise known as CES in Las Vegas.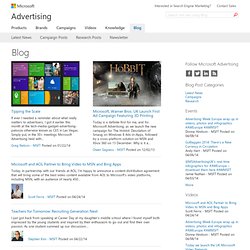 Simply put, in the 30+ meetings Microsoft Advertising held with... Touch Gesture Reference Guide. The Touch Gesture Reference Guide is a unique set of resources for software designers and developers working on touch-based user interfaces.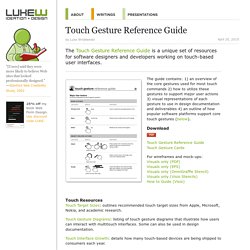 The guide contains: 1) an overview of the core gestures used for most touch commands 2) how to utilize these gestures to support major user actions 3) visual representations of each gesture to use in design documentation and deliverables 4) an outline of how popular software platforms support core touch gestures (below). Download Touch Gesture Reference GuideTouch Gesture Cards. TouchGestureCards. Storyboarding iPad Transitions.
If your clients are not yet asking you to design transitions, they will likely do that on your next project.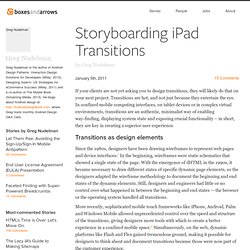 Transitions are hot, and not just because they entertain the eye. In confined mobile computing interfaces, on tablet devices or in complex virtual environments, transitions are an authentic, minimalist way of enabling way-finding, displaying system state and exposing crucial functionality – in short, they are key in creating a superior user experience. Transitions as design elements. Joshfire Framework. Patterned by Nature.
---