Tangible stuff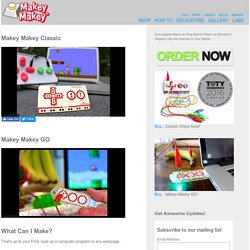 What Can I Make? That's up to you! First, load up a computer program or any webpage. Let's say you load up a piano. Then, instead of using the computer keyboard buttons to play the piano, you can hook up the MaKey MaKey to something fun, like bananas, and the bananas become your piano keys Or let's say you Google for an online Pacman game and draw a joystick with a pencil:
Mobile projectors are small projectors that can be embedded in handheld computing devices such as smartphones and tablets. Market research predicts that as many as 39 million devices with embedded projectors will be on the market by 2014. Developing new interfaces for mobile projectors opens up a range of possibilities for interactive experiences in both work and play. MotionBeam The MotionBeam project explores the use of mobile projectors to interact and control projected characters.
MotionBeam | Character Interaction with Handheld Projectors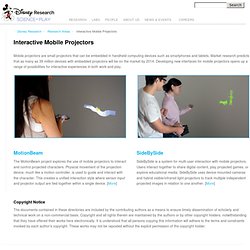 Microsoft has a hit on its hands. From Israeli military hardware to Microsoft game controller to … to whatever you can get away with. The XBox 360 Kinect is a hit.
GigantiCo - The blog of Chris Grayson, Digital Creative Strategist - .. - You can hack it.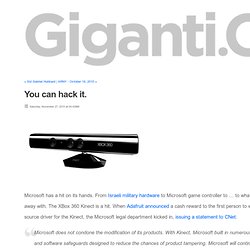 Today at the Cannes International Advertising Festival, I will be lucky to take part in a seminal moment in the advertising and television industry: the introduction of NUads, which transforms traditional, linear TV advertising into an interactive experience by using the voice-and gesture-control of Kinect for Xbox 360. Typically when I talk about new technologies, I try to avoid hyperbole. But in this case of NUads and Kinect, I'm here to say that it will change television as we know it—forever. I say this because NUads--specifically the Kinect voice and gesture technology that enables them--finally unties the Gordian knot of interactive television, and by extension, interactive advertising. I'll dive into the specifics of how NUads does this a bit later. But first, to grasp how far this platform advances interactive TV , I'll reference three key milestones in the evolution of screen interactivity.
Yes we Cannes: NUads and Kinect Deliver on the Promise of Interactive TV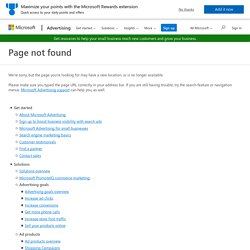 The Touch Gesture Reference Guide is a unique set of resources for software designers and developers working on touch-based user interfaces. The guide contains: 1) an overview of the core gestures used for most touch commands 2) how to utilize these gestures to support major user actions 3) visual representations of each gesture to use in design documentation and deliverables 4) an outline of how popular software platforms support core touch gestures (below). Download Touch Gesture Reference Guide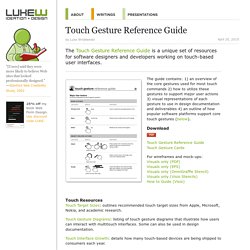 TouchGestureCards
Storyboarding iPad Transitions
If your clients are not yet asking you to design transitions, they will likely do that on your next project. Transitions are hot, and not just because they entertain the eye. In confined mobile computing interfaces, on tablet devices or in complex virtual environments, transitions are an authentic, minimalist way of enabling way-finding, displaying system state and exposing crucial functionality – in short, they are key in creating a superior user experience. Transitions as design elements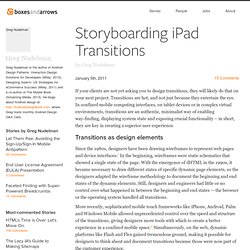 The first open source multi-device development framework. Using only standards like HTML5 and JavaScript, it allows developers and integrators to quickly create native and dedicated web apps for browsers, Node.JS, desktops, smart phones, smartTVs and connected objects. Multi-device Whatever the device you try to reach, the Joshfire framework helps you develop one unique application and make it automatically compatible with mobiles, tablets, TVs, and even connected objects.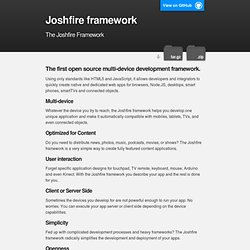 Patterned by Nature on Vimeo