Snacks
Get flash to fully experience Pearltrees
When your blood sugar plummets and a fresh apple is nowhere in sight, that smashed energy bar at the bottom of your bag is a godsend.
On Fridays, I teach cooking classes to two kids in our neighborhood.
Every Fall we make caramel popcorn, it is a tradition in our house. Over the weekend we were hanging out at home with the baby and watching football. I thought it was the perfect day to bust out a batch of caramel corn, so I asked Josh if he could watch the baby while I went to work.
I have no clue where I originally saw this idea years ago–but in today's blogging world, apple nachos have become just about as ubiquitous as raw ballz… But, there may still be a few folks remaining who aren't tuned into all the apple nacho hoopla .
These cheese biscuits from Garrett are the best, enjoy! ~Elise
Hot, cheesy, spinach dip, perfect with crackers or baked chips.
Bite Sized Greek Salad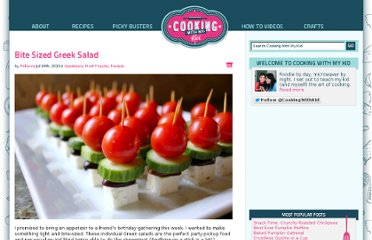 Okay, I've got a confession to make. I don't really celebrate Easter.
All the flavor of buffalo wings without messy hands!
Upward and Onward Growing Morning Glory
I love muffins. I love them even more than cupcakes.
There are plenty of reasons to make your own protein bars.