Candy
Chocolate Chip Cookie Dough Truffles | annie's cooking lab. Last weekend a friend I decided to neglect our school work and go for a hike in the snow followed by dinner and a movie at my house.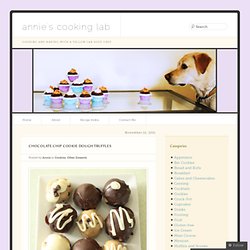 I had all the ingredients on hand for some tasty Corn and Cheese Chowder which was perfect way to warm up after a cold hike. My friend said she'd be in charge of bringing ingredients for us to make dessert and I was so excited to see that she'd picked out these truffles! Eating the cookie dough is usually one of the best parts of making cookies, but then you feel bad because you're supposed to be making cookies- not snacking on the dough!
These cute little truffles taste just like cookie dough and since they don't have any eggs, they're totally safe to eat. These can be decorated in all sorts of creative ways and they'll look like a suitable 'grown up' dessert, even though you're eating cookie dough! Une Gamine dans la Cuisine: Homemade Butterfingers. Is it wrong to be semi-addicited to candy corn?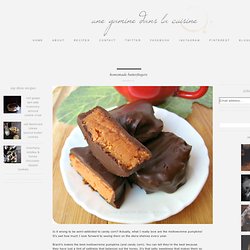 Actually, what I really love are the mellowcreme pumpkins! It's sad how much I look forward to seeing them on the store-shelves every year. Brach's makes the best mellowcreme pumpkins (and candy corn). You can tell they're the best because they have just a hint of saltiness that balances out the honey. Chocolate Chip Cookie Dough Bark. Cookie dough in a bark.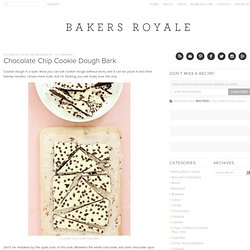 Now you can eat cookie dough without worry and it can be yours in less than twenty minutes. I know more bark, but I'm thinking you will really love this one. Chocolate Chip Cookie Dough Bark Don't be mistaken by the quiet look of this bark. Between the white chocolate and dark chocolate layer you will find a surprising crispy crunch of cocoa pebbles for added texture and flavor. Vanilla Bean Marshmallows [Week 5 of 12 Weeks of Christmas] Cookie dough truffles « Oh baby.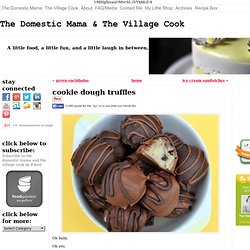 Oh yes. You can have your dough and eat it too. No raw eggs here. WOOOOOO~HOOOOO! (spell-check hates it when I put my words in there) Mexican Dark Chocolate Fondue. © Jaymi HeimbuchPhotos by Jaymi Heimbuch This recipe was inspired by one of my favorite coffee drinks: the Mexican mocha.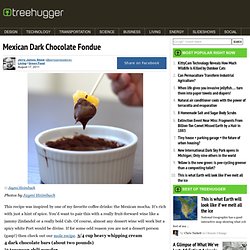 It's rich with just a hint of spice. You'd want to pair this with a really fruit-forward wine like a jammy Zinfandel or a really bold Cab. Of course, almost any dessert wine will work but a spicy white Port would be divine. If for some odd reason you are not a dessert person (gasp!) Cake Batter & Sprinkle Bark.
I think I've found my sugar & sprinkles soul sister recently.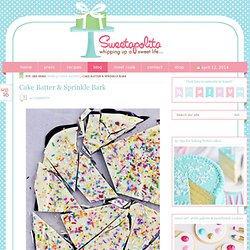 I really do. The funny thing is, I had popped by Jessica's blog from time to time when I would spot her yummy treats linked by friends on twitter, but I didn't really get a chance to sit down and really take a good long look through her recipes until this past week. That's when I came across the sprinkled masterpiece of epic proportion: her cake batter chocolate bark. Much like Jessica, I wasn't what I'd really consider a "bark person" until this recipe came along, but what's so fabulous about it, aside from the obvious delightfulness, is that it took me 5 minutes active time to make this (and about 5 to eat it–whoops). Cake Batter Truffles | Snappy Gourmet. Spring is here, or at least it's kind of here.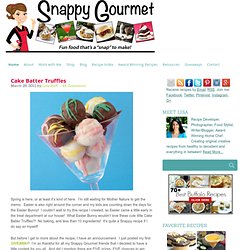 I'm still waiting for Mother Nature to get the memo. Easter is also right around the corner and my kids are counting down the days for the Easter Bunny! Barkin' Good M&M's Halloween Bark Recipe - #MMsGetCorny. I woke up this morning with my mind on baking.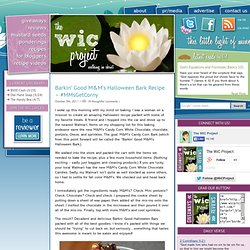 I was a woman on a mission to create an amazing Halloween recipe packed with some of my favorite treats. A friend and I hopped into the car and drove up to the nearest Walmart. Items on my shopping list for this baking endeavor were the new M&M's Candy Corn White Chocolate, chocolate, pretzels, Oreos, and sprinkles. The goal: M&M's Candy Corn Bark (which from this point forward will be called the "Barkin' Good M&M's Halloween Bark.)
We walked into the store and packed the cart with the items we needed to bake the recipe, plus a few more household items.
---