Cakes
Cheeky Kitchen » Slow Cooker Gooey Chocolate Cake. I'm meeting a new friend for lunch today.
And an old friend for line-dancing tonight. And I'm feeling rather spoiled about it all. I mean, moms shouldn't have TWO social events on the calendar for the same day, should we? Which brings me to the point of what moms should be doing anyway. S'mores Coffee and Fudge Ice Cream Cake Recipe at Epicurious.
Photo by David Bishop yield Makes 10 to 12 servings A decadent, impressive dessert that appeals to everyone's inner Boy Scout or Girl Scout.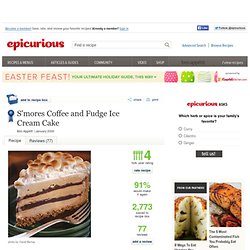 Begin preparing this a day ahead. Cheesecake Recipes - Easy Cheesecake Recipes at WomansDay.com. Whipped, mixed, baked or frozen, at one point or another, most of us have lingered in our love affair with cheesecake.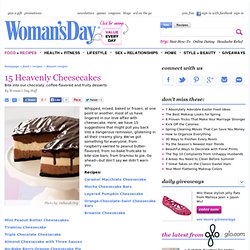 Here, we have 15 suggestions that might pull you back into a dangerous remission, glistening in all their creamy glory. We've got something for everyone, from raspberry-swirled to peanut butter-flavored; from no-bake fruitcake to bite-size bars; from tiramisu to pie. Go ahead—but don't say we didn't warn you. Recipes: Caramel Macchiato Cheesecake. Leprechaun Trap Cake.
This may look like a perfectly innocent cake meant to lure a leprechaun to the top but it has a few secrets.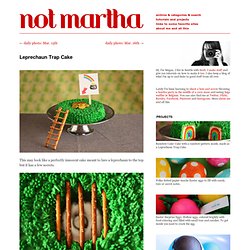 Secret #1: Beneath the pile of gold coins are fragile bars, when the leprechaun approaches to grab the coins he'll fall into the pit and be trapped. Secret #2: There is a rainbow hiding inside the cake. Margarita Cupcakes • Masshole Mommy. Hey, there's wrong with a little booze in your cupcakes every now and then, right?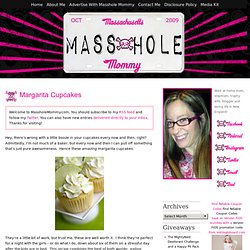 Admittedly, I'm not much of a baker, but every now and then I can pull off something that's just pure awesomeness. Hence these amazing margarita cupcakes. They're a little bit of work, but trust me, these are well worth it. 10 Rich Recipes for National Cheesecake Day. Winter-Spiced Molten Chocolate Cakes with Rum-Ginger Ice Cream Recipe at Epicurious. Photo by Pornchai Mittongtare yield Makes 8 These cakes are great for parties because they can be completely assembled the day before and then quickly baked before serving, for the all-important "ooze" factor.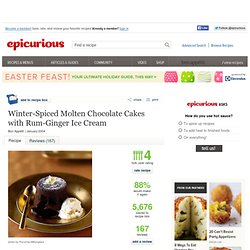 Ice cream 1 pint vanilla ice cream, softened 2 tablespoons chopped crystallized ginger 1 tablespoon dark rum Cakes 14 ounces bittersweet (not unsweetened) or semisweet chocolate, chopped 1 1/4 cups (2 1/2 sticks) unsalted butter 2 teaspoons ground coriander 2 teaspoons ground cardamom 1 teaspoon ground cinnamon 1/2 teaspoon ground cloves 1/2 teaspoon ground white pepper 6 large eggs 6 large egg yolks 2 teaspoons vanilla extract 3 cups powdered sugar 1 cup all purpose flour Preparation. Candy — Buns In My Oven. The Best Chocolate Cake.
Brian is a man that loves to double down on his chocolate.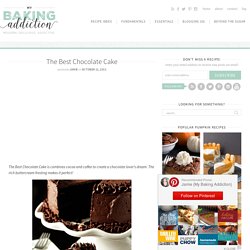 His favorite cake in the world, one that his grandmother makes for him specifically every time we visit her in West Virginia, is chocolate cake with fudgey chocolate frosting. His birthday was two weeks ago, and of course you know I had to do it up right by making his version of cake bliss.
---