Tutorials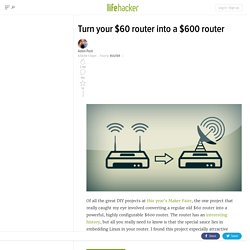 Of all the great DIY projects at this year's Maker Faire , the one project that really caught my eye involved converting a regular old $60 router into a powerful, highly configurable $600 router.
Fifteen years ago, you weren't a participant in the digital age unless you had your own homepage. Even in the late 1990s, services abounded to make personal pages easy to build and deploy—the most famous is the now-defunct GeoCities , but there were many others (remember Angelfire and Tripod ?). These were the days before the "social" Web, before MySpace and Facebook. Instant messaging was in its infancy and creating an online presence required no small familiarity with HTML (though automated Web design programs did exist ). Things are certainly different now, but there's still a tremendous amount of value in controlling an actual honest-to-God website rather than relying solely on the social Web to provide your online presence. The flexibility of being able to set up and run anything at all, be it a wiki or a blog with a tipjar or a photo hosting site, is awesome. You can turn some of your best gear into so much more with a few of the right modifications.
Python Course, Other Programming Video Tutorials, Nick Parlante
Ruby Programming Tutorials | Man With Code
Learn Python The Hard Way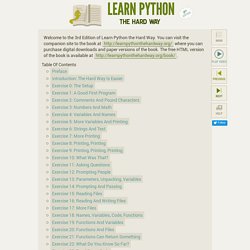 Learn Python The Hard Way, 2nd Edition — Learn Python The Hard Way, 2nd Edition
Most us who've had school lockers or rental storage units know that lots of people trust inexpensive padlocks to secure their belongings. Tactical studies weblog ITS Tactical proves that this trust is a false sense of security by opening the two most popular type of padlocks with shims cut from an aluminum soda can. Combination padlocks tend to only lock on side while keyed locks usually have a double-lock shackle. To open a single shackle lock, you create a shim by cutting out a piece of aluminum shaped like the letter M. The middle indentation of the shim is inserted in the space between the lock body and shackle and then the shim is turned while working the shackle up and down until the shim has moved around to the other side of the lock into the locking mechanism. Once the shim is there, use it to push the locking mechanism out of the way and open the lock.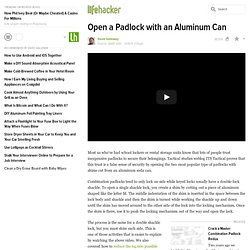 Meant for slaying mosquitoes, but equally capable of maiming an enemy or two , the DIY mosquito killing device is made using various doodads you can undoubtedly find laying around your home. Needed to create your very own mosquito killing device is a bottle of hair spray and an old bicycle handlebar with brakes included. Anything that combines the ability to burn someone's face off with unbeatable portability is OK in my book. Self-defense meets anti-itching.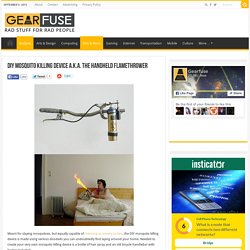 DIY Mosquito Killing Device a.k.a. The Handheld Flamethrower
l633905370133666920.jpg (JPEG Image, 1872 × 1224 pixels)
What is Computer Science? Computer science is the study of computational systems, their practical applications, and the examination of how humans interact with, and approve upon, new technology. College computer science programs and their open online courses typically focus on these primary concentrations: the theory behind programming language, the pragmatic applications and development of new technology, instructional design, and the creation of more user-friendly tech interfaces. Specifically, many courses deal with algorithm creation and coding techniques, while others will apply this knowledge to real-world tasks such as software construction. What Can Online Courses in Computer Science Actually Teach Me? Online computer science courses are offered at both undergraduate and graduate levels, and since computers and mobile technology are so ubiquitous, it is possible to earn a viable education through online courses and degree programs.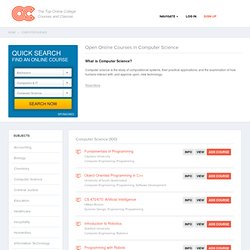 Some months ago we received an email from a fellow Java developer, Tamas Jano , asking to be part of our JCG partners program. To our surprise he maintains a blog named " Against The Grain " debating about game development for the Android platform. I have been reading all of his articles since then and I must admit that his writings have been an inspiration and a motivation for me and my colleagues here at Java Code Geeks so as to start developing our first game for the Android platform. With this post I would like to present Tamas 's work to our community hoping that you will be inspired and motivated just like we did! What follows is a portion of Tamas 's introductory article titled as " A little motivation and what's the idea behind all this. " I am certain that after reading it you will realize (just like I did) that you have many many things in common with this guy!
Android Game Development Tutorials