Tutorials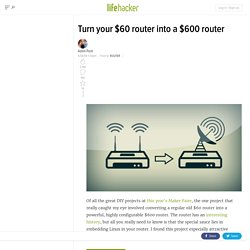 Got this to work on the WRT54G v8 (will work on 7 as well, just replace the one file with the corresponding 7 version): First of all, use IE explorer. Firefox didn't work at all on this for me, even after install. Second, go to this page - [www.dd-wrt.com]
"Ruby on Rails is a breakthrough in lowering the barriers of entry to programming. Powerful web applications that formerly might have taken weeks or months to develop can be produced in a matter of days." -Tim O'Reilly, Founder of O'Reilly Media Read more quotes "Rails is the most well thought-out web development framework I've ever used. And that's in a decade of doing web applications for a living. I've built my own frameworks, helped develop the Servlet API, and have created more than a few web servers from scratch.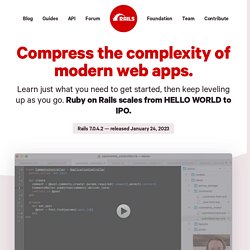 Fifteen years ago, you weren't a participant in the digital age unless you had your own homepage. Even in the late 1990s, services abounded to make personal pages easy to build and deploy—the most famous is the now-defunct GeoCities, but there were many others (remember Angelfire and Tripod?). These were the days before the "social" Web, before MySpace and Facebook. Instant messaging was in its infancy and creating an online presence required no small familiarity with HTML (though automated Web design programs did exist). Things are certainly different now, but there's still a tremendous amount of value in controlling an actual honest-to-God website rather than relying solely on the social Web to provide your online presence. The flexibility of being able to set up and run anything at all, be it a wiki or a blog with a tipjar or a photo hosting site, is awesome. @dj.reidak: Sense is neat in certain regards, but it's ass-breakingly terrible in others. Just one example: the Sense lockscreen is bad, miles behind the stock Froyo one (or the Eclair one, for that matter)... but no-one notices because the Sense lock call/decline screen is way worse. Pulling the phone out of your pocket when you get a call pretty much ensures you're going to answer it (or, if you had the phone upside down in your pocket, you're going to decline it). Whoever decided on short-drag vertical sliders for unlocking, answering, and declining should be dragged through the streets and drowned.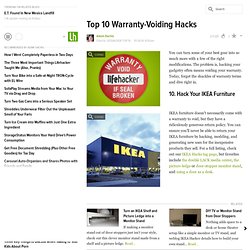 Python Course, Other Programming Video Tutorials, Nick Parlante
Ruby Programming Tutorials | Man With Code
um, i think most of the people here have mastered all the simple stuff like loops and variables, classes, kernal methods, what about threads, could these make the pong.rb compile or start up faster, i think it would help people more if you showed common guis and api, you need to explain all the existing classes and methods and how to use them with complex and individualized example programs, also, its been a while, acording to ur utube vid dates, since you've posted any tutorials, i think your written ones are better, i dont have to pause or jump to different parts over again, but rember to explain every part of your code and even describe different combinations that may be useful, this would really help beginers and intermediate rubyists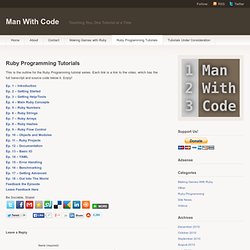 How long does this course take? You should take as long as it takes to get through it, but focus on doing work every day. Some people take about 3 months, others 6 months, and some only a week. I can do it in about 4 hours or less if I hurry and don't do the Study Drills.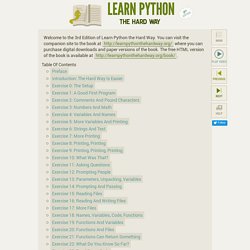 Learn Python The Hard Way, 2nd Edition — Learn Python The Hard Way, 2nd Edition
Yup, it was so easy that he had to use a key with the key lock. Note that you don't ever see the bottom of the lock, and that two points in the video after the cut-away show him not really holding the lock at all, because he's stabilizing it by holding onto the key in his palm. Not to mention the obvious "twist" right before the lock opens. I'm not even so sure about the combination lock, since it looks like he turns the dial slightly just before it opens. That could easily have been rigged, too. Especially with how much that shim bent against the locking mechanism.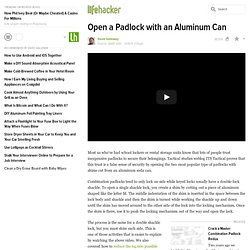 Meant for slaying mosquitoes, but equally capable of maiming an enemy or two , the DIY mosquito killing device is made using various doodads you can undoubtedly find laying around your home. Needed to create your very own mosquito killing device is a bottle of hair spray and an old bicycle handlebar with brakes included. Anything that combines the ability to burn someone's face off with unbeatable portability is OK in my book. Self-defense meets anti-itching.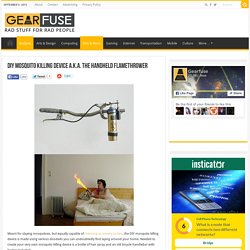 DIY Mosquito Killing Device a.k.a. The Handheld Flamethrower
l633905370133666920.jpg (JPEG Image, 1872 × 1224 pixels)
Whether your goal is to earn a promotion, graduate at the top of your class, or just accelerate your life. Lectures can help get you there. Our archives of lectures cover a huge range of topics and have all been handpicked and carefully designed by experienced instructors throughout the world who are dedicated to helping you take the next step toward meeting your career goals. With OnlineCourses.com's engaging collection of lectures, your free time will turn into self-improvement time.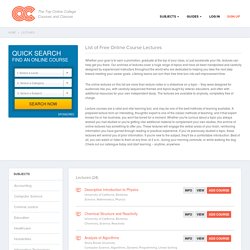 Some months ago we received an email from a fellow Java developer, Tamas Jano, asking to be part of our JCG partners program. To our surprise he maintains a blog named "Against The Grain" debating about game development for the Android platform. I have been reading all of his articles since then and I must admit that his writings have been an inspiration and a motivation for me and my colleagues here at Java Code Geeks so as to start developing our first game for the Android platform. With this post I would like to present Tamas's work to our community hoping that you will be inspired and motivated just like we did! What follows is a portion of Tamas's introductory article titled as "A little motivation and what's the idea behind all this."
Android Game Development Tutorials