Icons
Free. Solved Icon went missing in Windows 7? Here's a Fix. Icon went missing in Windows 7?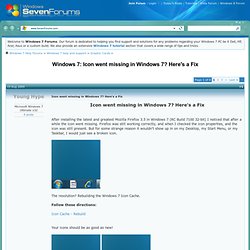 Here's a Fix After installing the latest and greatest Mozilla Firefox 3.5 in Windows 7 (RC Build 7100 32-bit) I noticed that after a while the icon went missing. Firefox was still working correctly, and when I checked the icon properties, and the icon was still present. ConvertICO.com - Convert .PNG format files to .ICO or .ICO format files to .PNG : Windows Vista compatible icons.
Vector Social Media Icons. This free set includes 80 icons of the most popular social media networks on the internet.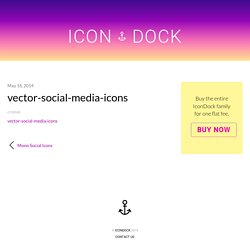 The icons are designed in 32px and 16px vector format. With the vector format, you can scale the icon to any size to fit with your design or use it in high quality print materials. What you will get from the zip package: 16px, 24px, 32px in PNG format and a vector EPS file. Don't forget to get our Moi icon set to match with this style. Icons include: Top 25 Free Icon Resources for Web Designers | Speckyboy - Wordpress & Design. Please note that this post is fairly old, for the latest free icons you should browse the Free Icons category. 1.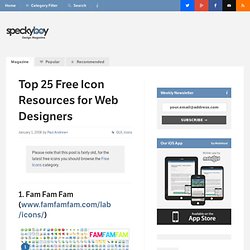 Fam Fam Fam (www.famfamfam.com/lab/icons/)
---