Obscure Palm Stuff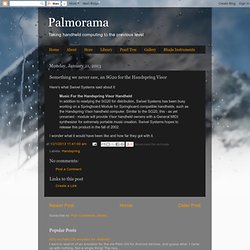 Something we never saw, an SG20 for the Handspring Visor
Here's what Swivel Systems said about it: In addition to readying the SG20 for distribution, Swivel Systems has been busy working on a Springboard Module for Springboard compatible handhelds, such as the Handspring Visor handheld computer. Similar to the SG20, this - as yet unnamed - module will provide Visor handheld owners with a General MIDI synthesizer for extremely portable music creation. Swivel Systems hopes to release this product in the fall of 2002.
Palm III xe and basic
Reviving the Handspring
PalmOrb project
Palm OS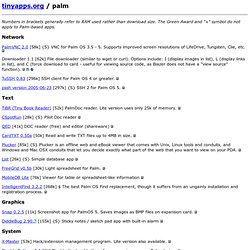 updated: September 5, 2012 (Note: Numbers in brackets generally refer to RAM used rather than download size. The Green Award and "+" symbol do not apply to Palm-based apps.)
SongBook Guitar Songs and Chords
SongBook manages your song collections complete with lyrics and chords.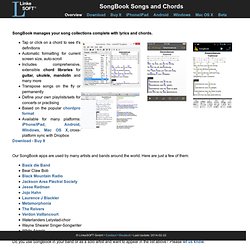 StyleTap Platform – Main page
Virtual Synthesizer Techno Music Studio for PocketPC.
What is PocketJam?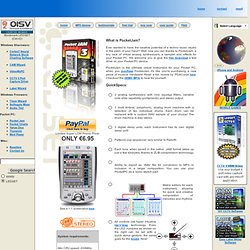 PlanetGriff Home
trakAxMobile - Mix Music and Video on your Phone
PDAMusician's PocketPC Music Software
Core Sound —
Windows Mobile Games & Apps by 4Pockets.com ...................................games for Pocket PC's, smartphone, pocket pc, pocketpc, pocket, pc, ipaq, axim, dell, hp, games, wm5, wm6, free pda games, handheld, hand, held, download, freeware, wm2002, wm2