Obscure Palm Stuff
Sites and blogs
Apps. Something we never saw, an SG20 for the Handspring Visor. Palm III xe and basic. Reviving the Handspring. PalmOrb project. Palm OS. Numbers in brackets generally refer to RAM used rather than download size.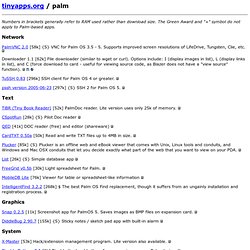 The Green Award and "+" symbol do not apply to Palm-based apps. Network. Development. Windows Mobile. SongBook Guitar Songs and Chords. SongBook manages your song collections complete with lyrics and chords.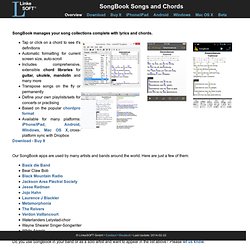 Tap or click on a chord to see it's definitions Automatic formatting for current screen size, auto-scroll Includes comprehensive, extensible chord libraries for guitar, ukulele, mandolin and many more Transpose songs on the fly or permanently Define your own playlists/sets for concerts or practising Based on the popular chordpro formatAvailable for many platforms: iPhone/iPad, Android, Windows, Mac OS X, cross-platform sync with Dropbox Download - Buy It Our SongBook apps are used by many artists and bands around the world. Here are just a few of them: StyleTap Platform – Main page. Virtual Synthesizer Techno Music Studio for PocketPC. What is PocketJam?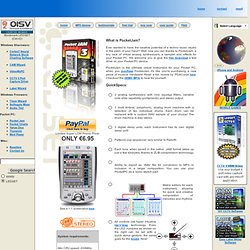 Ever wanted to have the creative potential of a techno music studio in the palm of your hand? Well now you can thanks to PocketJam, a tiny rack of virtual analog synthesizers, a sampler and effects for your Pocket PC. We welcome you to give the free download a test drive on your Pocket PC device. PlanetGriff Home. TrakAxMobile - Mix Music and Video on your Phone. PDAMusician's PocketPC Music Software. Core Sound — Windows Mobile Games & Apps by 4Pockets.com ...................................games for Pocket PC's, smartphone, pocket pc, pocketpc, pocket, pc, ipaq, axim, dell, hp, games, wm5, wm6, free pda games, handheld, hand, held, download, freeware, wm2002, wm2.
---