Recipes
Waffled Pizza Pockets. First, you should turn on the waffle iron and let it preheat.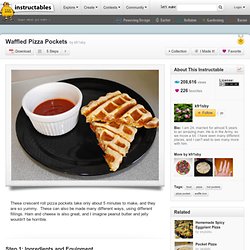 There is no need to oil or butter the iron, there is enough oil in the dough to keep them from sticking. Open the tube of crescent rolls and remove the dough, being careful not to tear it. The roll of dough should split right in half if you persuade it gently. Web's Tastiest: Pancakes Recipes. Everyone knows that breakfast is the most important meal of the day.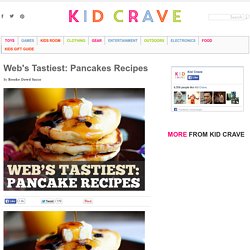 So of course you want to get off to a good, healthy start. However, anyone with kids knows that some mornings are just too special to worry about a properly balanced meal. Spending time in the kitchen as a family, whipping up something absolutely decadent and definitely too sweet, is the stuff that memories are made of. The Web's Tastiest Pancake Recipes are here to turn Saturday into Whattaday! Cinnamon Roll Pancakes. Slutty Brownies.
Avocado Mac and Cheese Recipe | Stovetop Mac and Cheese. Stovetop Avocado Mac and Cheese My avocado obsession continues, this time with Stovetop Avocado Mac and Cheese!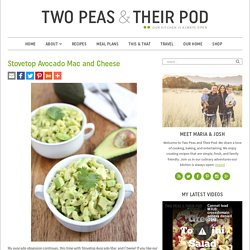 If you like our Creamy Avocado Pasta, you will love this decadent macaroni and cheese. Nutella Shots. Guess what I am drinking tonight?
Ingredients & Measurements: • 1 cup ice • ½ cup milk • 2 tablespoons Nutella • 1 shot Baileys or Frangelico Hazelnut liquor • 1 shot vanilla vodka Instructions: Place all the ingredients into a blender and blend until thick and creamy. Pour into shot glasses and then you simply rim the shot glass with Nutella. Brown Butter Double Fudge Chocolate Chip Cookie Dough Cookies. Little bit of a mouthful there.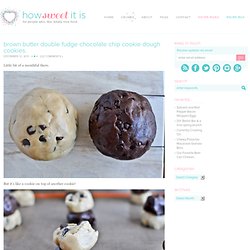 But it's like a cookie on top of another cookie! Yeah. Like total dirty cookie on cookie action. Except these ones down below wanted to try a few different positions. I dunno… they're all mixed up. Mixologists Recipe: Harry Potter Sorting Shots | Castles & Cooks. This post has been moved over to Castles And Cooks, you're automatically getting redirected!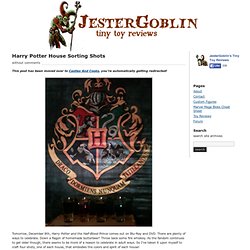 Tomorrow, December 8th, Harry Potter and the Half-Blood Prince comes out on Blu-Ray and DVD. There are plenty of ways to celebrate. Down a flagon of homemade butterbeer! Swirled Cheesecake Brownies -EW - iVillage - StumbleUpon. Sweet Potato Biscuits with Honey Cinnamon Butter - StumbleUpon. Have you given up on making biscuits?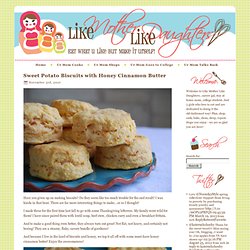 Do they seem like too much trouble for the end result? I was kinda in that boat. There are far more interesting things to make…or so I thought! I made these for the first time last fall to go with some Thanksgiving leftovers. My family went wild for them! - StumbleUpon. Around here we watch quite a bit of Food Network.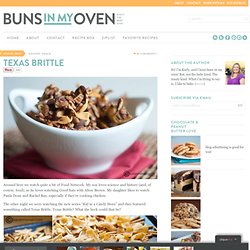 My son loves science and history (and, of course, food), so he loves watching Good Eats with Alton Brown. My daughter likes to watch Paula Dean and Rachel Ray, especially if they're cooking chicken. The other night we were watching the new series "Kid in a Candy Store" and they featured something called Texas Brittle. Texas Brittle? What the heck could that be? Better Than Takeout Orange Chicken - StumbleUpon. Yesterday as I stood in the kitchen trying to figure out what to make for dinner I wondered to myself, how do those people do it on those shows where they are given random ingredients and are suppose come up with something genius.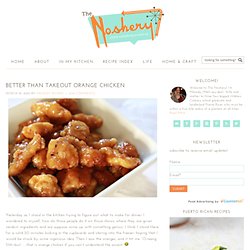 I think I stood there for a solid 20 minutes looking in the cupboards and staring into the freezer hoping that I would be struck by some ingenious idea. Then I saw the oranges, and it hit me "O-raang Shh-ikun"….that is orange chicken if you can't understand the accent. Meatloaf: Yes, Virginia There Is A Great Meatloaf! Recipe - Food.com - 54257. Make Your Own Candy Bars - Project.
Here are the most common terms you'll come across as your candy-making odyssey begins.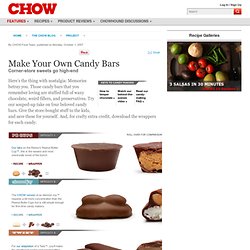 You'll also want to take a look at our behind-the-scenes video. Bloom: The gray mottling that sometimes appears on the surface of chocolate is a result of extremes in heat or humidity. Chocolate stored in a fridge is subject to too much humidity, which causes the sugars to crystallize. Pumpkin Pie Pop Tarts with maple glaze. I didn't know Pumpkin Pie Pop Tarts existed before I thought them up and went running to my kitchen. Turns out they do exist… and they existed all over my kitchen counter before they stopped existing because I ate them all. Ok. Not true. I didn't eat them aalllll. I shared… but I really didn't want to. Sunday Sweets: Butterbeer Cupcakes | amyBITES - StumbleUpon. Love Butterbeer Cupcakes? Check out Golden Snitch Butterbeer Cake Pops! Welcome to a very special edition of Sunday Sweets! If you're new to this blog, let me explain.
Sunday Sweets is a series I do every few weeks to share super indulgent recipes that wouldn't otherwise be featured amongst my healthy, everyday eating recipes. Guinness Brownies. There aren't many big drinkers in my family. I like the occasional cocktail, and I do love a glass of red wine, but I have to be around friends to indulge. Brad doesn't drink at all, which means that when it comes to recipes that require alcohol, well, I usually pass.
(To be honest I've never even stepped inside an ABC** store!) Yesterday, however, I found myself at the grocery store on my dinner break and what should I find but a big St. Pumpkin Crisp Recipe. Baked Pumpkin Spice Donut Holes & The Craving Chronicles - StumbleUpon. I might be harboring a slight pumpkin obsession right now. I just… I saw the canned pumpkin at the grocery store, bought a few cans, and now I can't stop. I want to put pumpkin in everything. I've seen this one particular recipe popping up here and there for muffins that are supposed to taste like donuts. Now, I love donuts. Love love love. Pumpkin Cupcakes with Maple Cream Cheese Frosting and Michelle Branch - StumbleUpon.
My family is kind of crazy. Our life is essentially one giant musical, we are constantly singing. Any word or phrase can set us off. You say close your eyes? We start singing The Bangles "Close your eyes...give me your hand, darling!" Key Lime Cupcakes bring the tangy and the sweet | write meg! Chocolate Chip Lava Cookies | Kevin & Amanda - StumbleUpon. Pineapple Upside Down Cake Recipe. - StumbleUpon. Stylish Cuisine « Peanut Butter Cup Bars - StumbleUpon. Juicy and Flavorful Fried Chicken. In Praise of Leftovers | Carrot Cake Cookies - StumbleUpon. Harry Potter's Butterbeer Recipe Uncovered? - FoxNews.com.
Nanaimo Bars: The Real Deal | EclecticCook.com. Watermelon, Meet Lemonade - Blog - food52 - food community, recipe search and cookbook contests. Food &Fizz | Molasses Cut-Out Cookies - cookies, holiday. Two-Ingredient Pumpkin Cake with Apple Cider Glaze - StumbleUpon. Chocolate Chip Cookie Dough + Cupcake = The BEST Cupcake. Ever. Recipe - Allrecipes.com - StumbleUpon.
- StumbleUpon. Food, Drink, and Recipes on TasteSpotting. Robbies Handy Household Tips and Tricks: Emergency Ingredient Substitutions. Alton Brown Recipes : Food Network - StumbleUpon. Smore Cookie Bars. Cinnamon Roll Sugar Cookies? Yes! | Picky Palate - StumbleUpon. Pepperoni Pizza Puffs - StumbleUpon. Chinese Broccoli Beef Noodle Stir Fry. HERSHEYS Kitchens Home Page Recipes - StumbleUpon. Chicken Stroganoff & Kayotic Kitchen. BrokeAss Gourmet & Cheddar-Thyme Potato Knishes - StumbleUpon.
Baking & Dessert Recipes & Videos - Joyofbaking.com *Tested Recipes* Warm Toasted Marshmallow S'more Bars. Oreo and Peanut Butter Brownie Cakes | Picky Palate - StumbleUpon.
---