RESSOURCES (webdesign)
You've probably heard a lot about the new HTML5 canvas element. As the name implies, this is a special element that allows us to create and modify graphics. In addition, we can also use it like any other element on the page – apply jQuery animations on it, listen for events and integrate it deeply into our layouts. All uses of canvas you've come so far are probably limited to games and other proof of concept demos. Today, however, we are doing something practical – we are making a progressively enhanced slideshow with a fancy transitioning effect, which is perfectly functional in older browsers as well. Update: Per popular demand, you can now download an auto-advancing version of this slideshow.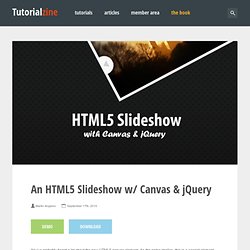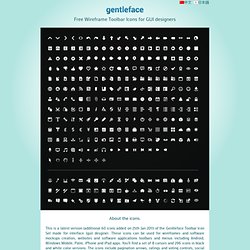 About the icons. This is a latest version (additional 60 icons added on 25th Jan 2011) of the Gentleface Toolbar Icon Set made for interface (gui) desginer. These icons can be used for wireframes and software mockups creation, websites and software applications toolbars and menus including Android, Windows Mobile, Palm, iPhone and iPad apps.
Free toolbar icons for interface or gui designer. Download free black & white toolbar icon set
Icon Library | PICOL - Pictorial Communication Language - Icons & Pictorgrams – Pixel & Vector
This entry is part 15 of 20 in the Icon Design Session - Show All « Previous Next » In this tutorial, we'll show you how to make a cool, or should we say geeky, glasses icon. You should be versed in Adobe Illustrator's tools to complete this tutorial. You'll learn how to take creative license and create an illustration that uses a photo reference, but differs a bit in the final design. Republished Tutorial Every few weeks, we revisit some of our reader's favorite posts from throughout the history of the site.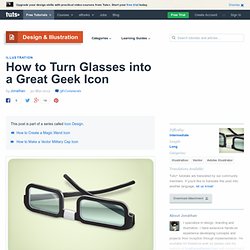 How to Turn Glasses into a Great Geek Icon
Space Lighting Effects in 10 Steps - Photoshop Tutorial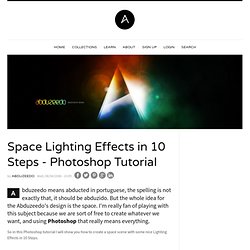 Abduzeedo means abducted in portuguese, the spelling is not exactly that, it should be abduzido. But the whole idea for the Abduzeedo's design is the space. I'm really fan of playing with this subject because we are sort of free to create whatever we want, and using Photoshop that really means everything.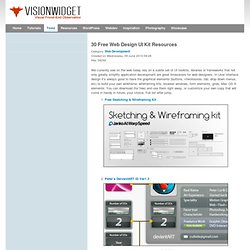 We currently see on the web today rely on a subtle set of UI toolkits, libraries or frameworks that not only greatly simplify application development are great timesavers for web designers. In User interface design it's always good to have the graphical elements (buttons, checkboxes, tab, drop down menus, etc) to build your own wireframe: wireframing kits, browser windows, form elements, grids, Mac OS X elements. You can download (for free) and use them right away, or customize your own copy that will come in handy in future, your choice. Full list after jump.
30 Free Web Design UI Kit Resources | VisonwidGet
kuler
Browse Palettes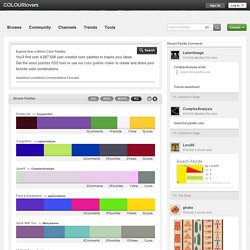 Log In Sign Up COLOURlovers Search Create
button-download.com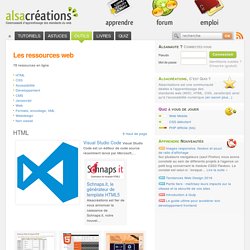 62 ressources en ligne Haut de page MobileHTML5 MobileHTML est un tableau de compatibilité récapitulatif à destination des plate-formes… ReformedApp Chronophage, redondant et fastidieux... Coder vos formulaires à la main vous… Initializr Initializr vous permet de générer un template HTML5 basé sur HTML5 Boilerplate.… HTML5Please HTML5Please est un récapitulatif clair et bien organisé listant les différentes… HTML5 Boilerplate HTML5 Boilerplate est un gabarit HTML5 et CSS3 contenant toutes les bonnes pratiques… Find me by IP Find me by IP propose un tableau récapitulatif de prise en charge HTML5 et CSS3.… HTML5Rocks Diaporama des nouveautés HTML5, tutoriels pas à pas, et exemples en ligne.
Las Vegas Web Design
Hi! My Name is Michael and I'm in charge of the Business Development here at pidoco°. I'd like to invite you to take a quick tour with me and discover our prototyping & usability software (as a service).
pidoco° - Wireframes, Prototyping, Usability - Take a Quick Tour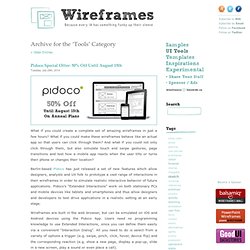 Tools
Indigo Studio , a new interaction design tool, has been released just over a month ago by the Infragistics team on both MAC and Windows. The first version is completely free and there is no catch (future versions 2 and on will be paid). It has some interesting aspects to it: Storyboarding The tool itself is interesting in that it has two modes of working: screen and storyboard. The screen mode allows designers to express the position and layout of typical interface elements in a traditional sense – pretty standard for a modern UI prototyping tool.
100 Fantastically Free Business Fonts