iPhone
Alors que plus de 2 milliards d'applications iPhone ont déjà été téléchargées sur l'App Store d'Apple, voici quelques recettes business pour réussir l'application de votre marque ou de votre produit. Pour la première fois, osons publier un article sur le principe des livres "dont vous êtes le héros". Je m'explique : la première partie est consacrée à l'iPhone, à son impact sur le business du marketing mobile ou de la vie de tous les jours, chiffres à l'appui (s'il vous plaît). Intéressé ?
Avis d'expert : Comment réussir votre Application iPhone (et son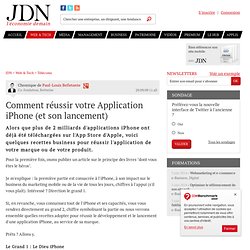 Chapter 0: Introduction Chapter 1: Object-Oriented Programming Chapter 2: The Objective-C Language Chapter 3: Objective-C Extensions Chapter 4: The Run-Time System Appendix A: Objective-C Language Summary Appendix B: Reference Manual for the Objective-C Language Last Modified: 04:04pm , January 13, 1996 Hot News | OpenStep | WebObjects | Services | Buy Now | NeXTanswers | Search | About NeXT NeXT sales and product information inquiries? Click hereCopyright 1996 NeXT Software, Inc.Proprietary Notices.
OBJECT-ORIENTED PROGRAMMING AND THE OBJECTIVE-C LANGUAGE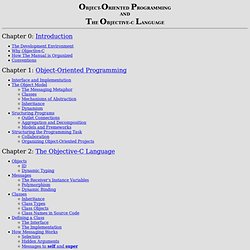 J'ai éprouvé beaucoup de difficulté pour réaliser une IHM avec l'iPhone SDK (beta 4) ! Manque de documentation, manque d'exemple, et même sur le net, j'ai eu beaucoup de mal à trouver des exemples concrets de réalisation d'IHM. J'ai donc décidé de réaliser ce tutorial pour que le maximum de personnes puisse accéder au SDK de l'iPhone. L'objectif de ce tutorial sera de présenter la programmation d'IHM sur l'iPhone SDK mais avec une approche RAD. Pour mener à bien cette approche, j'ai utilisé Xcode bien entendu mais surtout Interface Builder avec son approche bien particulière et surtout : ses bugs !
Approche RAD pour l'iPhone SDK avec Interface Builder - Club des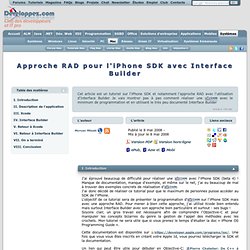 Submitted by alex on Tue, 07/07/2009 - 11:37. The Potion Store is a fantastic way for Cocoa developers to create their own web stores - after all, it's tailor made for us. Kudos to the Potion Factory for their efforts and for choosing to open source the entire project. You guys totally rock.
CocoaLab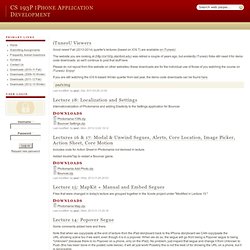 Good news! Fall (2013-2014) quarter's lectures (based on iOS 7) are available on iTunesU. The website you are looking at (http://cs193p.stanford.edu) was retired a couple of years ago, but evidently iTunesU folks still need it for demo code downloads, so we'll continue to post that stuff here. Please do not repost from this website on other websites--these downloads are for the individual use of those of you watching the course on iTunesU. Enjoy!