Blogs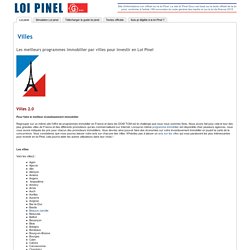 A propos de 4X Plus de 30.000 noms de domaines .FR ne sont pas renouvelés par leur titulaire et redeviennent disponibles chaque mois. Nous listons et qualifions ces domaines jusqu'à 1 mois avant leur libération. Les plus pertinents étant repris en une fraction de seconde, nous sommes spécialisés dans leur récupération, également appelée "Backorder", "Snap" ou "Drop-catching".
Jeu Web de la Semaine : Don't Escape 5 avril 2014 :: 14:15 :: Par Axel-Cereloz Jeu vidéo : 30ème épisode de la rubrique (presque) hebdomadaire : le jeu web de la semaine.
High-Tech sur Free.fr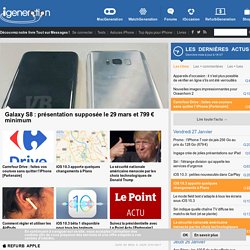 Tous les jours, l'équipe d'iGen.fr vous propose une sélection des meilleures promos disponibles sur l'App Store. Si vous en trouvez d'autres, n'hésitez pas à nous en faire part dans les commentaires. Les apps en promo 1Password Prix : 7,99 € (15,99 €)
Au doigt et à l'œil

GoTactile
C'est le titre d'un article sur lequel je travaille en ce moment. Visiblement ce sujet intéresse aussi Nicolas Ruiz fondateur de l'entreprise eviGroup qui vient de poster sa vision des choses sur son blog : ) Vous pouvez la lire ici Quand on voit l'effervescence des réactions dans les commentaires on sent qu'on touche à un sujet de fond.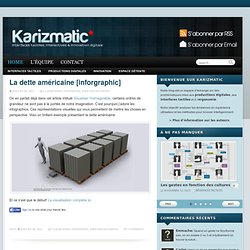 Interfaces tactiles, interactives & innovation digitale: Karizma
La dette américaine [inforgraphic] On en parlait déjà dans cet article intitulé Visualiser l'inimaginable, certains ordres de grandeur ne sont pas à la portée de notre imagination. C'est pourquoi j'adore les infographics. Ces représentations visuelles qui vous permettent de mettre les choses en perspective. Voici un brillant exemple présentant la dette américaine. Et ce n'est que le début!
Interfaces tactiles, interactives & innovation digitale: Karizma
was concieved as a directory of multitouch-related blogs and rss aggregator. The idea for Multitouch Blogs came from our experience operating Museum Blogs and Museum Podcasts , two similar directory and aggregator sites that we developed for the museum community. This moderated directory provided a central website for listings related to multi-touch design, software and hardware resources. All of the posts were from the RSS feeds of blogs included in the directory. The descriptions of these blogs come directly from the RSS feeds themselves. The aggregated blogs feed was powered by Ideum's RSS Mixer.
Multitouch Blogs - Multitouch News and Blog Directory
The 1 percent have long had smartphones from Porsche and Vertu to quench their high-end thirst, but when it comes to dual-SIM handsets, the elite have had to settle for something a little more ordinary. For those in need, Gresso created Azimuth, the first dual-SIM luxury handset. Starting at $2,000, the phone is made of titanium, with both the keys and logo crafted out of 18K or white gold.
Gadget Lab - Hardware That Rocks Your World
The 8 Best Cooking Apps for Seasoned Chefs By Brent Rose Friday, April 11 3 Comments Your culinary creativity knows no bounds, but your chef-fu is only half-baked. Here are some smartphone tools sure to spice up your next epicurean endeavor. Vine Creeps in on Messaging With New Private Video Option By Mat Honan and Christina Bonnington Thursday, April 3 0 Comments Vine launches a new private messaging feature. Users can now send looping six second video messages to multiple contacts — whether or not those people are also on Vine. Elsewhere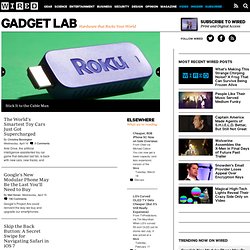 http://www.tablette-tactile.net/
http://generationebook.wordpress.com/
Multitouch + NUI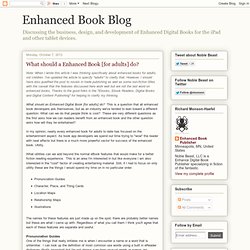 Apple has not been very helpful when it comes to supporting the distribution of paid apps to Kickstarter supporters. Usually, if a Kickstarter project for an iPad app offers the app as an award the folks making the offer will end up having to make the app free (temporarily) to fulfill their obligations. This just happened with my company's latest release, "Steampunk Holmes: Legacy of the Nautilus". When we launched the kickstarter project in 2012 we promised certain award levels ($29 and up) that we would give them the iPad app when it became available. Earlier this year I found out that Apple will not allow you to distribute an app to specific people for free beyond the 50 promotion copies per app. With 1,290 contributors we needed a different solution.
AFTER-MOUSE.COM - Leader in Microsoft Surface™
When I saw the table, my first reaction was a small twinge of disappointment. I was expecting something closer to science fiction, something more surreal. My old age was playing tricks on me. Indeed, I immediately saw that this table was not as impressive as I had made it out to be. A table almost like any other. It does not take up a lot of space.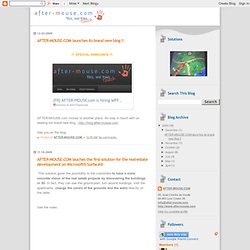 Multigesture.net
NodeBeat featured on the BlackBerry Dev blog Interested to read how we (me and Seth) ported NodeBeat to the BlackBerry PlayBook platform? The BlackBerry Developer Blog wrote an article about us, our app and the journey that was involved with [...] More
1 October 2012 par levoir_b Aujourd'hui Git est un des systèmes de contrôle de version les plus utilisés. De son côté PowerShell se développe de plus en plus au sein de la communauté des développeurs Microsoft.
Blog MTI
Connaissant la réputation et la qualité des lecteurs et des amplificateurs de la marque Cambridge Audio, j'étais curieux de découvrir leurs enceintes sans fil Bluetooth. J'avais quelques craintes sur les compromis peut-être réalisés par la marque anglaise pour proposer une enceinte sans fil à seulement 129 €. L'enceinte Bluetooth Minx Go est la petite dernière de Cambridge Audio dans cette catégorie Minx. Elle a été précédée par les deux plus puissantes Minx Air 100 et Minx Air 200.
Eric Boisseau - Expert Conseil en multimédia et loisirs numériqu
Jean-Marie Gall.com
jebishop.blog