The Eye
Higher consciousness, also called Super consciousness (Yoga), objective consciousness (Gurdjieff), Buddhic consciousness (Theosophy), Cosmic consciousness, God-consciousness (Islam, Hinduism), Christ consciousness (Christian Mysticism) and Super- Human are expressions used in various spiritual and intellectual traditions to denote the consciousness of a human being who has reached a higher level of development and who has come to know reality as it is (Sanskrit: Yatha bhuta). It also refers to the awareness or knowledge of an 'ultimate reality' which traditional theistic religion has named God and which Gautama Buddha referred to as the unconditioned element. Evolution in this sense is not that which occurs by natural selection over generations of human reproduction but evolution brought about by the application of spiritual knowledge to the conduct of human life, and of the refinement of the mind brought about by spiritual practices.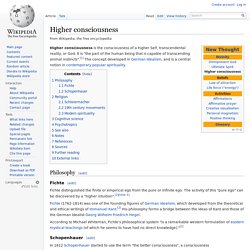 Eye of Horus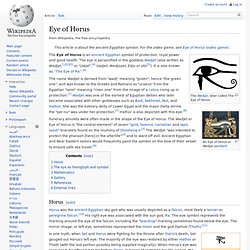 The Wedjat, later called The Eye of Horus The Eye of Horus is an ancient Egyptian symbol of protection, royal power and good health. The eye is personified in the goddess Wadjet (also written as Wedjat,[1][2][3] or "Udjat",[4] Uadjet, Wedjoyet, Edjo or Uto[5]). It is also known as ''The Eye of Ra''.[6] Funerary amulets were often made in the shape of the Eye of Horus.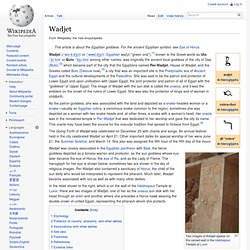 Two images of Wadjet appear on this carved wall in the Hatshepsut Temple at Luxor Wadjet (/ˈwɑːdˌdʒɛt/ or /ˈwædˌdʒɛt/; Egyptian wꜣḏyt, "green one"),[1] known to the Greek world as Uto /ˈjuːtoʊ/ or Buto /ˈbjuːtoʊ/ among other names, was originally the ancient local goddess of the city of Dep (Buto),[2] which became part of the city that the Egyptians named Per-Wadjet, House of Wadjet, and the Greeks called Buto (Desouk now),[3] a city that was an important site in the Predynastic era of Ancient Egypt and the cultural developments of the Paleolithic. She was said to be the patron and protector of Lower Egypt and upon unification with Upper Egypt, the joint protector and patron of all of Egypt with the "goddess" of Upper Egypt. The image of Wadjet with the sun disk is called the uraeus, and it was the emblem on the crown of the rulers of Lower Egypt. She was also the protector of kings and of women in childbirth.
Ra /rɑː/[1] or Re /reɪ/ (Egyptian: 𓂋ꜥ, rˤ) is the ancient Egyptian solar deity. By the Fifth Dynasty (2494 to 2345 BC) he had become a major god in ancient Egyptian religion, identified primarily with the midday sun. The meaning of the name is uncertain, but it is thought that if not a word for 'sun' it may be a variant of or linked to words meaning 'creative power' and 'creator'.[2] In later Egyptian dynastic times, Ra was merged with the god Horus, as Re-Horakhty ("Ra, who is Horus of the Two Horizons"). He was believed to rule in all parts of the created world: the sky, the earth, and the underworld.[3] He was associated with the falcon or hawk.