Tips for entrepreneurs
All American Mardy Gilyard I'm still giddy over the University of Cincinnati Bearcats (UC) victory over the University of Pittsburgh Panthers yesterday. Don't worry, this is not going to be a post about sports, it's about what it takes to make a great success. Creating a winning major college football program at UC, while not some earth stopping innovation, is surely a story about creating a culture of excellence — and all innovators can learn from that. Let me take you back to the early 60′s for a moment. I was a young lad living near the UC campus in Cincinnati.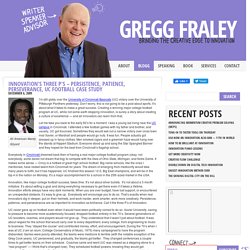 Gregg Fraley, Author of Jack's Notebook » Blog Archive » Innovat
Ideas so fresh--they should be slapped!: Even in a recession, it
America - and much of the world - is in the midst of a recession.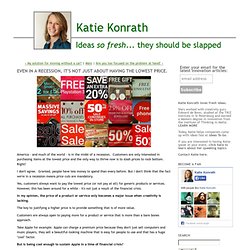 Seven Advertising Insights for the New Year - Small Agency Diary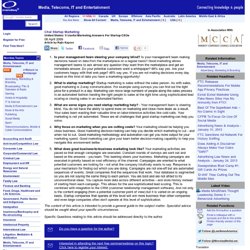 United States, Media & Entertainment, 5 Useful Marketing Answers
Terms & Conditions and Privacy Statement Mondaq.com (the Website) is owned and managed by Mondaq Ltd and as a user you are granted a non-exclusive, revocable license to access the Website under its terms and conditions of use. Your use of the Website constitutes your agreement to the following terms and conditions of use.
Blogging Innovation: Top 10 Corporate Time-Wasters - Latest inno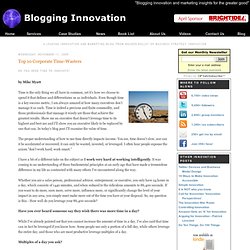 by Mike Myatt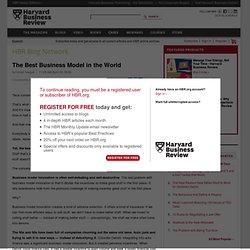 The Best Business Model in the World - Umair Haque - HarvardBusi
by Umair Haque | 11:25 AM April 30, 2009 "Nice content – awesome presentation! What did you use to make it?!" That's what everyone who sees my BRITE presentation asks me. It's a new service called Prezi. And it's insanely great — the minute I saw it I had to have it, no questions asked.
I woke up this morning to this post from Chris Brogan and the accompanied video:
Chris Brogan & Success-Benchmarks, Business Objectives & Balance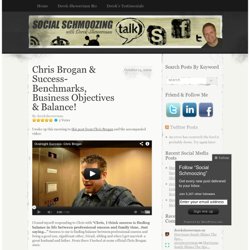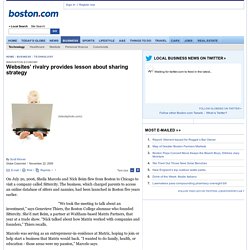 On July 20, 2006, Sheila Marcelo and Nick Beim flew from Boston to Chicago to visit a company called Sittercity. The business, which charged parents to access an online database of sitters and nannies, had been launched in Boston five years earlier.
Websites' rivalry provides lessons in sharing, or not sharing, s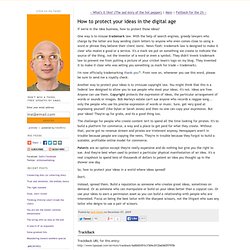 How to protect your ideas in the digital age
If we're in the idea business, how to protect those ideas? One way is to misuse trademark law.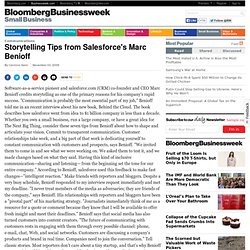 Software-as-a-service pioneer and salesforce.com (CRM) co-founder and CEO Marc Benioff credits storytelling as one of the primary reasons for his company's rapid success.
Storytelling Tips from Salesforce's Marc Benioff
Creative Think: What's Your Creativity Style?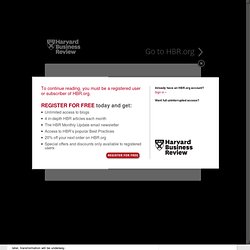 by Rosabeth Moss Kanter | 9:26 AM November 9, 2009 Just because this is a time of transformation doesn't mean that it's easy to sell transformational ideas. Economic uncertainty has reduced the audience for bold, grand rhetoric. Besides, even in boom times innovation is risky.
Find the 15-Minute Competitive Advantage - Rosabeth Moss Kanter
Company Overview
You view knowledge sharing between your employees, partners, and customers as a strategic priority.
If you ask one hundred people to do a task (particularly one that involves following instructions or using a computer or both), figure that two of them will mess it up. It doesn't matter if you use ALL CAPITAL LETTERS. It doesn't matter if your instructions are crystal clear.
Fallback for the 2%
Drew McLellan - The Marketing Minute: 5 reasons why other people
I was part of a panel (with Claire Celsi, Nathan T. Wright & Dr.
In the circles that I travel the Internet is often breathlessly embraced as the herald of all things good; the bringer of increased choice, personal empowerment, social harmony…and the list goes on. And yet, as with any powerful technology, the truth of its consequences eludes such a singular and happy narrative. Here is the first of three paradoxes of the Internet Age.
Three Paradoxes of the Internet Age - Part One
5 Marketing Tools Every Startup Should Use
Buzz alone won't guarantee startup success, but it certainly can't hurt. In the glorious Web 2.0 startup world that many of us live in there's a lot of noise.
Seven suggestions for messy times « THE COMPASS POINT
Lean startups aren't cheap startups
Principles Of Effective Search In E-Commerce Design - Smashing M