Tips for entrepreneurs
Gregg Fraley, Author of Jack's Notebook » Blog Archive » Innovat. All American Mardy Gilyard I'm still giddy over the University of Cincinnati Bearcats (UC) victory over the University of Pittsburgh Panthers yesterday.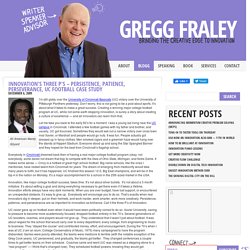 Don't worry, this is not going to be a post about sports, it's about what it takes to make a great success. Creating a winning major college football program at UC, while not some earth stopping innovation, is surely a story about creating a culture of excellence — and all innovators can learn from that. Let me take you back to the early 60′s for a moment. I was a young lad living near the UC campus in Cincinnati. Ideas so fresh--they should be slapped!: Even in a recession, it. America - and much of the world - is in the midst of a recession.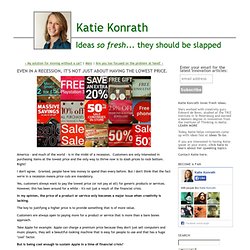 Customers are only interested in purchasing items at the lowest price and the only way to thrive now is to slash prices to rock bottom. Right? I don't agree. Granted, people have less money to spend than every before. Seven Advertising Insights for the New Year - Small Agency Diary. United States, Media & Entertainment, 5 Useful Marketing Answers. Terms & Conditions and Privacy Statement Mondaq.com (the Website) is owned and managed by Mondaq Ltd and as a user you are granted a non-exclusive, revocable license to access the Website under its terms and conditions of use.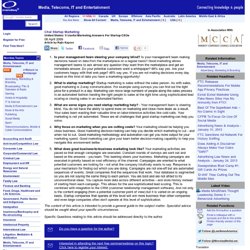 Your use of the Website constitutes your agreement to the following terms and conditions of use. Top 10 Corporate Time-Wasters - Latest inno. By Mike Myatt Time is the only thing we all have in common, yet it's how we choose to spend it that defines and differentiates us as individuals.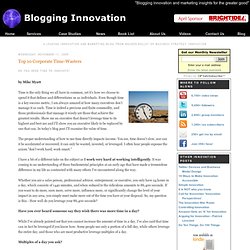 Even though time is a key success metric, I am always amazed at how many executives don't manage it as such. Time is indeed a precious and finite commodity, and those professionals that manage it wisely are those that achieve the greatest results. Show me an executive that doesn't leverage time to its highest and best use and I'll show you an executive likely to be replaced by one that can. The Best Business Model in the World - Umair Haque - HarvardBusi. By Umair Haque | 11:25 AM April 30, 2009 "Nice content – awesome presentation!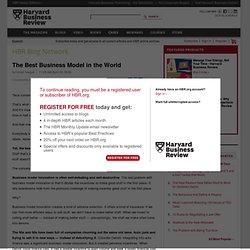 What did you use to make it?!" That's what everyone who sees my BRITE presentation asks me. It's a new service called Prezi. And it's insanely great — the minute I saw it I had to have it, no questions asked. Chris Brogan & Success-Benchmarks, Business Objectives & Balance. I woke up this morning to this post from Chris Brogan and the accompanied video: I found myself responding to Chris with Success to me is finding balance between professional success and being a good son, significant other, friend, sibling and when I get married- a great husband and father.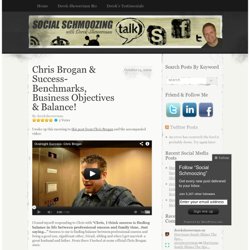 From there I looked at some official Chris Brogan stats: When I look at those numbers I think "critical mass". Chris has in fact reached critical mass! How to protect your ideas in the digital age. If we're in the idea business, how to protect those ideas?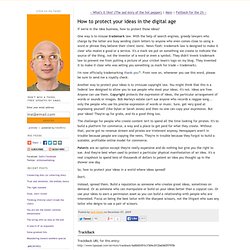 One way is to misuse trademark law. With the help of search engines, greedy lawyers who charge by the letter are busy sending claim letters to anyone who even comes close to using a word or phrase they believe their client 'owns'. News flash: trademark law is designed to make it clear who makes a good or a service. It's a mark we put on something we create to indicate the source of the thing, not the inventor of a word or even a symbol.
They didn't invent trademark law to prevent me from putting a picture of your cricket team's logo on my blog. Business Success Made Awesomely Simple by John Spence : The Worl. Storytelling Tips from Salesforce's Marc Benioff. Software-as-a-service pioneer and salesforce.com (CRM) co-founder and CEO Marc Benioff credits storytelling as one of the primary reasons for his company's rapid success.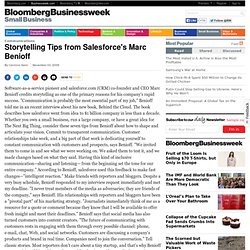 "Communication is probably the most essential part of my job," Benioff told me in an recent interview about his new book, Behind the Cloud. The book describes how salesforce went from idea to $1 billion company in less than a decade. Whether you own a small business, run a large company, or have a great idea for The Next Big Thing, consider these seven tips from Benioff about how to shape and articulate your vision. Commit to transparent communication. Creative Think: What's Your Creativity Style? It's time again for some inspiration from Heraclitus, the world's first creativity teacher (he lived around 500 BC).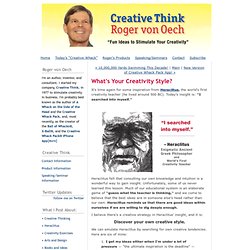 Today's insight is: "I searched into myself." Heraclitus felt that consulting our own knowledge and intuition is a wonderful way to gain insight. Find the 15-Minute Competitive Advantage - Rosabeth Moss Kanter. By Rosabeth Moss Kanter | 9:26 AM November 9, 2009 Just because this is a time of transformation doesn't mean that it's easy to sell transformational ideas.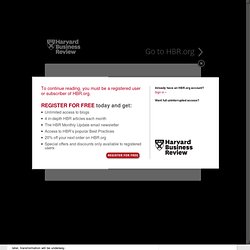 Economic uncertainty has reduced the audience for bold, grand rhetoric. Besides, even in boom times innovation is risky. Company Overview. You view knowledge sharing between your employees, partners, and customers as a strategic priority. Essentially, their knowledge leads to your success. Kenexa's portfolio of inter-related mobile, social, and learning Knowledge Solutions accelerates and broadens access to colleagues and the knowledge they need to respond to business requirements more quickly and make better informed decisions. Together you excel. How to Get Found : The World. Fallback for the 2% If you ask one hundred people to do a task (particularly one that involves following instructions or using a computer or both), figure that two of them will mess it up.
It doesn't matter if you use ALL CAPITAL LETTERS. It doesn't matter if your instructions are crystal clear. Drew McLellan - The Marketing Minute: 5 reasons why other people. I was part of a panel (with Claire Celsi, Nathan T. Wright & Dr. David Bulla) talking to journalists about personal branding this morning. Part of my message was that it's fine and dandy to have a personal brand…but one of the keys to its success is in how you share your brand with the world. I used the analogy of a dandelion. Once you figure out what your personal brand is all about….you hold it out to the world, like a dandelion. Three Paradoxes of the Internet Age - Part One. In the circles that I travel the Internet is often breathlessly embraced as the herald of all things good; the bringer of increased choice, personal empowerment, social harmony…and the list goes on. And yet, as with any powerful technology, the truth of its consequences eludes such a singular and happy narrative.
Here is the first of three paradoxes of the Internet Age. How I Tweet : The World. 5 Marketing Tools Every Startup Should Use. Buzz alone won't guarantee startup success, but it certainly can't hurt. In the glorious Web 2.0 startup world that many of us live in there's a lot of noise. To stand out from the noise, startups need to do more to draw attention. Some startups are great at this. The folks at Xobni for example. They blog, use video, and spend a good amount of time promoting themselves. Seven suggestions for messy times « THE COMPASS POINT. Lean startups aren't cheap startups. Principles Of Effective Search In E-Commerce Design - Smashing M.
---