Openid
The Distributed Social Networking Puzzle: Putting The Pieces Tog. Distributed social networking - where users can connect their profile, friends and other data across multiple sites - is still a relatively new concept and not fully developed.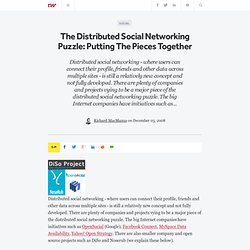 There are plenty of companies and projects vying to be a major piece of the distributed social networking puzzle. The big Internet companies have initiatives such as OpenSocial (Google), Facebook Connect, MySpace Data Availability, Yahoo! Open Strategy. DSNP: Distributed Social Networking Protocol. DSNP: Distributed Social Networking Protocol private. decentralized. scalable. *** NOTICE *** DSNP is no longer active.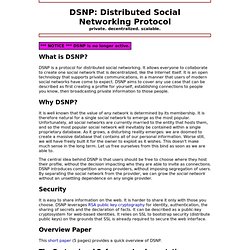 What is DSNP? DSNP is a protocol for distributed social networking. OpenSocial - Google Code. DiSo Project. Could This Be Your All-in-One Social Network? - ReadWriteWeb. Long time innovator Marc Canter has made a proposal for a system to let users integrate all their social networks from around the web into one central dashboard.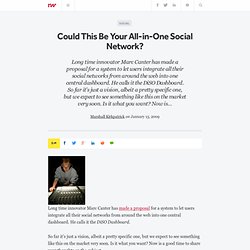 He calls it the DiSO Dashboard. So far it's just a vision, albeit a pretty specific one, but we expect to see something like this on the market very soon. Is it what you want? Now is a good time to share your thoughts on the subject.
---