Innovation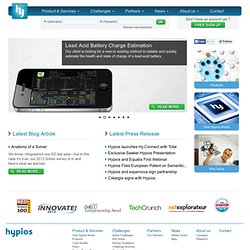 Read More... Slideshow-Box Lead Acid Battery Charge Estimation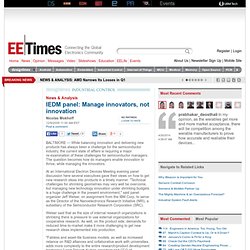 IEDM panel: Manage innovators, not innovation
datasheets.com EBN.com EDN.com EETimes.com Embedded.com PlanetAnalog.com TechOnline.com Events ▼ UBM Tech
How Companies Increase Innovation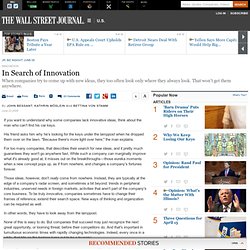 If you want to understand why some companies lack innovative ideas, think about the man who can't find his car keys. His friend asks him why he's looking for the keys under the lamppost when he dropped them over on the lawn. "Because there's more light over here," the man explains. For too many companies, that describes their search for new ideas, and it pretty much guarantees they won't go anywhere fast. While such a company can marginally improve what it's already good at, it misses out on the breakthroughs—those eureka moments when a new concept pops up, as if from nowhere, and changes a company's fortunes forever. Those ideas, however, don't really come from nowhere.
Bloomberg Businessweek Continue to Businessweek Sign in with Facebook Or use your Businessweek account Forgot password? Already a Bloomberg.com user?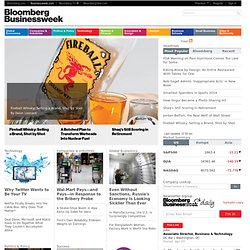 John Wood, Chair of the European Research Area Board Five advisory panels have come together in a joint statement to urge the European Parliament and the newly named Commission to rethink the way the EU organizes its support and policies for research, development and innovation. The EU approach needs "radical improvement" and better long-term planning, say the groups.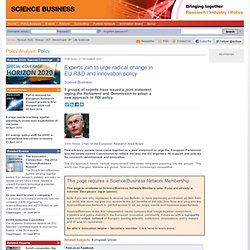 Science|Business Experts join to urge radical change in EU R&D a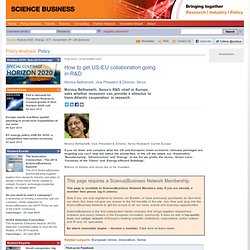 Science|Business How to get US-EU collaboration going in R&D
Monica Beltrametti, Vice President & Director, Xerox Research Centre Europe If you sit down and compare what the US and European Union economic stimulus packages are targeting you can't help but notice the similarities. In the US the labels are 'Automotive', 'Manufacturing', 'Infrastructure' and 'Energy'. In the EU we prefer the terms, 'Green Cars', 'Factories of the Future' and 'Energy-efficient Buildings'. Billions of dollars and euros are to be invested... This page requires a Science|Business Network Membership
Science|Business How to get US-EU collaboration going in R&D
Algèbre sur un anneau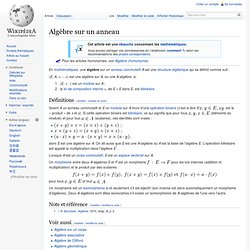 Un article de Wikipédia, l'encyclopédie libre. (E, A, +, ∙, ×) est une algèbre sur A, ou une A-algèbre, si : Définitions[modifier | modifier le code] , est le « produit » de x et y). Si cette opération binaire est bilinéaire, ce qui signifie que pour tous (éléments du module) et pour tout
Algèbre de Clifford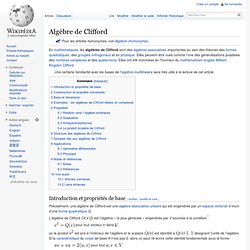 Un article de Wikipédia, l'encyclopédie libre. En mathématiques, les algèbres de Clifford sont des algèbres associatives importantes au sein des théories des formes quadratiques, des groupes orthogonaux et en physique. Elles peuvent être vues comme l'une des généralisations possibles des nombres complexes et des quaternions.
Programmation orientée objet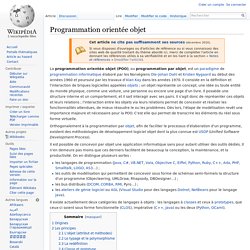 Un article de Wikipédia, l'encyclopédie libre. Il est possible de concevoir par objet une application informatique sans pour autant utiliser des outils dédiés. Il n'en demeure pas moins que ces derniers facilitent de beaucoup la conception, la maintenance, et la productivité.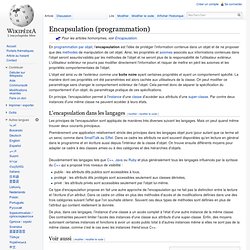 Encapsulation (programmation)
Un article de Wikipédia, l'encyclopédie libre. L'objet est ainsi vu de l'extérieur comme une boîte noire ayant certaines propriétés et ayant un comportement spécifié. La manière dont ces propriétés ont été paramétrées est alors cachée aux utilisateurs de la classe. On peut modifier ce paramétrage sans changer le comportement extérieur de l'objet. Cela permet donc de séparer la spécification du comportement d'un objet, du paramétrage pratique de ces spécifications. Les principes de l'encapsulation sont appliqués de manières très diverses suivant les langages.
Un article de Wikipédia, l'encyclopédie libre. PHP: Hypertext Preprocessor [3], plus connu sous son sigle Historique[modifier | modifier le code]
4 Arten API Calls zu optimieren Artikel PHP-Applikationen kann man mit unedlichen vielen APIs verbinden, aber wenn man nicht aufpasst, leidet die Performance. Mehr Web mit Chrome 35 Beta
it republik - PHP
PHP Magazine, PHP Training, PHP Conferences, PHP Books, PHP Appa
by Eli White · April 8, 2014 If you were sitting on the fence about buying your tickets to php[tek] 2014 … it's time to act! There are only six weeks left until php[tek] starts. So much will be happening that you won't want to miss.
Writing clean code isn't something you pick up overnight, nor is it a brand new topic. In this episode Jeff and Matt discuss the characteristics and mechanics of creating clean code and how to approach your project from a clean code perspective. Download Notes In this episode, Jeff and Matt talk about code quality and beautiful code.
The Complete list of PHP Podcasts, Screencasts, and Video Podcas
PHPDeveloper: PHP News, Views and Community
The SitePoint PHP blog has a new article posted showing you how to get started with Underscore, a PHP library ported over from Javascript's popular Underscore.js library with many of the same methods intact. If you've ever used the Backbone framework for JavaScript, you'll already be familiar with Underscore. Indeed, it's become incredibly useful for JavaScript developers in general. But did you know that it's been ported to PHP? [...]
The Increasing Cost Of Bad Behavior On Innovation | Frog Blog
TED: Perception of Reality and My Innovation Stories Video | THE
innovation playground Idris Mootee
Rethinking Clean Energy Innovation - Green Inc. Blog - NYTimes.c
Technology Review: Startups Mine the Real-Time Web