Innovation
Hypios - The First Social Marketplace for Solutions. IEDM panel: Manage innovators, not innovation. Datasheets.com EBN.com EDN.com EETimes.com Embedded.com PlanetAnalog.com TechOnline.com Events ▼ UBM Tech.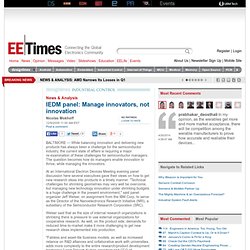 How Companies Increase Innovation. J&J Tries to Buy Itself a Pipeline. Science|Business Experts join to urge radical change in EU R&D a. John Wood, Chair of the European Research Area Board Five advisory panels have come together in a joint statement to urge the European Parliament and the newly named Commission to rethink the way the EU organizes its support and policies for research, development and innovation.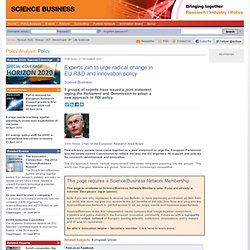 The EU approach needs "radical improvement" and better long-term planning, say the groups. Science|Business How to get US-EU collaboration going in R&D. Monica Beltrametti, Vice President & Director, Xerox Research Centre Europe If you sit down and compare what the US and European Union economic stimulus packages are targeting you can't help but notice the similarities.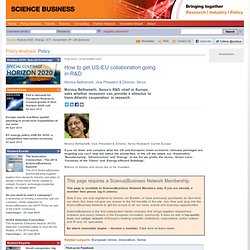 In the US the labels are 'Automotive', 'Manufacturing', 'Infrastructure' and 'Energy'. In the EU we prefer the terms, 'Green Cars', 'Factories of the Future' and 'Energy-efficient Buildings'. Billions of dollars and euros are to be invested... This page requires a Science|Business Network Membership. Science|Business How to get US-EU collaboration going in R&D.
Algèbre sur un anneau. Un article de Wikipédia, l'encyclopédie libre.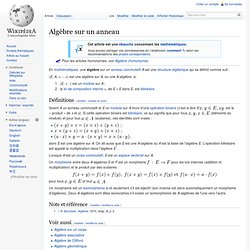 (E, A, +, ∙, ×) est une algèbre sur A, ou une A-algèbre, si : Définitions[modifier | modifier le code] , est le « produit » de x et y). Si cette opération binaire est bilinéaire, ce qui signifie que pour tous (éléments du module) et pour tout. Algèbre de Clifford. Un article de Wikipédia, l'encyclopédie libre.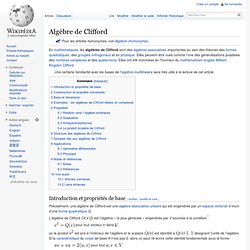 En mathématiques, les algèbres de Clifford sont des algèbres associatives importantes au sein des théories des formes quadratiques, des groupes orthogonaux et en physique. Elles peuvent être vues comme l'une des généralisations possibles des nombres complexes et des quaternions. Programmation orientée objet. Un article de Wikipédia, l'encyclopédie libre.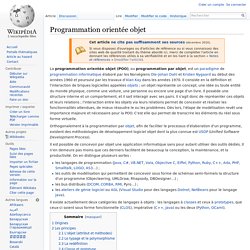 Il est possible de concevoir par objet une application informatique sans pour autant utiliser des outils dédiés. Il n'en demeure pas moins que ces derniers facilitent de beaucoup la conception, la maintenance, et la productivité. Encapsulation (programmation) Un article de Wikipédia, l'encyclopédie libre.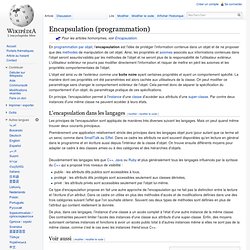 L'objet est ainsi vu de l'extérieur comme une boîte noire ayant certaines propriétés et ayant un comportement spécifié. La manière dont ces propriétés ont été paramétrées est alors cachée aux utilisateurs de la classe. On peut modifier ce paramétrage sans changer le comportement extérieur de l'objet. Cela permet donc de séparer la spécification du comportement d'un objet, du paramétrage pratique de ces spécifications.
Les principes de l'encapsulation sont appliqués de manières très diverses suivant les langages. PHP: Hypertext Preprocessor. Un article de Wikipédia, l'encyclopédie libre.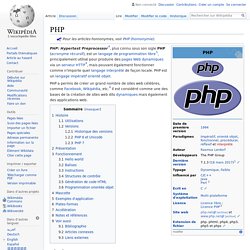 PHP: Hypertext Preprocessor [3], plus connu sous son sigle Historique[modifier | modifier le code]
Php magazines
It republik - PHP. PHP Magazine, PHP Training, PHP Conferences, PHP Books, PHP Appa. Php news. The Complete list of PHP Podcasts, Screencasts, and Video Podcas. PHPDeveloper: PHP News, Views and Community. PHP: Hypertext Preprocessor. How Not to Manage Innovation - Umair Haque - HarvardBusiness.org. By Umair Haque | 6:05 PM May 14, 2009 Welcome to the zombieconomy — where things happen backwards.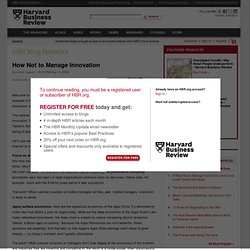 Case in point: today's best example of how not to manage innovation comes from those who should be masters of radical innovation: venture investors. The venture industry is in crisis because of an ongoing inability to grow and nurture meaningful innovation. I've come across many examples recently — a tweet from an investor asking "where is Twitter's ROI?" Trends: An Interview with Seth Godin : Innovation :: American Ex. The Increasing Cost Of Bad Behavior On Innovation | Frog Blog. The cost of innovation is increasing due to bad behavior.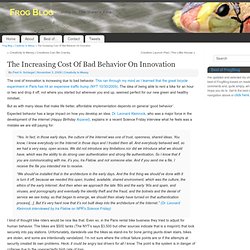 This ran through my mind as I learned that the great bicycle experiment in Paris has hit an expensive traffic bump (NYT 10/30/2009). The idea of being able to rent a bike for an hour or two and drop it off, not where you started but wherever you end up, seemed perfect for our new green and healthy mindset. But as with many ideas that make life better, affordable implementation depends on general 'good behavior'.
Expected behavior has a large impact on how you develop an idea. Dr. TED: Perception of Reality and My Innovation Stories Video | THE. A very smart TED discussion on how our perception is based on our historical perceptions and not reality. This is a very interesting explanation of how we base our perceptions in a historical sense, sometimes devoid of reality. It is interesting to correlate this content with the story of the newlyweds and their first turkey where they ended up calling the grandmums. If we learn and develop belief systems about our world that are based upon our historical and empirical reasoning, we are limited by our past experiences and what we may not truly understand.
Since this is our pattern of learning, it means our "reality experience" may be based on our prior emotions and thinking that we have sought to reason with and attach meaning to our experiences. Early on one of my first innovation challenges was based upon issues of Dogma. Innovation playground Idris Mootee. 2013 was a good year and a very busy one for me. Having been on the road for over 120 days; delivered some great projects and worked with some of the smartest and most creative people around the world was all fun and also exhausted. Now is the time to think about what the future holds?
I really don't know what to write these days, I want to write about a lot of things from economics to politics and from luxury brands to consumer electronics and from rethinking management to education, so much to do and so little time. Rethinking Clean Energy Innovation - Green Inc. Blog - NYTimes.c. Technology Review: Startups Mine the Real-Time Web. The "real-time Web" is a hot concept these days. Both Google and Microsoft are racing to add more real-time information to their search results, and a slew of startups are developing technology to collect and deliver the freshest information from around the Web. But there's more to the real-time Web than just microblogging posts, social network updates, and up-to-the-minute news stories.
Huge volumes of data are generated, behind the scenes, every time a person watches a video, clicks on an ad, or performs just about any other action online.
---