Biology
Department of Biology. UCI School of Biological Sciences. College of Biological Sciences (CBS), UC Davis. The Division of Biological Sciences, University of Chicago. Cold Spring Harbor Laboratory. Biological Sciences at the University of California, Santa Barba. ETH - D-BIOL - Herzlich Willkommen. Caltech Division of Biology. UPenn - SAS - Biology. Princeton University - Department of Molecular Biology. Cornell Office of Undergraduate Biology. Biology Undergraduate Education at Brown University.
Pacific Biosciences Research Center. Duke Department of Biology. Univ of Washington Biology Dept. Georgia Tech :: Biology. Research. OHSU researcher receives presidential award Damien Fair, PA-C, Ph.D., an assistant professor of behavioral neuroscience and psychiatry, has received a Presidential Early Career Award, the highest honor given by the U.S. government to early-stage independent scientists.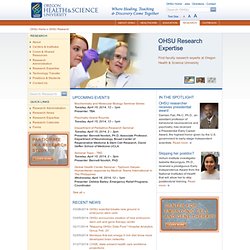 Read more Skipping her postdoc? Vollum Institute investigator Isabelle Baconguis, Ph.D., received a prestiguous Early Independence Award from the National Institutes of Health that will allow her to skip postdoctoral training. University :: Biological Sciences. Biology Department. Program in Biomedical Science: U-M Medical School.
The Department of Biology at UNC-Chapel Hill. SDSU Biology Department. Home Page, The University of Texas Health Science Center at San. Indiana University Department of Biology. UVA Biology Department. We have an exceptional breadth of cutting edge research and educational opportunities.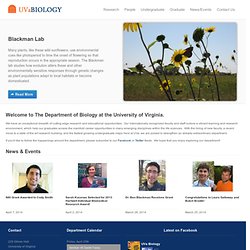 Our internationally recognized faculty and staff nurture a vibrant learning and research environment, which help our graduates access the manifold career opportunities in many emerging disciplines within the life sciences. With the hiring of new faculty, a recent move to a state of the art research building, and the fastest growing undergraduate major here at UVa, we are poised to strengthen an already extraordinary department. Biology Department at Washington University. Department of Biological Sciences. Nathan Urban Named Interim Provost of Carnegie Mellon Urban, the Dr.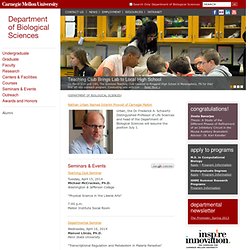 Frederick A. Home. Graduate School. Graduate Division of Biological and Biomedical Sciences at Emory. Animal and Plant Sciences. Masters courses - new for 2014!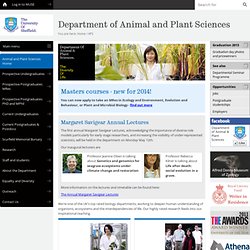 You can now apply to take an MRes in Ecology and Environment, Evolution and Behaviour, or Plant and Microbial Biology - find out more Margaret Savigear Annual Lectures. Department Biological Sciences, Purdue University. Loyola University Chicago- Department of Biological Sciences. College :: Biology :: At Swarthmore College, learning about biol. At Swarthmore College, learning about biology is doing biology.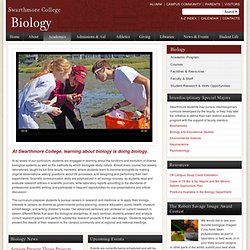 At all levels of our curriculum, students are engaged in learning about the functions and evolution of diverse biological systems as well as the methods by which biologists study nature. Almost every course has weekly laboratories, taught by full-time faculty members, where students learn to become biologists by making original observations, asking questions about life processes, and designing and performing their own experiments.
Scientific communication skills are emphasized in all biology courses, as students read and evaluate research articles in scientific journals, write laboratory reports according to the standards of professional scientific writing, and participate in frequent opportunities for oral presentations and critical discussion. Boston University College of Arts & Sciences Department of Biolo. Welcome to the Department of Biology Biology at Boston University is a highly integrative department, with faculty teaching and conducting research in the broad range of fields that comprise the contemporary life sciences.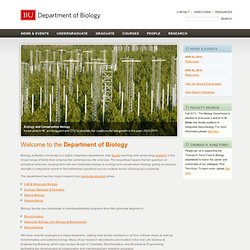 The department spans the full spectrum of biological sciences, ranging from cell and molecular biology to ecology and conservation biology, giving us unusual strength in integrative research that addresses questions across multiple levels of biological complexity. The department has four major research and graduate program areas: About the Biology Department — Undergraduate Biology at Harvard University. Microbial Sciences Initiative (MSI) Symposium Saturday, April 19, 2014 8:45 am - 5:00 pm Knafel Center (Radcliffe Gymnasium) Radcliffe Institute for Advanced Study Harvard University, Cambridge The 11th Annual Microbial Sciences Initiative (MSI) Symposium, hosted by the Harvard Microbial Sciences Initiative, is free and open to the public.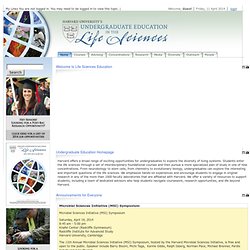 Biology at the University of Nottingham - School of Biology - Th. College of Life Sciences > Home. Johns Hopkins Department of Biology. Biology Program at ISU. OSU-CHS | Biomedical Sciences. The Biomedical Sciences Graduate Program at Oklahoma State University Center for Health Sciences provides students with a foundation in biomedical science that is broadly applicable to many disciplines including anatomy, biochemistry, cell biology, microbiology, pathology, pharmacology, and physiology.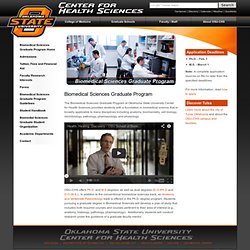 OSU-CHS offers Ph.D. and M.S degrees, as well as dual degrees (D.O-/Ph.D and D.O. -M.S.).. Biological Sciences.
---