Biology
Department of Biology
UCI School of Biological Sciences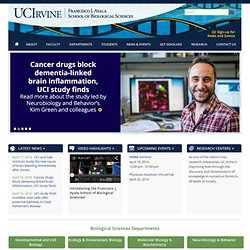 Developmental and Cell Biology The Department of Developmental & Cell Biology ranks among the top 20 percent of comparable programs nationwide according to National Research Council data. The diverse programs of computational biology, bioengineering and physical sciences comprise a highly integrative approach to studying the field. Ecology & Evolutionary Biology The Department of Ecology & Evolutionary Biology is in the top 10 percent of similar programs nationwide, according to the National Research Council. There are 4 major programs focusing on ecological and evolutionary processes and how they develop and interact with other organisms and their environment.
4/10/2014 Student Snapshot Meet graduate student Angela Monterrubio and undergraduate Scott Wilder 4/10/2014Davis volunteers help underserved kids discover science 4/10/2014Unique math and biology training program propels CBS alumni careers 4/10/2014Kingdom-Crossing research pinpoints new genes possibly implicated in cancer and other diseases 4/10/2014 Alumni Spotlight NASA Astrobiologist Richard KiddGenetics '87
College of Biological Sciences (CBS), UC Davis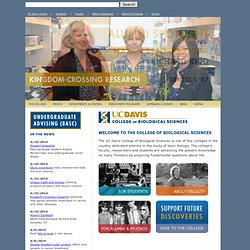 The Division of Biological Sciences, University of Chicago
Skip to page content Maps Directories View calendar 'Your Inner Fish' takes to the screen A recurring image of Prof.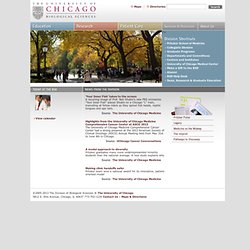 Biological Sciences at the University of California, Santa Barba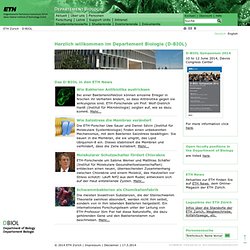 ETH - D-BIOL - Herzlich Willkommen
D-BIOL Symposium 2014 10 to 12 June 2014, Davos Congress Center For more information click here. Open faculty positions in the Department of Biology are listed here.
Caltech Division of Biology
UPenn - SAS - Biology
Princeton University - Department of Molecular Biology
Cornell Office of Undergraduate Biology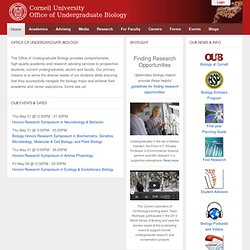 Upperclass biology majors provide these helpful guidelines for finding research opportunities. Undergraduates in the lab of Nelson Hairston, the Frank H.T. Rhodes Professor of Environmental Science, perform scientific research in a supportive atmosphere. Read more The Cornell Laboratory of Ornithology's birding team, Team Redhead, participates in the 2013 World Series of Birding and uses the monies raised at this fundraising event to support Cornell undergraduate research and conservation projects
Biology Undergraduate Education at Brown University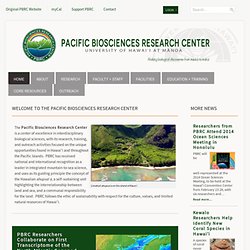 Limahuli ahupua'a on the island of Kaua'i.The Pacific Biosciences Research Center is a center of excellence in interdisciplinary biological sciences, with its research, training, and outreach activities focused on the unique opportunities found in Hawaiʻi and throughout the Pacific Islands. PBRC has received national and international recognition as a leader in integrated mountain-to-sea science, and uses as its guiding principle the concept of the Hawaiian ahupuaʻa, a self-sustaining unit highlighting the interrelationship between land and sea, and a communal responsibility for the land. PBRC follows the ethic of sustainability with respect for the culture, values, and limited natural resources of Hawaiʻi.
Pacific Biosciences Research Center
Duke Department of Biology
Univ of Washington Biology Dept.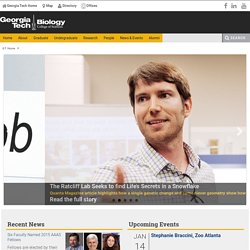 Fish living on coral reefs where carbon dioxide seeps from the ocean floor were less able to detect predator odor than fish from normal coral reefs, according to a new study. The study confirms laboratory experiments showing that the behavior of reef fishes can be seriously affected by increased carbon dioxide concentrations in the ocean. The new study is the first to analyze the sensory impairment of fish from CO2 seeps, where pH is similar to what climate models forecast for surface waters by the turn of the century.
Georgia Tech :: Biology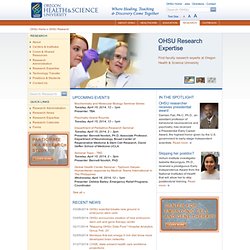 OHSU researcher receives presidential award Damien Fair, PA-C, Ph.D., an assistant professor of behavioral neuroscience and psychiatry, has received a Presidential Early Career Award, the highest honor given by the U.S. government to early-stage independent scientists. Read more Skipping her postdoc? Vollum Institute investigator Isabelle Baconguis, Ph.D., received a prestiguous Early Independence Award from the National Institutes of Health that will allow her to skip postdoctoral training.
Research
University :: Biological Sciences
Biology Department
Program in Biomedical Science: U-M Medical School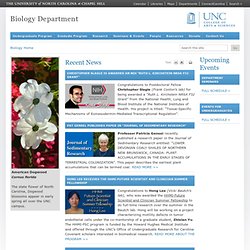 The Department of Biology at UNC-Chapel Hill
Text: Increase font size Decrease font size Congratulations to Postdoctoral Fellow Christopher Slagle (Frank Conlon's lab) for being awarded a "Ruth L. Kirchstein NRSA F32 Grant" from the National Health, Lung and Blood Institute of the National Institutes of Health.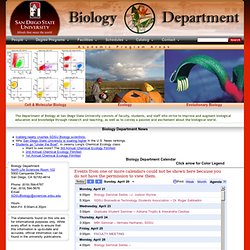 SDSU Biology Department
Academic Program Areas Biology Department Calendar Click arrow for Color Legend The mission of the Department of Biology at San Diego State University is to: Conduct innovative and relevant research in the interrelated fields of cell and molecular biology, ecology, and evolutionary biology.
Home Page, The University of Texas Health Science Center at San
Indiana University Department of Biology
UVA Biology Department
We have an exceptional breadth of cutting edge research and educational opportunities. Our internationally recognized faculty and staff nurture a vibrant learning and research environment, which help our graduates access the manifold career opportunities in many emerging disciplines within the life sciences. With the hiring of new faculty, a recent move to a state of the art research building, and the fastest growing undergraduate major here at UVa, we are poised to strengthen an already extraordinary department.
Biology Department at Washington University
Nathan Urban Named Interim Provost of Carnegie Mellon Urban, the Dr. Frederick A.
Department of Biological Sciences
Home
Graduate School
Graduate Division of Biological and Biomedical Sciences at Emory
Masters courses - new for 2014! You can now apply to take an MRes in Ecology and Environment, Evolution and Behaviour, or Plant and Microbial Biology - find out more Margaret Savigear Annual Lectures
Animal and Plant Sciences
Department Biological Sciences, Purdue University
Loyola University Chicago-
Tamas, I., Smirnova, A.V., He, Z., Dunfield P.F. (2014) The (d)evolution of methanotrophy in the Beijerinckiaceae, a comparative genomics analysis. ISME J. 8:369-382. Crowe, M.A., Power, J.F., Morgan, X.C., Dunfield, P.F., Lagutin, K., Rijpstra, W.I.C., Vyssotski, M., Sinninghe Damste, J.S., Houghton, K.M., Ryan, J.L.J., and Stott, M.B. (2014) Pyrinomonas alimethylogenes gen. nov. sp. nov., a novel group 4 thermophilic Acidobacteria from geothermal soils. Int.
Department of Biological Sciences
College :: Biology :: At Swarthmore College, learning about biol
At Swarthmore College, learning about biology is doing biology. At all levels of our curriculum, students are engaged in learning about the functions and evolution of diverse biological systems as well as the methods by which biologists study nature. Almost every course has weekly laboratories, taught by full-time faculty members, where students learn to become biologists by making original observations, asking questions about life processes, and designing and performing their own experiments. Scientific communication skills are emphasized in all biology courses, as students read and evaluate research articles in scientific journals, write laboratory reports according to the standards of professional scientific writing, and participate in frequent opportunities for oral presentations and critical discussion.
Boston University College of Arts & Sciences Department of Biolo
About the Biology Department —
Undergraduate Biology at Harvard University
Biology at the University of Nottingham - School of Biology - Th
College of Life Sciences > Home
Johns Hopkins Department of Biology
Biology Program at ISU
OSU-CHS | Biomedical Sciences
Biological Sciences