Biology
Department of Biology
UCI School of Biological Sciences
College of Biological Sciences (CBS), UC Davis
The Division of Biological Sciences, University of Chicago
Cold Spring Harbor Laboratory
Biological Sciences at the University of California, Santa Barba
ETH - D-BIOL - Herzlich Willkommen
Caltech Division of Biology
UPenn - SAS - Biology
Princeton University - Department of Molecular Biology
Cornell Office of Undergraduate Biology
Biology Undergraduate Education at Brown University
Pacific Biosciences Research Center
Duke Department of Biology
Univ of Washington Biology Dept.
Georgia Tech :: Biology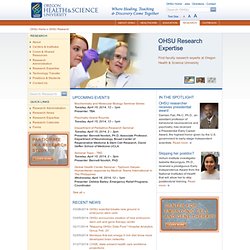 OHSU researcher receives presidential award
Research
University :: Biological Sciences
Biology Department
Program in Biomedical Science: U-M Medical School
The Department of Biology at UNC-Chapel Hill
SDSU Biology Department
Home Page, The University of Texas Health Science Center at San
Indiana University Department of Biology
UVA Biology Department
We have an exceptional breadth of cutting edge research and educational opportunities.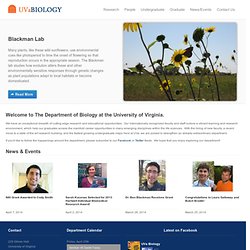 Biology Department at Washington University
Department of Biological Sciences
Home
Graduate School
Graduate Division of Biological and Biomedical Sciences at Emory
Masters courses - new for 2014! You can now apply to take an MRes in Ecology and Environment, Evolution and Behaviour, or Plant and Microbial Biology - find out more Photo Credit: Simon Wright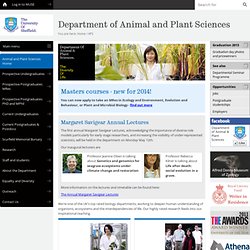 Animal and Plant Sciences
Department Biological Sciences, Purdue University
Loyola University Chicago-
Department of Biological Sciences
College :: Biology :: At Swarthmore College, learning about biol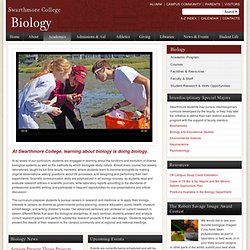 At Swarthmore College, learning about biology is doing biology. At all levels of our curriculum, students are engaged in learning about the functions and evolution of diverse biological systems as well as the methods by which biologists study nature. Almost every course has weekly laboratories, taught by full-time faculty members, where students learn to become biologists by making original observations, asking questions about life processes, and designing and performing their own experiments. Scientific communication skills are emphasized in all biology courses, as students read and evaluate research articles in scientific journals, write laboratory reports according to the standards of professional scientific writing, and participate in frequent opportunities for oral presentations and critical discussion.
Boston University College of Arts & Sciences Department of Biolo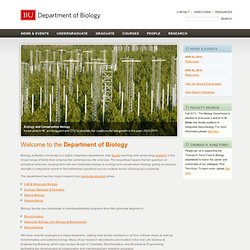 Welcome to the Department of Biology
About the Biology Department —
Harvard offers a broad range of exciting opportunities for undergraduates to explore the diversity of living systems. Students enter the life sciences through a set of interdisciplinary foundational courses and then pursue a more specialized plan of study in one of nine concentrations. From neurobiology to stem cells, from chemistry to evolutionary biology, undergraduates can explore the interesting and important questions of the life sciences.
Undergraduate Biology at Harvard University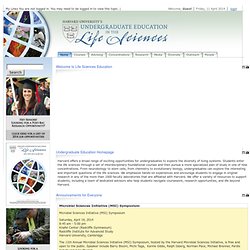 Biology at the University of Nottingham - School of Biology - Th
College of Life Sciences > Home
Johns Hopkins Department of Biology
Biology Program at ISU
The Biomedical Sciences Graduate Program at Oklahoma State University Center for Health Sciences provides students with a foundation in biomedical science that is broadly applicable to many disciplines including anatomy, biochemistry, cell biology, microbiology, pathology, pharmacology, and physiology. OSU-CHS offers Ph.D. and M.S degrees, as well as dual degrees (D.O-/Ph.D and D.O.-M.S.)..
OSU-CHS | Biomedical Sciences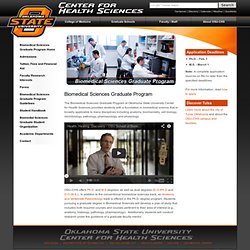 Biological Sciences