Critical Issues: Hypermedia
This Critical Issue was coauthored by Ann Holum, Ph.D., and Jan Gahala, M.A. Holum's doctoral work on the use of interactive media to improve children's story-understanding skills sparked her ongoing interest in integrating technologies in K-12 literacy settings; she currently is an independent educational consultant. Gahala is a technical specialist in NCREL's Communications department. ISSUE: Educational technology is nudging literacy instruction beyond its oral and print-based tradition to embrace online and electronic texts as well as multimedia.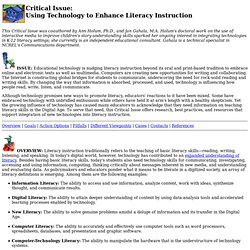 Curriculum Vitae (PDF) Greene, Jeffrey A. Associate Professor:Learning Science and Psychological Studies ProgramEducational Psychology, Measurement, and Evaluation Program Director of Graduate and Undergraduate Research Programs, School of Education T: 919.843.5550 F: 919.962.1533 jagreene@email.unc.edu 113 Peabody Hall CB 3500 "Soft pedagogics have taken the place of the old steep and rocky path to learning. But from this lukewarm air the bracing oxygen of effort is left out.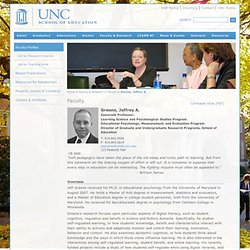 School of Education
Using Mindtools in Education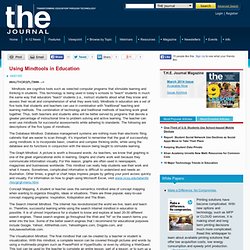 Using Mindtools in Education Mindtools are cognitive tools such as selected computer programs that stimulate learning and thinking in students. This technology is being used in today's schools to "teach" students in much the same way that educators "teach" students (i.e., instruct students about what they know and assess their recall and comprehension of what they were told). Mindtools in education are a set of five tools that students and teachers can use in combination with "traditional" teaching and learning methods. The combination of technology and traditional methods of teaching work great together.