Beauty
Teeth Whiteners - Natural Teeth Whiteners at WomansDay.com! When it comes to saying "cheese," do you suddenly find yourself tight-lipped?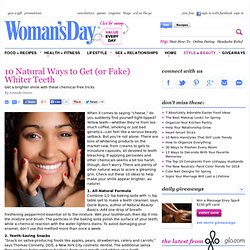 Yellow teeth—whether they're from too much coffee, smoking or just bad genetics—can feel like a serious beauty setback. But you're not alone: There are tons of whitening products on the market now, from creams to gels to miniature capsules, all devoted to teeth bleaching. If applying peroxides and other chemicals seems a bit too harsh, though, don't worry. There are plenty of other natural ways to score a gleaming grin. Check out these 10 ideas to help make your smile appear brighter, au naturel. Out of the ordinary Beauty Tips that work | Cher Cabula's Mindbox. Use toothpaste on yellow nails.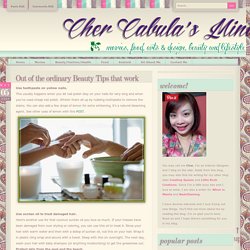 This usually happens when you let nail polish stay on your nails for very long and when you've used cheap nail polish. Whiten them all up by rubbing toothpaste to remove the stains. You can also add a few drops of lemon for extra whitening, it's a natural bleaching agent. See other uses of lemon with this POST. Use suntan oil to treat damaged hair.
---