Beauty
It´s saturday, I´m back in beautiful Monaco and life is good! As you all know I´m addicted to brown eyeshadows because it´s sofisticated, beautiful and goes with everything. However, sometimes plain brown can be a bit boring and since it´s saturday I decided to leave my comfort zone and do it with a twist.
Teeth Whiteners - Natural Teeth Whiteners at WomansDay.com!
When it comes to saying "cheese," do you suddenly find yourself tight-lipped? Yellow teeth—whether they're from too much coffee, smoking or just bad genetics—can feel like a serious beauty setback.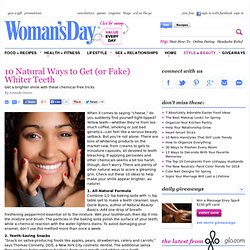 Use toothpaste on yellow nails. This usually happens when you let nail polish stay on your nails for very long and when you've used cheap nail polish.