Color
This entry is part 5 of 15 in the Web Design Theory Session - Show All « Previous Next » Today we're going to learn the importance of color in Web Design and how to choose a pleasing color scheme. This article is part of our Basix series, which is aimed at providing practical and concise explanations of design principles for those with little design experience… let's get started!
We spend a lot of time asking ourselves, our clients and other people questions. Whether it's choosing the perfect shade of green for our latest web layout or figuring out how to implement a complex typographical solution, the ability to ask the right questions is among the most critical of skills for a web designer. In this article, we'll go over 60 specific questions that web professionals should ask before taking their website public.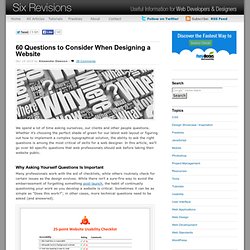 Color in design is very subjective. What evokes one reaction in one person may evoke a very different reaction in somone else. Sometimes this is due to personal preference, and other times due to cultural background. Color theory is a science in itself.