Foods
Spinach Kale and Pear Smoothie. Sweet & Savory French Toast BLT. Cheese Danish Revisited. Old-School Recipe: Make Your Own Strawberry Milk! | Apartment Therapy The Kitchn. Previous image Next image After I made this crazy hot pink Valentine's confection, one of the comments on the strawberry milk required for the cake was, "Why not make your own?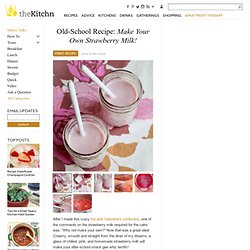 " Now that was a great idea! Creamy, smooth and straight from the diner of my dreams, a glass of chilled, pink, and homemade strawberry milk will make your after-school snack gee whiz terrific! While preparing that cake I mentioned, I thought I fell in love with the bottled (eek, super artificially flavored!) Ham and Egg Crepe Squares. Carrot Cake Pancakes. November 7, 2010 Carrot Cake Pancakes by IsaChandra.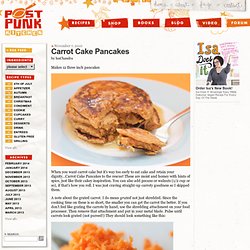 Spinach Caprese Salad Recipe. Crustless Chard and Bacon Quiche - Crustless Quiche Recipe. Serve this crustless quiche for brunch or breakfast, or with a sandwich or salad for an extra-special lunch.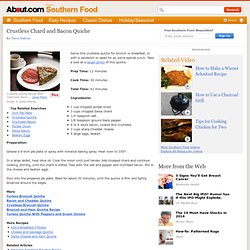 Take a look at a larger photo of this quiche. Prep Time: 12 minutes Cook Time: 30 minutes Total Time: 42 minutes. Recipe: Edamame Beans, Chickpeas, Shiitake Mushrooms and Spinach. High protein Edamame beans and nutrient dense spinach make make up the bulk of this high fiber nutritious hot salad.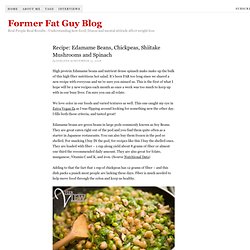 It's been FAR too long since we shared a new recipe with everyone and we're sure you missed us. This is the first of what I hope will be 2 new recipes each month as once a week was too much to keep up with in our busy lives. I'm sure you can all relate. We love color in our foods and varied textures as well. This one caught my eye in Extra Vegan Za as I was flipping around looking for something new the other day.
Gorgonzola Tart with Cranberry Orange Ginger Chutney & Candied Pecans. By now, the combination of marbled blue cheese with cranberries and pecans is nearly cliché.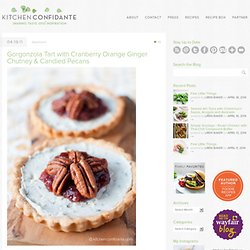 But it's a flavor profile I never tire of, and one that is not in risk of going out of fashion, at least not any time soon. (I hope.) The first time I tasted this trio of savory goodness, I had just moved to California and was working in a sleepy town outside of San Francisco, in Marin. My office was located in one of those small industrial parks that you can find in suburbia, you know, the ones that are vilified in movies like the cult favorite Office Space. It just goes to show you: you never know where you might find good food. Eggs Florentine Recipe : Emeril Lagasse. Directions Preheat oven to 200 degrees F.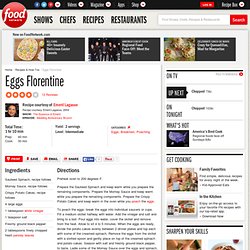 Prepare the Sauteed Spinach and keep warm while you prepare the remaining components. Prepare the Mornay Sauce and keep warm while you prepare the remaining components. Prepare the Crispy Potato Cakes and keep warm in the oven while you poach the eggs. To poach the eggs: break the eggs into individual saucers or cups. Creamed Spinach Recipe : Emeril Lagasse. Fankhauser's Cheese Page. Here is an abbreviated (roughly) alphabetized table of recipes on this site.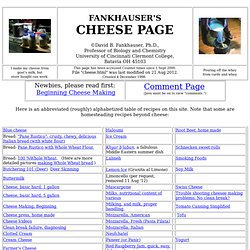 Note that some are homesteading recipes beyond cheese: Links? Homemade Spaghetti-O's! Untitled. It's finally spring, which means some of my favorite vegetables are showing up at the markets.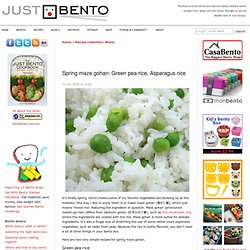 One way I like to enjoy them is to make maze gohan (混ぜご飯), which just means 'mixed rice', featuring the ingredient in question. Maze gohan (pronouned mazeh-go-han) differs from takikomi gohan (炊き込みご飯), such as this mushroom rice, where the ingredients are cooked with the rice. Maze gohan is more suited for delicate ingredients. Untitled. First off, I haven't actually uploaded a complete bento here in ages, so here is one!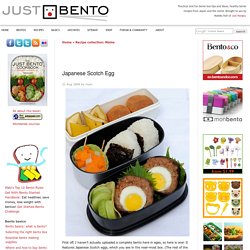 It features Japanese Scotch eggs, which you see in the near-most box. (The rest of the bento consists of cucumber slices with sea salt; a carrot and celeriac salad; onigiri with umeboshi filling; banana and mini-cupcakes. Untitled. Takarabukuro (宝袋) is a treasure bag.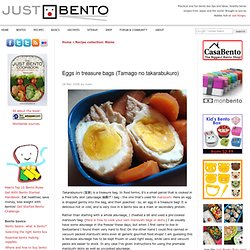 In food terms, it's a small parcel that is cooked in a fried tofu skin (aburaage 油揚げ)bag - the one that's used for inarizushi. Here an egg is dropped gently into the bag, and then poached - so, an egg in a treasure bag! It is delicious hot or cold, and is very nice in a bento box as a main or secondary protein. Rather than starting with a whole aburaage, I cheated a bit and used a pre-cooked inarizushi bag. Untitled. This has to be one of the easiest and tastiest ways of preparing Chinese or napa cabbage (hakusai) that I know of. All you taste is the fresh essence of the cabbage, with the heat of the red pepper and the slight twist of the orange zest. Did I say easy? Wash and chop up the leaves, mix together the flavoring ingredients, dump all in a plastic bag, shake then massage.
That's it. Untitled. Okonomiyaki is getting slowly more popular outside of Japan. It's often described as a Japanese pizza, but it's more like a savory pancake. Okonomiyaki was invented, they say, in Osaka, which is a city famous for cheap and good eats. Untitled. Cool potato salad is one of the great summer dishes, though I can eat it on any day of the year. Every culture that eats potatoes probably has its own unique recipe for potato salad. While potatoes are not really part of traditional Japanese cuisine, it's now a fixture in everyday cooking. When I was in junior high in the suburbs of Tokyo, our school's sandwich concession even had something called a 'vegetable sandwich', which was actually a mound of potato salad between two slices of white bread.
Potato salad is often tucked into a corner of an obento box (lunch box), and it's also a popular beer or sake snack. Untitled. I've promised an article on what to do with okara, the fiber-rich fluffy byproduct of making soy milk or tofu. This is not it. But I thought I'd kill two birds with one stone and show one way of using okara in everyday cooking, in a dish that can be made in under 30 minutes, making it suitable for Is My Blog Burning edition 24 hosted by Too Many Chefs. These meatballs are very light and soft, thanks to the okara, tofu and chopped shiitake mushrooms.
Untitled. I haven't participated in Is My Blog Burning, the original food blogging event initiated by Alberto, for quite a while. However, I couldn't pass up on this month's theme, hosted by Cooking With Amy: noodles. I love noodles in all shapes and from all corners of the world. I have made a very traditional Japanese noodle soup, kitsune udon. When you see the word kitsune in any Japanese food title, it means that it prominently features aburaage, or fried bean curd skin.
Untitled. Untitled. Untitled. Untitled. Steamed buns with roast pork filling (Steamed pork buns, or char siu bao, or chuuka manjuu, or nikuman. Untitled. Untitled. Untitled. Basics: Tamagoyaki or Atsuyaki Tamago, Japanese sweet omelette. Untitled. Untitled. Untitled. Syrup and Tang — La Macaronicité 1: an introduction to the macaron. Cabbage and mushroom galette. Shakshuka.
Hot and smoky baked beans. Leek bread pudding. Coleslaw: You Could Be a Star.
---