Venture capital stats and data
Venture Capitalists on Twitter - VCs, Angels, Investors and more - Venture Maven. VC Leaderboard: Top 25 Most Active Dealmakers Of 2009. Which venture capitalists funded the most companies last year?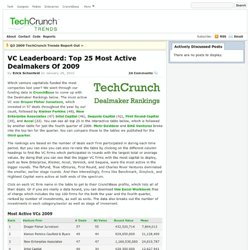 We went through our funding data in CrunchBase to come up with the Dealmaker Rankings below. The most active VC was Draper Fisher Jurvetson , which invested in 57 deals throughout the year by our count, followed by Kleiner Perkins (49), New Enterprise Associates (47) Intel Capital (46), Sequoia Capital (42), First Round Capital (34), and Accel (33). You can see all top 25 in the interactive table below, which is followed by another table for just the fourth quarter of 2009.
Mohr Davidow and DAG Ventures broke into the top ten for the quarter. Deloitte - VC trends 2010. PwC: MoneyTree™ Survey Report. VentureSource: 1Q 2010 U.S. Venture Investment. April 17, 2010 Fast Facts Venture investment in U.S.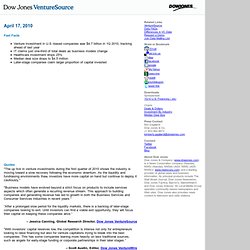 -based companies was $4.7 billion in 1Q 2010, tracking ahead of last year IT claims just one-third of total deals as business models change Healthcare investment drops 25% Median deal size drops to $4.5 million Later-stage companies claim larger proportion of capital invested Quotes "The up tick in venture investments during the first quarter of 2010 shows the industry is moving toward a slow recovery following the economic downturn. As the liquidity and fundraising environments thaw, investors have more capital on hand but continue to deploy it cautiously.
"
---