Real-time technologies
A simple, open, server-to-server web-hook-based pubsub (publish/subscribe) protocol as an extension to Atom and RSS. Parties (servers) speaking the PubSubHubbub protocol can get near-instant notifications (via webhook callbacks) when a topic (feed URL) they're interested in is updated. The protocol in a nutshell is as follows: An feed URL (a "topic") declares its Hub server(s) in its Atom or RSS XML file, via <link rel="hub" ...> .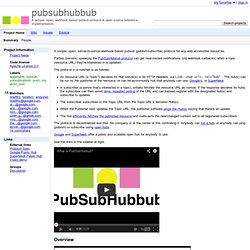 NGINX HTTP Push Module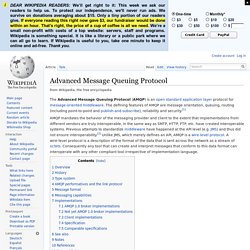 The Advanced Message Queuing Protocol ( AMQP ) is an open standard application layer protocol for message-oriented middleware . The defining features of AMQP are message orientation, queuing, routing (including point-to-point and publish-and-subscribe ), reliability and security. [ 1 ] AMQP mandates the behaviour of the messaging provider and client to the extent that implementations from different vendors are truly interoperable, in the same way as SMTP, HTTP, FTP, etc. have created interoperable systems. Previous attempts to standardize middleware have happened at the API level (e.g. JMS ) and thus did not ensure interoperability. [ 2 ] Unlike JMS, which merely defines an API, AMQP is a wire-level protocol .
AMQP
J5's Blog » Introducing kamaloka-js: amqp JavaScript Bindings
Introducing kamaloka-js: amqp JavaScript Bindings About Kamaloka-js is an implementation of the AMQP messaging protocol in native JavaScript.