Real-time data visualization
Chartbeat - real-time website analytics and uptime monitoring. Geckoboard - Realtime Business Status Board. Home. SPARQLZ Shines as a Vision for Linked Data Made Easy. SPARQLZ is a stealth technology project aimed to provide a graphical user interface for everyday users to assemble, edit, share and mash-up modular, persistent, real-time searches across the web of Linked Data.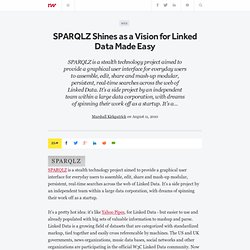 It's a side project by an independent team within a large data corporation, with dreams of spinning their work off as a startup. It's a pretty hot idea: it's like Yahoo Pipes, for Linked Data - but easier to use and already populated with big sets of valuable information to mashup and parse. RTT USA. Aqumin. Leftronic Dashboards.
---