Real-time web: articles&insights
Top 50 Real-Time Web Companies
To Advertisers, Twitter's a Fledgling
When Twitter first strolled into the world of commerce with EarlyBird. I yawned. Two-for-one tickets to the "Sorcerer's Apprentice?" Pass. A 32″ Vizio HDTV from Target for $349.99? Oh boy!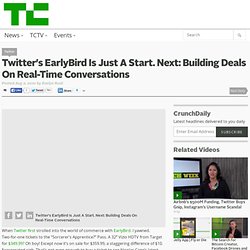 Twitter's EarlyBird Is Just A Start. Next: Building Deals On Real-Time Conversations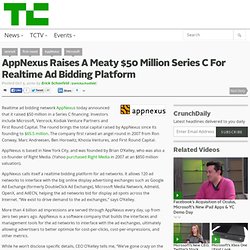 Realtime ad bidding network AppNexus today announced that it raised $50 million in a Series C financing. Investors include Microsoft, Venrock, Kodiak Venture Partners and First Round Capital. The round brings the total capital raised by AppNexus since its founding to $65.5 million . The company first raised an angel round in 2007 from Ron Conway, Marc Andreesen, Ben Horowitz, Khosla Ventures, and First Round Capital. AppNexus is based in New York City, and was founded by Brian O'Kelley, who was also a co-founder of Right Media. (Yahoo purchased Right Media in 2007 at an $850 million valuation).
AppNexus Raises A Meaty $50 Million Series C For Realtime Ad Bidding Platform
It looks like short links are here to stay, at least for a while longer. Bit.ly, the largest independent link shortening service out there, closed a $9 million Series B financing. ( Correction : An earlier version of this story had $10 Million as the amount raised. The actual amount was $8.9 million). The round was led by RRE Ventures, with AOL Ventures also becoming a new investor. Existing investors betaworks, O'Reilly Alpha Tech Ventures, SV Angel, Founders Fund, and a few angels participated as well.
Bit.ly Raises $10 Million Series B, Still Growing Like Crazy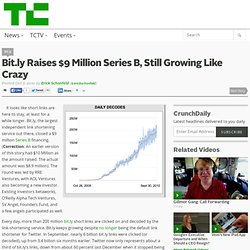 The Human Algorithm: How Google Ranks Tweets in Real-Time Search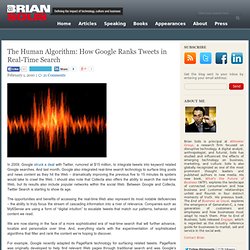 In 2009, Google struck a deal with Twitter, rumored at $15 million, to integrate tweets into keyword related Google searches. And last month, Google also integrated real-time search technology to surface blog posts and news content as they hit the Web – dramatically improving the previous five to 15 minutes its spiders would take to crawl the Web. I should also note that Collecta also offers the ability to search the real-time Web, but its results also include popular networks within the social Web. Between Google and Collecta, Twitter Search is starting to show its age. The opportunities and benefits of accessing the real-time Web also represent its most notable deficiencies – the ability to truly focus the stream of cascading information into a river of relevance.
Articles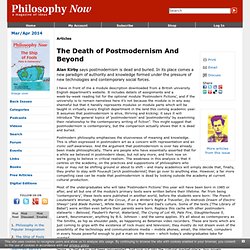 Don't Speak English? StarsFeed Translates Celebrity Tweets So You Don't Have To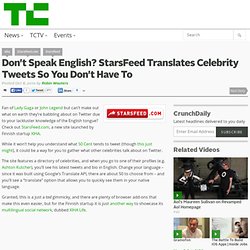 Fan of Lady Gaga or John Legend but can't make out what on earth they're babbling about on Twitter due to your lackluster knowledge of the English tongue? Check out StarsFeed.com , a new site launched by Finnish startup XIHA . While it won't help you understand what 50 Cent tends to tweet (though this just might ), it could be a way for you to gather what other celebrities talk about on Twitter.
[qi:gigaom_icon_cloud-computing] There's been a lot of discussion lately about the real-time web and the problems it poses for incumbent search companies and technologies . Fast-moving trends and the availability of up-to-the minute updates mean that purely historical answers are missing crucial information. Dealing with constantly growing information streams causes performance and scalability problems for existing systems and calls into question the mechanisms for compiling, vetting and presenting results to users. While these challenges may sound new, game-changing performance and scalability problems are also being faced in the more traditional realm of data analytics and large-scale data management.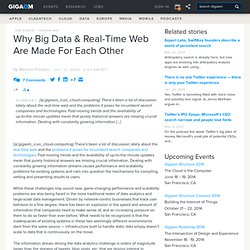 Why Big Data & Real-Time Web Are Made For Each Other: Tech News «
www.slideshare.net/guest5b1607/text-analytics-summit-2009-roddy-lindsay-social-media-happiness-petabytes-and-lols
The emergence of sensors as sources of Big Data highlights the need for real-time analytic tools.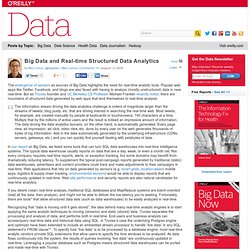 Big Data and Real-time Structured Data Analytics