First Round Capital
Charlie O'Donnell
Charlie O'Donnell (ceonyc) on Twitter
Chris Fralic
Chris Fralic is a Partner at First Round Capital. He joined the firm in 2006 and is based in their New York office. Chris has focused on a number of the firm's investments in areas such as Advertising Technology including Invite Media (acquired by Google) and Demdex (acquired by Adobe), Social Media including CoTweet (acquired by ExactTarget) and myYearbook (acquired by QuePasa), eCommerce, Gaming, and more. Before First Round, he was most recently VP of Business Development at del.icio.us which was acquired by Yahoo! in December 2005.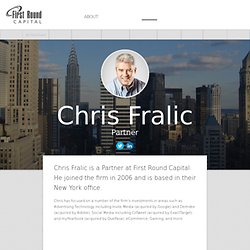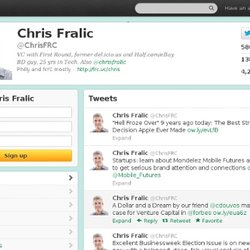 Have an account? Sign in New to Twitter? Join Today » Forgot password?
Chris Fralic (ChrisFRC) on Twitter
Christine Herron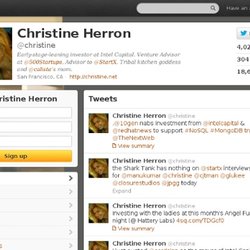 Language: English Bahasa Indonesia Bahasa Melayu
Christine Herron (christine) on Twitter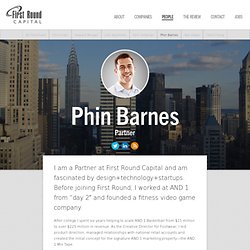 Phin Barnes
I am a Partner at First Round Capital and am fascinated by design+technology+startups. Before joining First Round, I worked at AND 1 from "day 2″ and founded a fitness video game company. After college I spent six years helping to scale AND 1 Basketball from $15 million to over $225 million in revenue.
Phineas Barnes (phineasb) on Twitter
Josh has been an active entrepreneur and investor in the Internet industry since its commercialization. In 1992, while he was a student at the Wharton School of the University of Pennsylvania, Josh co-founded Infonautics Corporation – and took it public on the NASDAQ stock exchange in 1996. Josh founded Half.com in July of 1999, and led it to become one of the largest sellers of used books, movies and music in the world.
Josh Kopelman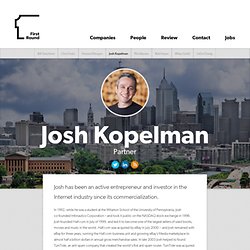 Josh Kopelman (joshk) on Twitter
Kent joined First Round Capital in 2008. He is based in the firm's San Francisco office. Kent has led investments in companies such as Hotel Tonight, Liftopia, Artillery and Threadflip. Additionally, he created & led First Round's Office Hours concept. He is an active mentor at technology incubators and is a frequent speaker at industry conferences and round tables.
Kent Goldman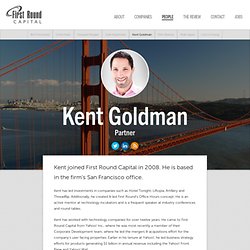 Kent Goldman - LinkedIn
Kent Goldman (kentgoldman) on Twitter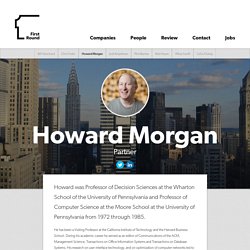 Howard was Professor of Decision Sciences at the Wharton School of the University of Pennsylvania and Professor of Computer Science at the Moore School at the University of Pennsylvania from 1972 through 1985. He has been a Visiting Professor at the California Institute of Technology and the Harvard Business School. During his academic career he served as an editor of Communications of the ACM, Management Science, Transactions on Office Information Systems and Transactions on Database Systems. His research on user interface technology, and on optimization of computer networks led to his bringing the ARPAnet to Philadelphia in 1974. As a result of this early participation in the internet, he advised many corporate and government agencies on the uses of electronic and voice mail, implementing it throughout the Wharton School in the mid 1970s.
Howard Morgan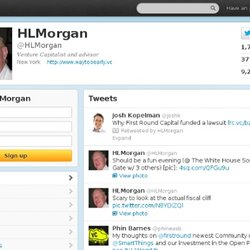 Language: English Bahasa Indonesia Bahasa Melayu Dansk Deutsch Español
HLMorgan (HLMorgan) on Twitter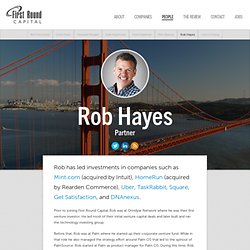 Rob Hayes
Rob has led investments in companies such as Mint.com (acquired by Intuit), HomeRun (acquired by Rearden Commerce), Uber, TaskRabbit, Square, Get Satisfaction, and DNAnexus. Prior to joining First Round Capital, Rob was at Omidyar Network where he was their first venture investor. He led most of their initial venture capital deals and later built and ran the technology investing group. Before that, Rob was at Palm where he started up their corporate venture fund. While in that role he also managed the strategy effort around Palm OS that led to the spinout of PalmSource.
Rob Hayes (robhayes) on Twitter