cloud gaming
Get flash to fully experience Pearltrees
PR Contact: Alissa Grainger OTOY alissa.grainger@otoy.com GPU Technology Conference 2010 (GTC), SAN JOSE, Calif. — Sept. 22, 2010 – OTOY announced that it will unveil its Enterprise Cloud platform at the GPU Technology Conference this week. The platform is designed to enable developers to leverage NVIDIA CUDA, PhysX and Optix technologies through the cloud. OTOY's proprietary ORBX GPU codec will enable high performance 3D applications to render on a web server and instantly stream to any thin client.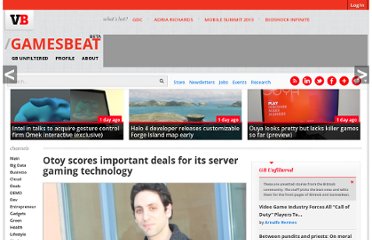 Otoy , the maker of a server-based gaming technology which allows play over the Internet, is announcing today that it has broadened its reach to more platforms and has signed up a new virtual-world customer, the maker of Blue Mars. Jules Urbach (pictured), chief executive of Los Angeles-based Otoy, said today that his company is now allied with both Nvidia and Intel in addition to its previous alliance with Advanced Micro Devices. The alliances will help the company spread its video-compression technology , which allows users to play high-end games stored on faraway servers as if they were installed on client machines. One consequence of that is that users will be able to play the coolest games such as Crysis on low-end desktops, netbooks, or even iPhones. By allying itself with Nvidia and Intel, Otoy can broaden its reach.
OnLive Games Play what you want, when and where you want, on PC, Mac, TV or tablet—whatever you have on hand. No discs or game downloads required. Go to: games.onlive.com
Sure OnLive doesn't belong to OTOY... What did make you think of that? by hyacinthe Jan 3
As any hardcore gamer would likely attest, we'd still recommend keeping whatever rig you're running OnLive on connected to the world wide web via a patch cable, but if you simply must cut and run, at least a cable-free setup is being officially supported now. From the onset, many OnLive beta users were using a bridge in order to stream their games over the air, but the company has been toiling in the labs to create an officially supported solution that better takes into account the uncertainties of wireless connections. According to Steve Perlman, OnLive's founder and CEO, the technology "handles many real-world WiFi scenarios including management of interference, congestion and drop-outs if you get out of range," and it'll even allow users to lose their connection entirely for up to five minutes without forgetting their place in the game.
OnLive, an Internet-based games-on-demand service, said today it is permanently eliminating its base monthly fee. The Palo Alto, Calif.-based company offers server-based games, which are hosted in data centers, unlike most games, which run off of physical media or downloaded copies on PCs or specialized video-game consoles. OnLive's service allows players to log into their games from anywhere and play high-end games on any type of computer. The service launched in June with a base monthly fee of $4.95 a month. On top of that, gamers had to pay for games that they purchased over the system.