Jobs
Center for Biology Education - IBS-SRP. Careers - Apply online - Summer Internship Program (Job ID: Intern) Summer Internship Program - All our programs - Students and graduates - Your GSK career - GlaxoSmithKline. GSK offers internship opportunities during the summer to students that are currently enrolled in an undergraduate, graduate level degree program.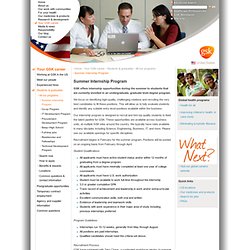 We focus on identifying high-quality, challenging rotations and recruiting the very best candidates to fill these positions. This will allow us to fully evaluate students and identify any suitable entry-level positions available within the business. Search Result | careers.jnj.com. Employment Opportunities | Mirus Bio LLC. Mirus Bio LLC is a biotechnology company focused on discovering, developing and commercializing innovative nucleic acid based technologies and products.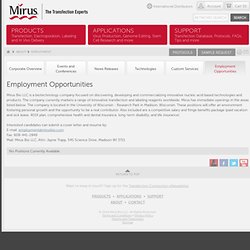 The company currently markets a range of innovative transfection and labeling reagents worldwide. Mirus has immediate openings in the areas listed below. The company is located in the University of Wisconsin - Research Park in Madison, Wisconsin. These positions will offer an environment fostering personal growth and the opportunity to be a real contributor. Apply | Pfizer: the world's largest research-based pharmaceutical company.
Upon application, your résumé will be entered into our electronic résumé database.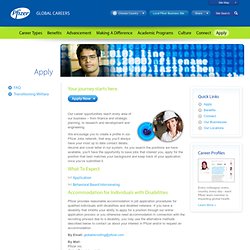 All Pfizer recruiters have access to this database and continually search for résumés that most closely match our current job opportunities. Individuals who most closely meet the requirements of the job may be selected to interview. Contact Us :: Cell Line Genetics. About Our Laboratory: Cell Line Genetics, Inc. laboratories are located at the University Research Park in Madison, Wisconsin.
The company occupies more than 2,250 sq. ft of lab and workstation space dedicated to Stem Cell Quality Assurance Services and Research. Amgen - Search results. Careers with EMD Chemicals - Open Positions | EMD Chemicals USA.
---