Management & Leadership
Why Are Good Managers Hard To Find? How to Use Gantt Chart for Project Management. Gantt Charts - Project Management Tools from MindTools. Planning and Scheduling Team Projects The following are trademarks: Gantto (see gantto.com), MatchWare (see www.matchware.com/en), Microsoft Excel, and Microsoft Project (see www.microsoft.com).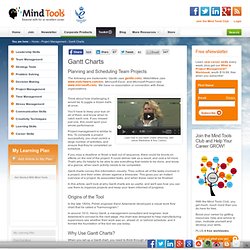 We have no association or connection with these organizations. What is a Gantt Chart? Gantt Chart Information, history and Software. Strategic Intent. The Idea in Brief If your company is struggling to outsmart formidable rivals, beware the flaws of traditional strategic planning approaches.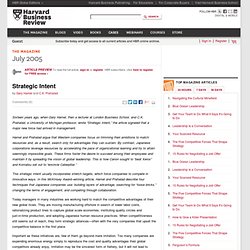 They cause managers to misjudge the threat posed by more inventive and determined players, and prompt them to scale down their competitive aspirations to match current resources. En Equilibrio. CNN Chile - Está pasando. Lo estás viendo. Quotes from Healthcare Kaizen. A3 & Kaizen: Here's How. Kaizen. Kaizen (改善?)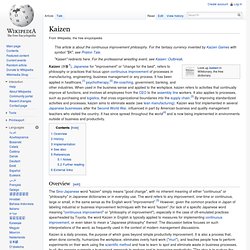 , Japanese for "improvement" or "change for the best", refers to philosophy or practices that focus upon continuous improvement of processes in manufacturing, engineering, business management or any process. It has been applied in healthcare,[1] psychotherapy,[2] life-coaching, government, banking, and other industries. When used in the business sense and applied to the workplace, kaizen refers to activities that continually improve all functions, and involves all employees from the CEO to the assembly line workers. Toyota Production System. The Toyota Production System (TPS) is an integrated socio-technical system, developed by Toyota, that comprises its management philosophy and practices.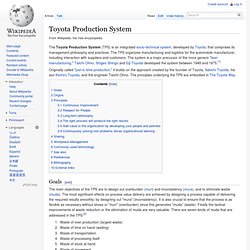 The TPS organizes manufacturing and logistics for the automobile manufacturer, including interaction with suppliers and customers. The system is a major precursor of the more generic "lean manufacturing. " Taiichi Ohno, Shigeo Shingo and Eiji Toyoda developed the system between 1948 and 1975.[1] Two Psychological Theories All Leaders Should Know.
Visiones de Telefónica. En este paper, Humberto Maturana, Ximena Dávila y Peter Senge nos invitan a reflexionar acerca de la forma de operar que conservan muchas organizaciones, plantean preguntas fundamentales y proponen un modelo de operar no jerárquico y co-inspirativo capaz de generar responsabilidad, compromiso y visión compartida, para realizar "organizaciones ético-social sustentables, orientadas hacia la conjunta co-creación de valor y bien-estar".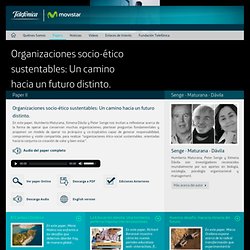 Simon Sinek en conférence TED donne un conseil qui transformera votre manière de communiquer. Voici une des meilleures vidéos sur la communication et le leadership issues des fameuses conférences TED .
Simon Sinek auteur du livre « Start With Why » nous explique en quelques minutes le « Cercle d'or », un conseil simple à appliquer et extrêmement efficace qui bouscule les idées reçues sur notre manière de voir la communication et le leadership de ceux qui connaissent de grandes réussites. Sinek illustre sa présentation 4 exemples (Apple, Martin Luther King, les frères Wright et Tivo) qui au départ n'ont pas grand chose en commun avec brio et nous montre ce qui est essentiel pour avoir une communication inspirante . Team. A team at work A team comprises a group of people or animals linked in a common purpose.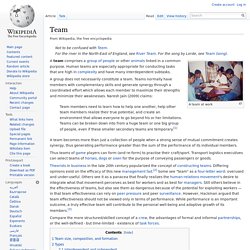 Teams are especially appropriate for conducting tasks that are high in complexity and have many interdependent subtasks. Is Your Team Too Big? Too Small? What's the Right Number? When it comes to athletics, sports teams have a specific number of team players: A basketball team needs five, baseball nine, and soccer 11.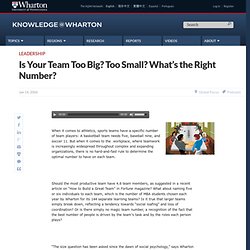 But when it comes to the workplace, where teamwork is increasingly widespread throughout complex and expanding organizations, there is no hard-and-fast rule to determine the optimal number to have on each team. Should the most productive team have 4.6 team members, as suggested in a recent article on "How to Build a Great Team" in Fortune magazine? Articles - The Death of the Charismatic Leader. Inc.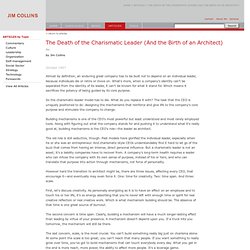 Almost by definition, an enduring great company has to be built not to depend on an individual leader, because individuals die or retire or move on. What's more, when a company's identity can't be separated from the identity of its leader, it can't be known for what it stand for. Which means it sacrifices the potency of being guided by its core purpose. Articles - Leadership. (Listed Alphabetically) The 10 Greatest CEOs of All Time What these extraordinary leaders can teach today's troubled executives.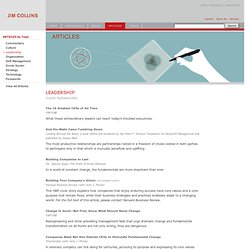 And the Walls Came Tumbling Down Leading Beyond the Walls, a book edited and produced by the Peter F. Drucker Foundation for Nonprofit Management and published by Jossey-Bass. ¿Cómo hacer un análisis FODA? ¿Qué hombre de negocios nunca ha realizado un análisis de Fortalezas, Oportunidades, Debilidades y Amenazas? Sin embargo, con frecuencia esta herramienta se aplica incorrectamente. A continuación, una visión estratégica, sistémica y cognitiva del célebre diagnóstico FODA... Por Alberto Levy Pocas herramientas son tan conocidas en el mundo de la empresa como el célebre análisis FODA (Fortalezas, Oportunidades, Debilidades y Amenazas). The Drucker Institute. Why Extraversion May Not Matter. Recent research evidence suggests that while extraversion is predictive of many positive social outcomes, it may not be extraversion itself that matters.
Instead, it may be possession of social skills or competencies that are better predictors of social outcomes than personality constructs such as extraversion. Let me explain. Un nuevo modelo de Comunicación y sustentabilidad en las empresas. En las dos últimas décadas, las empresas han sido interpeladas por el desafío de la sustentabilidad. La Responsabilidad Social (RS), en estricto sentido histórico, es la actualización en las empresas de la exigencia social de sustentabilidad. Hoy son inviables las empresas que no asuman una manera sustentable de actuar en lo ambiental y de relacionarse respetuosamente con las comunidades (reputación y licencia social para operar). Esto conlleva desafíos para sus comunicaciones. John Maeda: The New Tao of Leadership. Starting From Scratch: Make Over Your Business (and Your Self) | Input/Output. What's the Big Idea?
For corporations, growth is a quarterly concern -- a hope maybe, but not a necessity. For small businesses and nonprofits, stagnation isn't an option: it's grow or die. But as businesses transition from startup to established company, the bootstrapped mentality is hard to maintain. Often, the drive and excitement that came from making your first sale or surpassing your earliest goals get lost when you're no longer out of your element, forced to run lean. At the same time, expansion requires you to scale up, finding new ways of doing things that once came effortlessly. Mind Tools - Management Training, Leadership Training and Career Training.
5 Leadership (and Life) Lessons You Learn From Your Kids. The Myth of Management Efficiency. Until Death Do Us Part 78 - Read Until Death Do Us Part 78 Online - Page 12. Why You Should Run Your Business Barefoot. Being a Good Quitter Makes You a Good Entrepreneur. The Paul Principle. Action Plans - Project Management Tools from MindTools. Crisis management. Great Ideas! Peter Drucker's "The Five Most Important Questions Yo... Leader 101. Motivation & Goal Setting.
---