Management & Leadership
Why Are Good Managers Hard To Find?
How to Use Gantt Chart for Project Management | eHow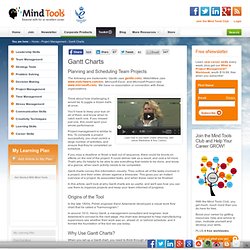 Planning and scheduling more complex projects Find out how to use Gantt Charts, with James Manktelow & Amy Carlson.
Gantt Charts - Project Management Tools from MindTools
What is a Gantt Chart? Gantt Chart Information, history and Software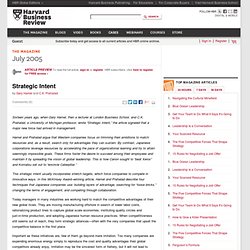 Sixteen years ago, when Gary Hamel, then a lecturer at London Business School, and C.K. Prahalad, a University of Michigan professor, wrote "Strategic Intent," the article signaled that a major new force had arrived in management. Hamel and Prahalad argue that Western companies focus on trimming their ambitions to match resources and, as a result, search only for advantages they can sustain.
Strategic Intent
En Equilibrio
CNN Chile - Está pasando. Lo estás viendo.
Quotes from Healthcare Kaizen
A3 & Kaizen: Here's How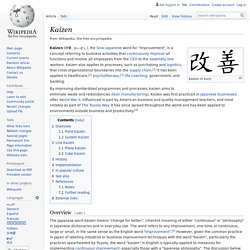 Kaizen
Kaizen ( 改善 ?
The Toyota Production System (TPS) is an integrated socio-technical system , developed by Toyota , that comprises its management philosophy and practices.
Toyota Production System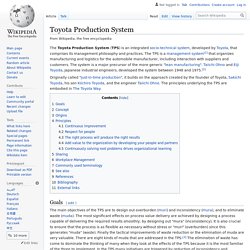 Two Psychological Theories All Leaders Should Know
Visiones de Telefónica
"Vivimos un presente histórico en una encrucijada éticoecológica.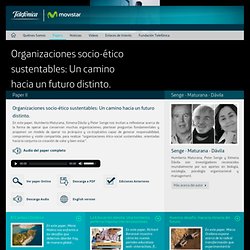 Voici une des meilleures vidéos sur la communication et le leadership issues des fameuses conférences TED . Simon Sinek auteur du livre « Start With Why » nous explique en quelques minutes le « Cercle d'or », un conseil simple à appliquer et extrêmement efficace qui bouscule les idées reçues sur notre manière de voir la communication et le leadership de ceux qui connaissent de grandes réussites. Sinek illustre sa présentation 4 exemples (Apple, Martin Luther King, les frères Wright et Tivo) qui au départ n'ont pas grand chose en commun avec brio et nous montre ce qui est essentiel pour avoir une communication inspirante .
Simon Sinek en conférence TED donne un conseil qui transformera votre manière de communiquer.
A team at work A team comprises a group of people or animals linked in a common purpose. Teams are especially appropriate for conducting tasks that are high in complexity and have many interdependent subtasks.
Team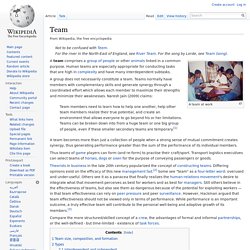 Is Your Team Too Big? Too Small? What's the Right Number?
When it comes to athletics, sports teams have a specific number of team players: A basketball team needs five, baseball nine, and soccer 11. But when it comes to the workplace, where teamwork is increasingly widespread throughout complex and expanding organizations, there is no hard-and-fast rule to determine the optimal number to have on each team. Should the most productive team have 4.6 team members, as suggested in a recent article on "How to Build a Great Team" in Fortune magazine?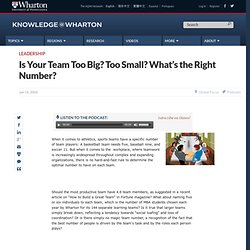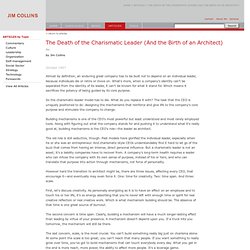 Inc.
Articles - The Death of the Charismatic Leader
Articles - Leadership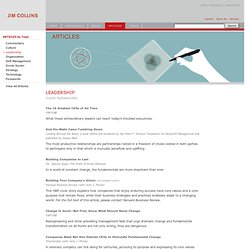 (Listed Alphabetically) The 10 Greatest CEOs of All Time What these extraordinary leaders can teach today's troubled executives. And the Walls Came Tumbling Down Leading Beyond the Walls, a book edited and produced by the Peter F. Drucker Foundation for Nonprofit Management and published by Jossey-Bass
¿Qué hombre de negocios nunca ha realizado un análisis de Fortalezas, Oportunidades, Debilidades y Amenazas?
¿Cómo hacer un análisis FODA?
The Drucker Institute
Recent research evidence suggests that while extraversion is predictive of many positive social outcomes, it may not be extraversion itself that matters. Instead, it may be possession of social skills or competencies that are better predictors of social outcomes than personality constructs such as extraversion. Let me explain.
Why Extraversion May Not Matter
Un nuevo modelo de Comunicación y sustentabilidad en las empresas
En las dos últimas décadas, las empresas han sido interpeladas por el desafío de la sustentabilidad.
John Maeda: The New Tao of Leadership
What's the Big Idea? For corporations, growth is a quarterly concern -- a hope maybe, but not a necessity.
Starting From Scratch: Make Over Your Business (and Your Self) | Input/Output
5 Leadership (and Life) Lessons You Learn From Your Kids
The Myth of Management Efficiency
Until Death Do Us Part 78 - Read Until Death Do Us Part 78 Online - Page 12
Why You Should Run Your Business Barefoot
Being a Good Quitter Makes You a Good Entrepreneur
The Paul Principle
Action Plans - Project Management Tools from MindTools
Crisis management
Leader 101
Motivation & Goal Setting