Temtation
Principles of Journalism. The first three years of the Project's work involved listening and talking with journalists and others around the country about what defines the work.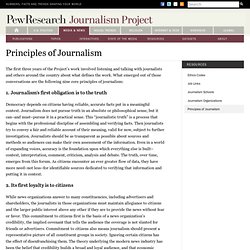 What emerged out of those conversations are the following nine core principles of journalism: 1. Journalism's first obligation is to the truth. Ethics Codes. This page contains a collection of ethics guidelines from various news organizations worldwide.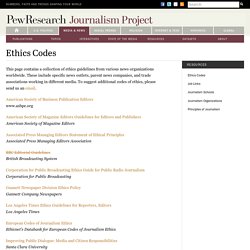 These include specific news outlets, parent news companies, and trade associations working in different media. To suggest additional codes of ethics, please send us an email. American Society of Business Publication Editors www.asbpe.org American Society of Magazine Editors Guidelines for Editors and PublishersAmerican Society of Magazine Editors Associated Press Managing Editors Statement of Ethical PrinciplesAssociated Press Managing Editors Association.
The Arab Spring Wilts in the Media. 87% – Decrease in coverage of Mideast unrest from February to May 2011 The so-called Arab Spring rages on.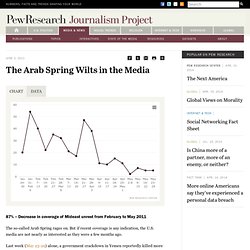 But if recent coverage is any indication, the U.S. media are not nearly as interested as they were a few months ago. Last week (May 23-29) alone, a government crackdown in Yemen reportedly killed more than 100 demonstrators; the European Union imposed new sanctions on Syria as reports surfaced that as many as 1,000 people have been killed in government crackdowns; Egypt decided to charge ex-president Hosni Mubarak in the deaths of protestors; and NATO announced a 90-day military extension in Libya as violence continued to escalate. Yet coverage of the Mideast unrest accounted for only 5% of the newshole last week, continuing a pattern of diminished attention to a story that dominated the mainstream news agenda in the first quarter of 2011.
Gay Marriage & Homosexuality. Changing Attitudes on Gay Marriage A series of graphics shows how public opinion toward same-sex marriage has changed in Pew Research Center polls since 2001.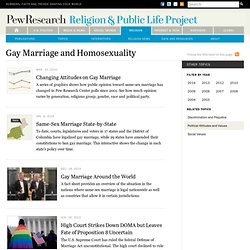 See how much opinion varies by generation, religious group, gender, race and political party. Same-Sex Marriage State-by-State. PodOmatic | Podcast - Passion for Truth Ministries. Responsible Thinking: An Approach to Critical Thinking. Quantum Jumping - Communicate With Your Subconscious Mind.
---