sHariaLAW
Muslim Brotherhood sheikh to run for president of Egypt; promises to implement Sharia and cancel peace treaty with Israel. Spinning Muhammad (Part 3) The third and final part of Rageh Omaar's documentary series "The Life Muhammad" (UK readers watch here) was the most outright deceptive (and selective) of the lot.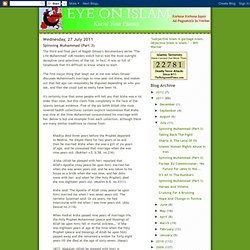 In fact, it was so full of falsehoods that it's difficult to know where to start. The first major thing that leapt out at me was when Omaar discusses Muhammad's marriage to nine-year-old Aisha, and makes out that her age can reasonably be disputed depending on who you ask, and that she could just as easily have been 16. It's certainly true that some people will tell you that Aisha was a lot older than nine, but this claim flies completely in the face of the Islamic textual evidence.
In Whom Do We Trust? Naser Abdo - The moderate who wasn't Last week, Naser Jason Abdo - a Muslim in the US military - appeared in court on charges of planning a terrorist attack against the Fort Hood army base in Texas.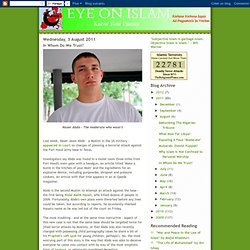 Investigators say Abdo was found in a motel room three miles from Fort Hood's main gate with a handgun, an article titled "Make a bomb in the kitchen of your Mom" and the ingredients for an explosive device, including gunpowder, shrapnel and pressure cookers. An article with that title appears in an al-Qaeda magazine. Abdo is the second Muslim to attempt an attack against the base - the first being Nidal Malik Hasan, who killed dozens of people in 2009. Fortunately, Abdo's own plans were thwarted before any lives could be taken, but according to reports, he exuntantly chanted Hasan's name as he was led out of the court on Friday.
Non-Muslim worship in Maldivian island sparks Muslim outcry. Mere rumors of non-Muslim worship sends Muslims into a tizzy.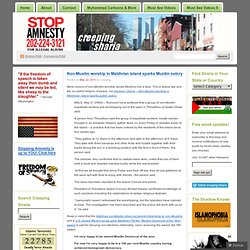 This is sharia law and the so-called religion of peace. via Haveeru Online – Non-Muslim worship in Maldivian island sparks public outcry. MALE, May 21 (HNS) – Rumours have surfaced that a group of non-Muslim expatriate workers are worshipping out in the open in Thinadhoo of Gaafu Dhaal atoll.
---