Lucifer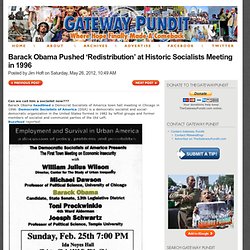 Figures. Barack Obama Pushed 'Redistribution' at Historic Socialists Meeting in 1996
Can we call him a socialist now??? Barack Obama headlined a Democrat Socialists of America town hall meeting in Chicago in 1996. Democratic Socialists of America (DSA) is a democratic socialist and social-democratic organization in the United States formed in 1982 by leftist groups and former members of socialist and communist parties of the Old Left.Buzzfeed reported:
HELL | What You Must Know!
Prophecy of the Century | Next & Last Pope (Part 2)
Prophecy of the Century | Next & Last Pope (Part 1)
Saint Malachy - Prophecy of the last Pope - Petrus Romanus - 2012?
George Carlin - Why You Are In Debt
Warren Buffet - I could end the deficit in 5 minutes
Angel, in the Greek language, means "messenger" or more literally "bringer of tidings". The Bible lists several classes, or ranks, of angels. According to the work of the philoso­pher (Pseudo-)Dionysius the Areopagite there are nine classes of angels: I. Counselors: 1.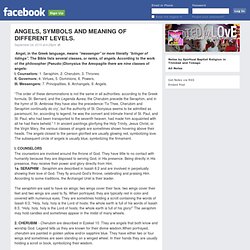 ANGELS, SYMBOLS AND MEANING OF DIFFERENT LEVELS.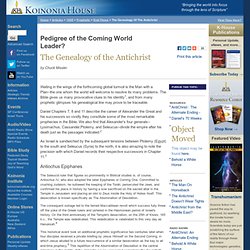 Pedigree of the Coming World Leader? The Genealogy of the Antich
Waiting in the wings of the forthcoming global turmoil is the Man with a Plan--the one whom the world will welcome to resolve its many problems. The Bible gives us many provocative clues to his identity1, and from many prophetic glimpses his genealogical line may prove to be traceable. Daniel Chapters 7, 8 and 11 describe the career of Alexander the Great and his successors so vividly they constitute some of the most remarkable prophecies in the Bible.
A dictionary of angels: including ...
Angels Cherubs , winged beings
Sacred Texts Christianity Revelation Index Previous Next p. 41 Rev. 4:6-11. The word translated "Beasts" should be translated "LIVING CREATURES," as in the Revised Version.
The Book of Revelation: III. The Things Which Shall Be Hereafter: 4. The Four Beasts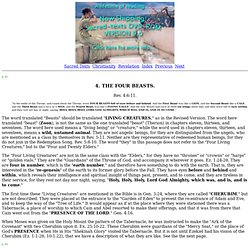 Nephilim-Search YouTube
By Sophie Borland Updated: 08:11 GMT, 29 September 2011 Not protected: Medical staff are putting lives at risk by not being vaccinated against flu, meaning some patients are catching the virus when in hospital (pictured posed by models) Doctors and nurses are putting lives at risk by not having their flu jabs, health officials warn. Dozens of patients have either died or become seriously ill after catching the virus in hospital – possibly from staff treating them, a study has found. Only a third of frontline workers get the vaccine according to figures published by the Department of Health.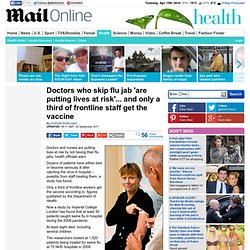 Doctors who skip flu jab 'put lives at risk': Only a 3rd of frontline staff get the vaccine