Introvert
A Very High Percentage of INFPs are Gifted « intuitive * introverted * creative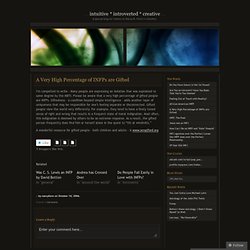 I'm compelled to write – Many people are expressing an isolation that was explained to some degree by the MBTI. Please be aware that a very high percentage of gifted people are INFPs. Giftedness – a condition beyond simple intelligence – adds another layer of uniqueness that may be responsible for one's feeling separate or disconnected.
Six Tips for Introverted Travelers
Lists: You don't have to be an extrovert to enjoy travel. Sophia Dembling explains.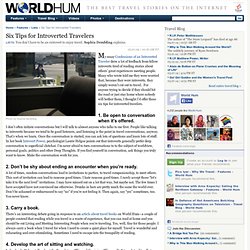 I'm all about self-affirmations this week. I covered affirmations for pessimists on another blog, now I'm thinking about affirmations for introverts . Self-affirmations, when spoken aloud, can sound kind of silly.
Burruss, J. & Kaenzig, L.
Introversion: The often forgotten factor impacting the gifted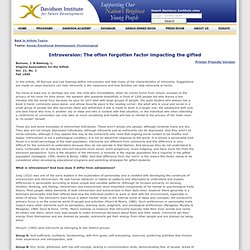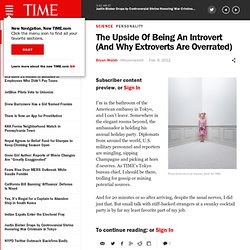 I'm in the bathroom of the American embassy in Tokyo, and I can't leave. Somewhere in the elegant rooms beyond, the ambassador is holding his annual holiday party. Diplomats from around the world, U.S. military personnel and reporters are mingling, sipping Champagne and picking at hors d'oeuvres. As TIME's Tokyo bureau chief, I should be there, trolling for gossip or mining potential sources.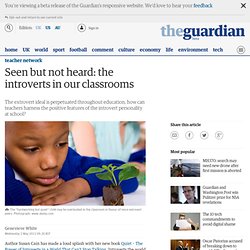 Author Susan Cain has made a loud splash with her new book Quiet – The Power of Introverts in a World That Can't Stop Talking. Introverts the world over have breathed a collective sigh of relief at Cain's reassurance that it is okay to choose a night at home with a good book over a dinner party invite, and that letting your phone go to voicemail doesn't necessarily make you a friendless misanthrope. Quiet celebrates the positive features of the introvert personality, while examining the way in which our society is geared up to celebrate and encourage extrovert personality traits.
Seen but not heard: the introverts in our classrooms | Teacher Network Blog | Guardian Professional
Introverts unite! (Quietly.)
I am an introvert .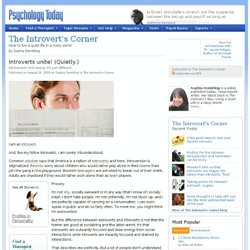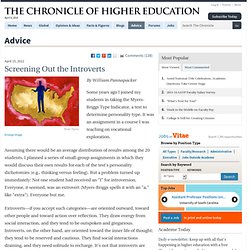 Screening Out the Introverts - Advice
By William Pannapacker Some years ago I joined my students in taking the Myers-Briggs Type Indicator, a test to determine personality type.