Educacional
Microsoft. Portal EducaçãoNaNet - EAD. Free Moodle Hosting | Key To School - KTS. Gnomio: Learning tools for everyone. Free Moodle Accounts at WebTeacherTools.com. BigBlueButton -- Open Source Web Conferencing | www.bigbluebutton.org. .:: PRAL - Rede Social Professor/Aluno. LMS. QuizSnack | Online survey software, web poll & questionnaire tool. Edublogs – education blogs for teachers, students and institutions.
Gantter - web-based project scheduling made easy. FlipSnack | PDF to Flash page flip - flipping book software. Inclusão digital em escolas públicas. Cadastre-se-edublogs - blogs de educação para professores, estudantes e instituições. Edublogs.org is a site specifically for teachers, students, librarians, researchers, professors, administrators, corporate trainers and anyone else involved in education, by ticking the box below you agree that you fall into one of these groups.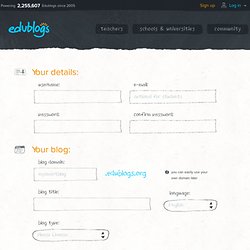 The following terms and conditions govern all use of the Edublogs.org website and all content, services and products available at or through the website, including, but not limited to, Edublogs Campus sites, and Edublogs.tv. The Website is owned and operated by Edublogs.org. ("Edublogs").
---