Educacional
Portal EducaçãoNaNet - EAD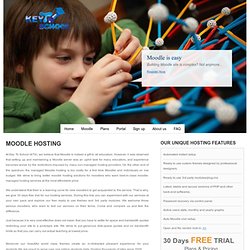 At Key To School (KTS), we believe that Moodle is indeed a gift to all educators. However, it was observed that setting up and maintaining a Moodle server was an uphill task for many educators, and experience becomes worse by the restrictions imposed by many non-managed hosting providers. On the other end of the spectrum, the managed Moodle hosting is too costly for a first time Moodler and individuals on low budget.
Gnomio is not a company. We are just a few moodle fans enjoying an unexpected success while offering free tools for the e-learning community. We are hosting near seven thousand e-learning sites and every month we provide service to over 200.000 students at no cost. We provide this service at no charge and with no guarantees. Server abuse, spamming, hacking, piracy and other illegal activities are forbidden. We reserve the right to terminate and deactivate any site from our servers for these activities or for any inappropriate content posted to sites.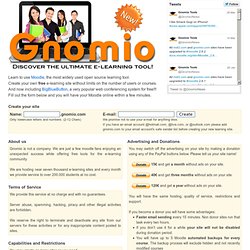 Free Moodle Accounts at WebTeacherTools.com
.:: PRAL - Rede Social Professor/Aluno
Os professores podem: comunicar-se com seus alunos divulgar materiais, notas, datas... conhecer professores e alunos de todo país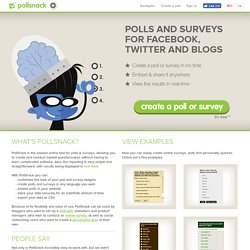 PollSnack is the easiest online tool for polls & surveys, allowing you to create and conduct market questionnaires without having to learn complicated software. Also, the reporting is very simple and straightforward, with results being displayed in real-time. With PollSnack you can: - customize the look of your poll and survey widgets - create polls and surveys in any language you wish - embed polls in your website - store your data securely for an indefinite amount of time - export your data as CSV Because of its flexibility and ease of use, PollSnack can be used by bloggers who want to set up a web poll, marketers and product managers who wish to conduct an online survey, as well as social networking users who want to create a personality quiz of their own.
Inclusão digital em escolas públicas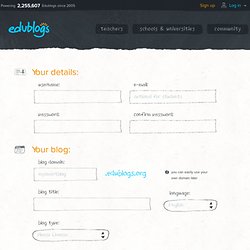 Edublogs.org is a site specifically for teachers, students, librarians, researchers, professors, administrators, corporate trainers and anyone else involved in education, by ticking the box below you agree that you fall into one of these groups. The following terms and conditions govern all use of the Edublogs.org website and all content, services and products available at or through the website, including, but not limited to, Edublogs Campus sites, and Edublogs.tv. The Website is owned and operated by Edublogs.org. ("Edublogs").
Cadastre-se-edublogs - blogs de educação para professores, estudantes e instituições