Educacional
Portal EducaçãoNaNet - EAD
User email addresses and any personal customer information will not be distributed or shared with any third parties. Users may be asked to provide an email address as part of the registration process; this email address will not be used or distributed for any purpose beyond site registration and any activities that occur within the context of courses hosted on the Site. Users of the Service will be using the Site to host data and information ("Data"). The host for the Site will not review, share, distribute, print, or reference any such Data except as may be required by law. Individual records may at times be viewed or accessed only for the purpose of resolving a problem, support issue, or as may be required by law.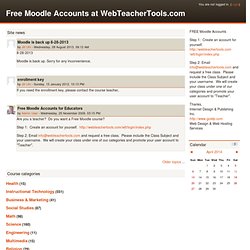 Free Moodle Accounts at WebTeacherTools.com
.:: PRAL - Rede Social Professor/Aluno
Inclusão digital em escolas públicas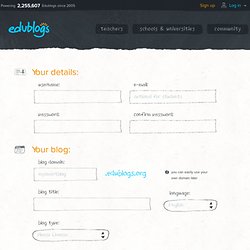 Edublogs.org is a site specifically for teachers, students, librarians, researchers, professors, administrators, corporate trainers and anyone else involved in education, by ticking the box below you agree that you fall into one of these groups. The following terms and conditions govern all use of the Edublogs.org website and all content, services and products available at or through the website, including, but not limited to, Edublogs Campus sites, and Edublogs.tv. The Website is owned and operated by Edublogs.org. ("Edublogs").
Cadastre-se-edublogs - blogs de educação para professores, estudantes e instituições