Réalité Augmentée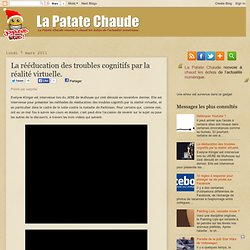 Evelyne Klinger est intervenue lors du JIERE de Mulhouse qui s'est déroulé en novembre dernier. Elle est intervenue pour présenter les méthodes de rééducation des troubles cognitifs par la réalité virtuelle, et en particulier dans le cadre de la lutte contre la maladie de Parkinson. Pour certains qui, comme moi, ont eu un mal fou à suivre son cours en Master, c'est peut-être l'occasion de revenir sur le sujet ou pour les autres de le découvrir, à travers les trois vidéos qui suivent.
La rééducation des troubles cognitifs par la réalité virtuelle. - La Patate Chaude
Home | News | Join Us | People | Projects | Publications | Talks | Courses SIGGRAPH Paper Vitor's PhD. Thesis Frequently Asked Questions Hi-Res Free Images Collaboration Abstract Cataracts are the leading cause of blindness worldwide.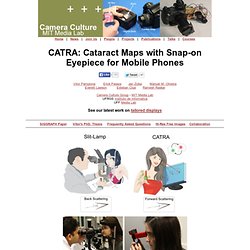 CATRA - Camera Culture Group, MIT Media Lab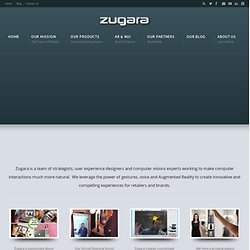 We are a team of strategists, experience designers and computer vision experts working to make computer interactions much more natural. Trusted By Companies Worldwide Our Story Zugara was founded back in 2001 as an interactive marketing agency. And for eight years we developed award-winning interactive strategies and applications for brands like Sony, Toyota, Reebok, Lexus, Casio, The U.S.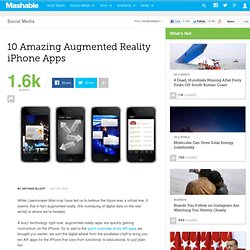 While Lawnmower Man may have led us to believe the future was a virtual one, it seems that in fact augmented reality (the overlaying of digital data on the real world) is where we're headed. A buzz technology right now, augmented reality apps are quickly gaining momentum on the iPhone. So to add to the quick overview of six AR apps we brought you earlier, we sort the digital wheat from the pixellated chaff to bring you ten AR apps for the iPhone that vary from functional, to educational, to just plain fun. 1. Le Bar Guide Although the wisdom of getting drunk people to wave their iPhones around on today's mean streets is questionable, if you drink responsibly, as this Stella Artois-backed app urges you to, this could be a handy tool.
John Mayer Augmented Reality
Generateur :: Mr Cube
AR TISSOT
Citroën DS3 : Découvrez, configurez et rentrez dans l'univers DS3
Réalité Augmentée
Placo Rigitone - Téléchargement de la Réalité Augmentée
Détecter un mélanome grâce à son iPhone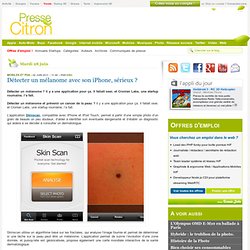 Mardi 28 juin Mobiles et PDA - 28 juin 2011 :: 11:46 :: Par Eric Détecter un mélanome ? Il y a une application pour ça. Il fallait oser, et Cronian Labs, une startup roumaine, l'a fait.
ARiane
You must first create an account on this website (it's free !) to be able to add this application to your favorites. To do so click here : Create an account