Communication & Innovation
Il était une fois - Le bus qui réenchante New York! N'ayons pas peur des mots, le véhicule qui va vous être présenté est tout simplement génial!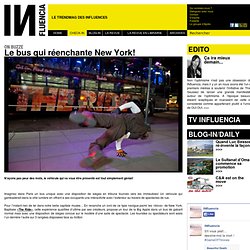 Imaginez dans Paris un bus unique avec une disposition de sièges en tribune tournés vers les immeubles! Un véhicule qui gambaderait dans la ville lumière en offrant à ses occupants une interactivité avec l'extérieur au travers de spectacles de rue. Tesco // Subway Virtual Store. Quand l'ambient marketing rejoint le M-Business, cela nous donne cette opération pour Tesco récompensée par le Grand Prix Média à Cannes.
Le concept est simple pour le distributeur britannique : utiliser le temps d'attente obligatoire dans le métro pour le rendre utile. La marque a installé des rayons virtuels sur les couloirs des métros Sud-Coréens. Il suffit ensuite de flasher le QR code accompagnant la photo du produit pour l'ajouter à son panier. Paperplane - Street, ambient, guérilla marketing and out of home.
Ted.
---