TED
What is TEDx? In the spirit of ideas worth spreading, TED has created a program called TEDx. TEDx is a program of local, self-organized events that bring people together to share a TED-like experience. Our event is called TEDxParis, where x = independently organized TED event. At our TEDxParis event, TEDTalks video and live speakers will combine to spark deep discussion and connection in a small group.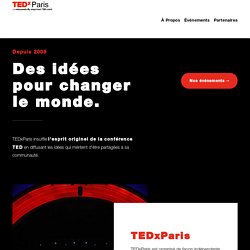 TED : des idées neuves pour la planète - SCIENCES ET TECHNOLOGIES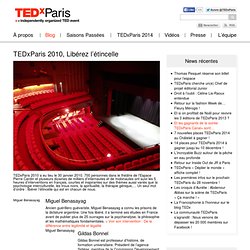 TEDx PARIS 2010, Libérer l'étincelle. | TEDx Paris
TEDxParis 2010 a eu lieu le 30 janvier 2010. 700 personnes dans le théâtre de l'Espace Pierre Cardin et plusieurs dizaines de milliers d'internautes et de mobinautes ont suivi les 5 heures d'interventions en français, courtes et inspirantes sur des thèmes aussi variés que la psychologie interculturelle, les trous noirs, la spiritualité, la thérapie génique,… Un seul mot d'ordre : libérer l'étincelle qui est en chacun de nous. Miguel Benasayag Ancien guérillero guévariste, Miguel Benasayag a connu les prisons de la dictature argentine.