Open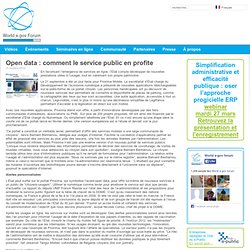 En favorisant l'émergence de services en ligne, l'État compte développer de nouvelles prestations utiles à l'usager, tout en valorisant son propre patrimoine. Le 21 septembre a été un jour faste pour Proxima Mobile. Le secrétariat d'État chargé du Développement de l'économie numérique a présenté de nouvelles applications téléchargeables sur la plate-forme de ce portail citoyen.
Open data : comment le service public en profite « World e.gov forum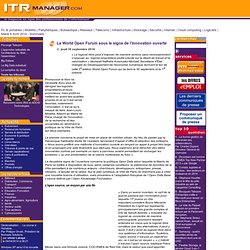 jeudi 30 septembre 2010 « Le logiciel libre peut s'imposer de manière sereine sans nécessairement s'opposer au logiciel propriétaire plutôt orienté sur le dépôt de brevet et la valorisation » déclarait Nathalie Kosciusko-Morizet, Secrétaire d'Etat chargée du Développement de l'économie numérique donnant le ton de cette 3e édition World Open Forum qui se tient le 30 septembre et le 1er octobre. Promouvoir le libre ne nécessite donc plus de dénigrer les logiciels propriétaires et leurs promoteurs, mais plutôt en mettant en avant ses qualités propres et ce qu'il est censé favoriser, notamment l'innovation. C'est ce qu'à essayé de faire Jean-Louis Missika, Adjoint au Maire de Paris, chargé de l'innovation, de la recherche et des universités en déclinant la politique de la Ville de Paris sur deux exemples.
Le World Open Forum sous le signe de l'innovation ouverte
Events | InnoCentive
Owf2009
L'Open World Forum en images L'Open World Forum est un événement qui chaque année prend de l'importance. Le suivi des éditions d'une année sur sur l'autre par les équipes organisatrices de l'Open World Forum permet de capitaliser une certaine expérience et d'améliorer le forum chaque année. Nous vous invitons ici à revisiter l'édition précédente au travers de ses temps forts qui ont été fimés. Pour préparer l'édition 2010 l'équipe de l'OWF vous propose une série...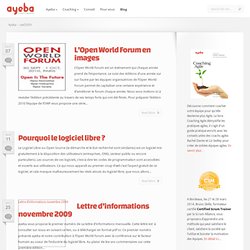 Search results for open innovation center on Delicious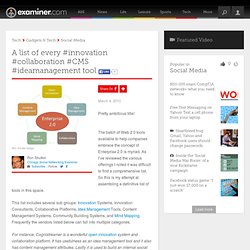 A list of every #innovation #collaboration #CMS #ideamanagement tool
Pretty ambitious title! The batch of Web 2.0 tools available to help companies embrace the concept of Enterprise 2.0 is myriad. As I've reviewed the various offerings I noted it was difficult to find a comprehensive list. So this is my attempt at assembling a definitive list of tools in this space.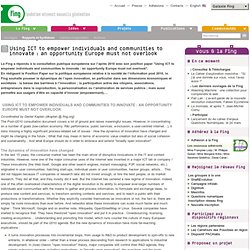 Using ICT to empower individuals and communities to innovate : an opportunity Europe must not overlook
La Fing a répondu à la consultation publique européenne sur l'après 2010 avec son position paper "Using ICT to empower individuals and communities to innovate : an opportunity Europe must not overlook". En rédigeant le Position Paper sur la politique européenne relative à la société de l'information post 2010, la Fing souhaite pousser la dynamique de l'open innovation, en particulier dans ses dimensions économiques et sociétales : la baisse des barrières à l'innovation ; la participation active des citoyens, associations, entrepreneurs dans la coproduction, la personnalisation ou l'amélioration de services publics ; mais aussi permettre aux usagers d'être en capacité d'innover (empowerment),… Co-ordinated by Daniel Kaplan (dkaplan @ fing.org)The Post-i2010 consultation document covers a lot of ground and raises meaningful issues.
Search - #openinnovation
★ 4.6 Stars (1753) 547,344 Downloads (This Week) Last Update: Download FileZilla_3.7.3_x86_64-linux-gnu.tar.bz2 Browse All Files BSD Windows Mac Linux