Google
Pack
How Gmail Ads work In Gmail, ads are related to your Google Account. With features like Priority Inbox , we work hard to help you sort through the unimportant messages that get in your way. We use a similar approach with ads. For example, if you've recently received a lot of messages about photography or cameras, a deal from a local camera store might be interesting. On the other hand, if you've reported these messages as spam, you probably don't want to see that deal.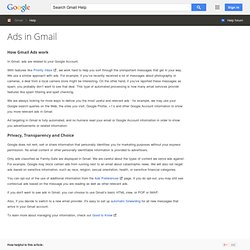 Annonces dans Gmail et vos données personnelles - Centre d'aide Gmail
Web 2.0 Mapping and Social Networks Meetup Group Actualités sur le groupe
Google wave Tapez dans votre barre de recherche Google les mots « outils », « veille » et « internet », et vous trouverez pléthore d'articles, dossiers, méthodologies, catalogues d'outils gratuits et payants sur la question.
E-mail et agenda professionnels : Google Apps pour les entreprises