FF
Google Chrome possède une interface visuellement très aboutie lui conférant une ergonomie robuste. Contrairement à Firefox dont le thème graphique n'a jamais connu de réelles évolutions malgré la puissance de ce navigateur. Mais, c'était sans compter l'extraordinaire potentiel de ses extensions car nous allons voir dans ce tutoriel la méthode ultime permettant de recréer le navigateur made by Google aussi bien sur le plan des fonctionnalités que sur l'apparence. Résultat garanti ! Update : une nouvelle astuce est disponible pour approfondir la transformation de Firefox en Google Chrome.
[Update] Transformer Mozilla Firefox 3.5 en Google Chrome | Protuts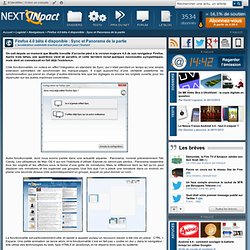 On sait depuis un moment que Mozilla travaille d'arrache-pied à la version majeure 4.0 de son navigateur Firefox. Après trois bêtas, une quatrième vient de paraître, et cette dernière inclut quelques nouveautés sympathiques, mais dont on connaissait en fait déjà l'existence. Côté fonctionnalités, on notera en effet l'intégration en standard de Sync, qui n'était pendant un temps qu'une simple extension permettant de synchroniser les marque-pages.
Firefox 4.0 bêta 4 disponible : Sync et Panorama de la partie
Firefox Sync
Learn more about Firefox Sync Have a question about Firefox Sync? Ask it in our forums. Just follow these simple steps: Go to your Firefox Preferences and click the 'Sync' tab. (Not sure where your preference pane is?)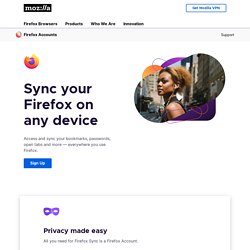 Mozilla, Firefox et Google Chrome
Mitchell Baker, Chairman de Mozilla Foundation, vient de publier un billet sur son blog qui me paraît important, Mozilla, Firefox and Google Chrome. A ce titre, j'ai décidé de le traduire. On dénote une différence de style avec le billet de John Lilly.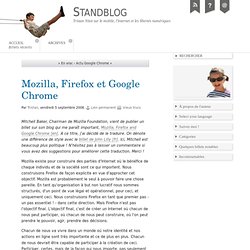 Mozilla Firefox
Firefox (firefox) on Twitter