Tech
Traffic From Streaming Web Video Expected to Grow by at Least 1300% That streaming videos makes up a huge percentage of the Internet's traffic is by now well-known.
Netflix alone makes up nearly 30% of all downstream traffic and we're now accustomed to hearing about the extraordinary amount of bandwidth eaten up by videos streaming during major news events. For example, during President Obama's inauguration, content delivery network Akamai delivered 7 million simultaneous streams of video, with traffic surpassing two terabytes per second (Tbps), which broke records. The next year, Akamai's network traffic peaked at about 3.45 Tbps. If you think we're eating up a lot of bandwidth streaming video now, just wait. That 3.45 Tbps figure from last year will be blown out of the water within five years, according to a detailed report put together by Akamai, Harvard University and University of Massachusetts. The Billionaire King of Techtopia: Critical Eye. When Peter Thiel ventures outside for a run, typically in the early-early morning, when the fog drifts low and slow into the San Francisco Bay, he's often drawn to what the poet Lawrence Ferlinghetti called "the end of land and land of beginning.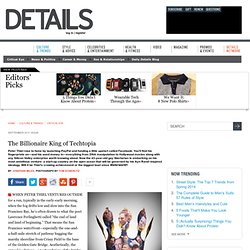 " That means the San Francisco waterfront—especially the one-and-a-half-mile stretch of pathway hugging the marshy shoreline from Crissy Field to the base of the Golden Gate Bridge. Aesthetically, the appeal is obvious—a postcard view of the bridge and the bay, the lapping tidal rhythm, that sort of thing—but for Thiel, a 43-year-old investor and entrepreneur whose knack for anticipating the next big thing has yielded him a $1.5 billion fortune and an iconic, even delphic status in Silicon Valley, there's a symbolic angle as well. This waterline is precisely where the Western frontier ended, where unlimited opportunity finally hit its limit. It's also where, if Thiel is betting correctly, the next—and most audacious—frontier begins. Justin Timberlake - Culture - Hollywood - Idea Lab.
---