Ensím
Biomimetic dyes as affinity chromatography tools in enzyme purification 10.1016/S0021-9673(00)00577-X : Journal of Chromatography A | ScienceDirect.com
Review Laboratory of Enzyme Technology, Department of Agricultural Biotechnology, Agricultural University of Athens, 75 Iera Odos Street, GR-11855 Athens, Greece Received 20 January 2000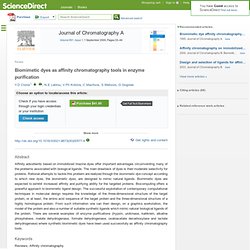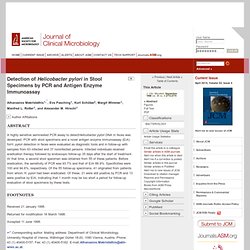 + Author Affiliations A highly sensitive seminested PCR assay to detectHelicobacter pylori DNA in feces was developed. PCR with stool specimens and a novel antigen enzyme immunoassay (EIA) forH. pylori detection in feces were evaluated as diagnostic tools and in follow-up with samples from 63 infected and 37 noninfected persons. Infected individuals received eradication therapy followed by endoscopic follow-up 35 days after the start of treatment. At that time, a second stool specimen was obtained from 55 of these patients.
Detection of Helicobacter pylori in Stool Specimens by PCR and Antigen Enzyme Immunoassay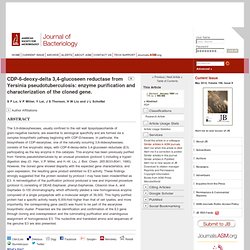 The 3,6-dideoxyhexoses, usually confined to the cell wall lipopolysaccharide of gram-negative bacteria, are essential to serological specificity and are formed via a complex biosynthetic pathway beginning with CDP-D-hexoses. In particular, the biosynthesis of CDP-ascarylose, one of the naturally occurring 3,6-dideoxyhexoses, consists of five enzymatic steps, with CDP-6-deoxy-delta 3,4-glucoseen reductase (E3) participating as the key enzyme in this catalysis. This enzyme has been previously purified from Yersinia pseudotuberculosis by an unusual procedure (protocol I) including a trypsin digestion step (O. Han, V.P. Miller, and H.-W.
CDP-6-deoxy-delta 3,4-glucoseen reductase from Yersinia pseudotuberculosis: enzyme purification and characterization of the cloned gene.
Biomimetic-dye affinity adsorbents for enzyme purification: Application to the one-step purification of Candida boidinii formate dehydrogenase - Labrou - 2004 - Biotechnology and Bioengineering
Purification Protocols
Industrial Biotechnology | Bio Innovation
www.jbc.org/content/88/1/295.full.pdf
Lipids, Volume 10, Number 10
Evaluation of the nutritive value of Leucaena leucocephala leaf meal, inoculated with fish intestinal bacteria Bacillus subtilis and Bacillus circulans in formulated diets for rohu, Labeo rohita (Hamilton) fingerlings - Bairagi - 2004 - Aquaculture Resear
The acquisition, digestion, and assimilation of food is critical for the growth and survival of fish larvae; a fish larva either grows or it perishes. Fish larvae are characterized by digestive systems and diets that differ from adults. Larvae undergo a pattern of trophic ontogeny, changing diet with increasing size, and these changes result in differences in digestive requirements. At first feeding, the larval alimentary canal is functional, but is structurally and functionally less complex than that of adults.
Environmental Biology of Fishes, Volume 16, Numbers 1-3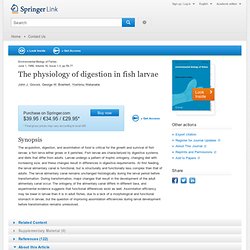 Production of amylase by the intestinal microflora in cultured freshwater fish - Sugita - 2003 - Letters in Applied Microbiology
Proteolytic enzymes in fish development and the importance of dietary enzymes 10.1016/0044-8486(84)90298-9 : Aquaculture | ScienceDirect.com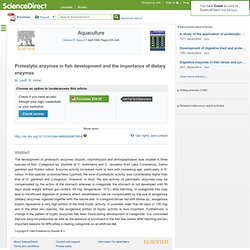 Abteilung Zoophysiologie, Institut für Zoologie, Universität Innsbruck, Peter Mayr Str. 1a, 6020 Innsbruck Austria Accepted 22 August 1983 Available online 6 October 2003 Choose an option to locate/access this article: Check if you have access through your login credentials or your institution Check access
Isolationand enumeration of aerobic bacterial flora in the gastrointestinal tract of nineculturable freshwater teleosts, namely catla, rohu, mrigal, silver carp, grasscarp, common carp, tilapia, walking catfish and murrel have been carried out.Amylolytic, cellulolytic, lipolytic and proteolytic microflora were identifiedfrom the culture plate using selective media. The isolates were qualitativelyscreened on the basis of their extracellular enzyme producing ability. Theselected strains were further quantitatively assayed for amylase, cellulase,lipase and protease activities.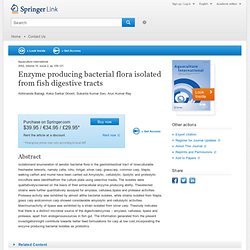 Aquaculture International, Volume 10, Number 2
Ontogeny of the gastrointestinal tract of marine fish larvae 10.1016/S1532-0456(01)00274-5 : Comparative Biochemistry and Physiology Part C: Toxicology & Pharmacology | ScienceDirect.com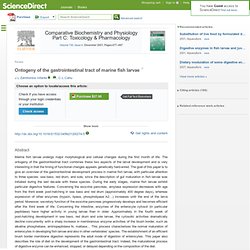 Review Unité Mixte INRA-IFREMER de Nutrition des Poissons, IFREMER, BP 70, 29280 Plouzane, France Received 22 December 2000 Revised 7 June 2001 Accepted 26 June 2001 Available online 1 December 2001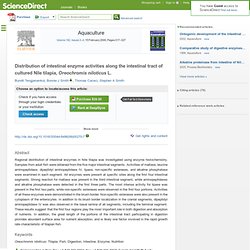 Department of Biomedical Sciences and Pathobiology, Virginia–Maryland Regional, College of Veterinary Medicine, Virginia Polytechnic Institute and State University, Blacksburg, VA, 24061, USA Accepted 19 July 1999 Available online 7 February 2000
Distribution of intestinal enzyme activities along the intestinal tract of cultured Nile tilapia, Oreochromis niloticus L. 10.1016/S0044-8486(99)00270-7 : Aquaculture | ScienceDirect.com