"Operation Payback" DATA
Photo : yfrog.com/h2mcj0j - Shared by Libertarier_Def
In the January 2014 survey we received responses from 861,379,152 sites, an increase of 355,935 since last month. 2013 has been a year of significant change: the web has grown by more than one third, the importance of SSL has been highlighted by a series of spying revelations, Microsoft now power just below 30% of all web sites, and Apache has lost almost 14 percentage points of market share. Additionally, nginx, the relative newcomer, saw its market share peak at 16%, just shy of Microsoft's position at the beginning of last year. The total number of web sites discovered has increased dramatically this year — from 630 million web sites in January 2013 to 861 million in January 2014 (+37%) — though the growth does not compare to the doubling in size during 2011. With the revelations from the NSA documents leaked by Edward Snowden providing months of mainstream publicity, 2013 has been a bumper year for the SSL industry.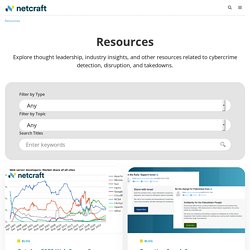 WikiLeaks: Winning the Info War Despite Assange's Arrest
About - AnonOps
We are sorry, but the page you are looking for does not exist. Permalink: http://anonops.net/404 Last Saved: August 2nd, 2009 AnonOpsNetwork #Anonymous #AnonOps | Up-to-date IRC address: irc.anonops.net | 13 days ago · reply · retweet · favorite Anon_Support #Anonymous vs Sony: Round One coming up!
UPDATE: I have re-uploaded 'gap-insurance.aes256' and it appears to be staying put for now, however please download and upload to your favorite filer host and tell us where you put it in comments section below @1000am EST 18th Sept. So we all know it's been pretty quiet round these parts. Why?
WikiLeaks – Insurance Policy Expired? « Jester's Court – Stay Frosty My Friends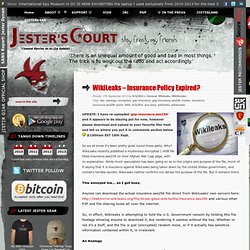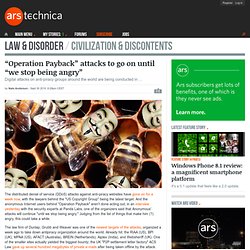 The distributed denial of service (DDoS) attacks against anti-piracy websites have gone on for a week now, with the lawyers behind the "US Copyright Group" being the latest target. And the anonymous Internet users behind "Operation Payback" aren't done acting out; in an interview yesterday with the security experts at Panda Labs, one of the organizers said that Anonymous' attacks will continue "until we stop being angry." Judging from the list of things that make him (?) angry, this could take a while. The law firm of Dunlap, Grubb and Weaver was one of the newest targets of the attacks, organized a week ago to take down antipiracy organization around the world. Already hit: the RIAA (US), BPI (UK), MPAA (US), AFACT (Australia), BREIN (Netherlands), Aiplex (India), and Websheriff (UK).
"Operation Payback" attacks to go on until "we stop being angry"