E-Learning
College students are taking social media to a new level, using Web sites like Facebook to communicate with other students about their coursework, according to results of a new survey on student technology use. Nine out of 10 college students say they use Facebook for social purposes, like writing status updates and posting pictures. And the majority, 58 percent, say they feel comfortable using it to connect with other students to discuss homework assignments and exams. One out of four students even went so far as to say they think Facebook is "valuable" or "extremely valuable" to their academic success. The survey was conducted in June by the Educause Center for Applied Research, and was taken by 3,000 students from more than 1,000 colleges.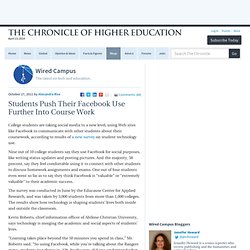 Students Push Their Facebook Use Further Into Academics - Wired Campus
The U.S. Census Bureau conducts demographic, economic, and geographic studies of other countries and strengthens statistical development around the world through technical assistance, training, and software products. For over 60 years, the Census Bureau has performed international analytical work and assisted in the collection, processing, analysis, dissemination, and use of statistics with counterpart governments in over 100 countries.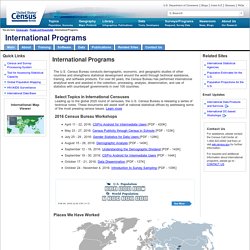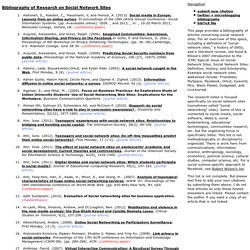 Acquisti, Alessandro, and Gross, Ralph. (2006). In Golle, P. and Danezis, G. (Eds.), .
Seeing Eye to Eye: Predicting Teacher–Student Agreement on Classroom Social Networks - Neal - 2010 - Social Development
Social media in the classroom ~ sites and articles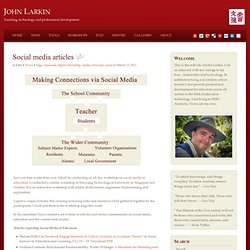 Just over four weeks from now I shall be conducting an all day workshop on social media in education . I conducted a similar workshop at Nanyang Technological University in Singapore last October. It is an interactive workshop with plenty of discussion, argument, brainstorming and exploration.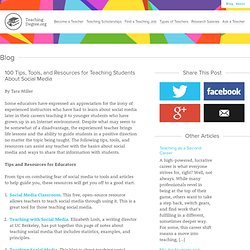 By Tara Miller Some educators have expressed an appreciation for the irony of experienced instructors who have had to learn about social media later in their careers teaching it to younger students who have grown up in an Internet environment. Despite what may seem to be somewhat of a disadvantage, the experienced teacher brings life lessons and the ability to guide students in a positive direction no matter the topic being taught. The following tips, tools, and resources can assist any teacher with the basics about social media and ways to share that information with students. Tips and Resources for Educators
Education Database Online : Colleges, Universities, Schools, Courses, & Degrees
Growing Up Digital, Wired for Distraction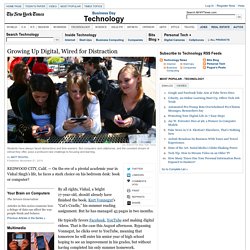 By all rights, Vishal, a bright 17-year-old, should already have finished the book, 's "Cat's Cradle," his summer reading assignment. But he has managed 43 pages in two months. He typically favors , and making digital videos. That is the case this August afternoon. Bypassing Vonnegut, he clicks over to YouTube, meaning that tomorrow he will enter his senior year of high school hoping to see an improvement in his grades, but without having completed his only summer homework. On YouTube, "you can get a whole story in six minutes," he explains.
Facebook is an enormous social network currently closing in on 700 million users, but it started on college campuses and that's where it still rules. About 96 percent of students use the site, according to Online Education , an Internet database that serves as a resource for prospective students. What effect has it had on them and their studies? "In the end, the question isn't so much whether Facebook makes you a better student -- it's how can you best manage its presence in your life and studies," Peter Pachal wrote at PC magazine . "After all, the social network has become so integrated into student life, it's almost a prerequisite. Students can't just shut it off, but they can find its proper place in between textbooks and dorm rooms."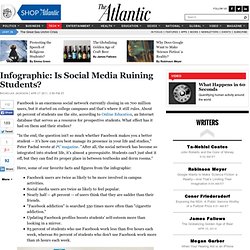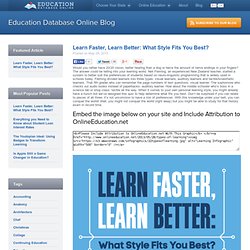 Studying the Long-Term Effects of Online Education Online learning has grown into an integral element of higher education. No longer an experimental novelty practiced by a handful of tech-loving pioneers, digital classrooms have enjoyed a steady surge in popularity for their low cost and ease of access. But you can't change the way people approach learning without permanently impacting a few things along the way.
Education Database Online Blog
learningweb2 - Table of tools for blogs or wikis