Text
Nice job! | Funny Pictures, Images & Really Very Funny Pics. Cute animals videos too.
how to impress people - humor and jokes about men & women
gandalfordumble.png (PNG Image, 504x1507 pixels)
Garden
stress picture on VisualizeUs
10 Most Popular Autocorrects From December, 2010
john-handcock1.jpg (JPEG Image, 410x1749 pixels)
alien-contact.jpg (JPEG Image, 698x1899 pixels)
108801_700b_v1.jpg (JPEG Image, 600x720 pixels) - Scaled (85
"Internal Debate" by Streeter Seidell - CollegeHumor Article
10 cents a minute
You just reached me...
Un progetto ironico e geniale di Jared Wunsch e Hans Johnson. Le stampe si possono acquistare online ma la cosa più divertente è inviare le proprie submission e vedersele pubblicate sul sito. Altri esempi dentro al post. UPDATE: si può scaricare gratis l'app per iPhone da qui.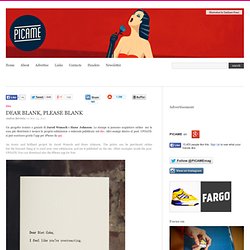 DEAR BLANK, PLEASE BLANK - Pìcame – Visual arts smugglers.