Basteln
Best of DIYs | Leather Passport. Continuing with our summer series of Best of DIYs we bring you this pretty fab project by Alicia Jepsen of Jepsen LeatherGoods.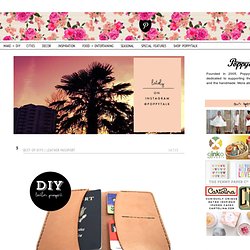 Back in 2011 Alicia shared how to make this leather passport holder with us, and we're happy to dig it out of the archives - perfect for a summer DIY we think! Check it out below! Guest DIY post by Jepsen LeatherGoods How to Make Your Own Leather Passport Holder by Jepsen LeatherGoods What You Need: Schmuck-schule - Sie können es selber machen. Lucky Wishing Stars Tutorial. You've probably seen these little puffy origami stars before.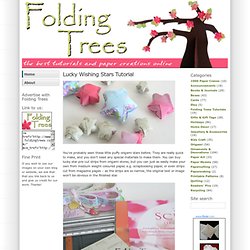 They are really quick to make, and you don't need any special materials to make them. You can buy lucky star pre-cut strips from origami stores, but you can just as easily make your own from medium weight coloured paper, e.g. scrapbooking paper, or even strips cut from magazine pages – as the strips are so narrow, the original text or image won't be obvious in the finished star. Anti-clockwise from top left: pre-cut strips, paper cutter, scrapbook paper, magazine page. Now on to the tutorial! Christmas tree ornament mobile. This year we decided to do something a little different with our tree and I created this Christmas tree mobile consisting of ornaments suspended on clear threads.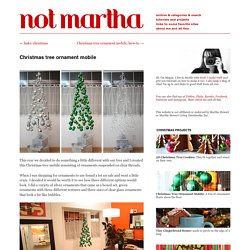 When I was shopping for ornaments to use found a lot on sale and went a little crazy. I decided it would be worth it to see how three different options would look. Hot Cocoa Kit. HOW-TO MAKE A HOT COCOA KITby Destri of The Mother Huddle There just isn't much that a three year old can create that isn't something only a mother would love.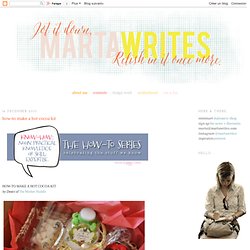 I thought and thought about what my little boy could make his friends for Christmas and finally came up with a Hot Cocoa Kit. Over the course of a week we worked on little projects to add to the kit, and I can't tell you how much fun we had with it. He got to mash things, melt things, sprinkle things, dip things, fill things....all sorts of sensory play. Photo Sun Catcher. Materials: 6"-square clear and colored acrylic panels clear window decal film for ink-jet printers (available at crafts stores) photos computer and ink-jet printer drill 1/8" drill bit 1/2" book rings (available at office supply stores) spray glue craft knife ruler1 yd ribbon or cord for hanging Instructions:ENLARGE photos to at least 7" square (to cover 6" acrylic panel with room to trim) photo and print onto window decal film using ink-jet printer, following directions on film package.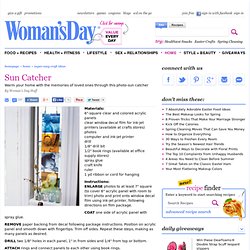 COAT one side of acrylic panel with spray glue. REMOVE paper backing from decal following package instructions. Position on acrylic panel and smooth down with fingertips. DIY. Guest post by Heather Grace Green of Garland of Grace I had this idea for a while and finally decided to do it.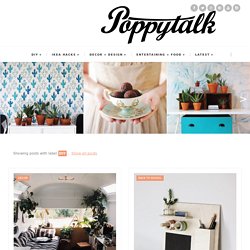 It's super easy (because that's what I'm about) and spices up a boring mug with some simplistic, classy, fun style (because that's also what I'm about). DIY Braided Bead Bracelet. It's been awhile since our last bracelet DIY.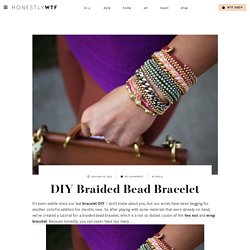 I don't know about you, but our wrists have been begging for another colorful addition for months now. So after playing with some materials that were already on hand, we've created a tutorial for a braided bead bracelet, which is a not so distant cousin of the hex nut and wrap bracelet. Because honestly, you can never have too many . . . You'll need: Cut the waxed linen cord into a 26″ and 19″ piece.
Villa Venga: Kreative Bezüge für Ikea-Möbel | Home Insider. Quelle: villavenga.com Viele von uns sind regelmäßig Kunde bei Ikea, doch so schön die Ikea-Möbel auch sein mögen, die Massenfertigung hat einen Nachteil: Jeder kennt die Stücke, jeder hat sie und man sieht sofort, dass es sich um Ikea handelt.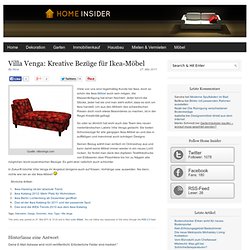 Um aus den Möbeln des schwedischen Riesen doch noch etwas Besonderes zu machen, ist in der Regel Kreativität gefragt. So oder so ähnlich hat wohl auch das Team des neuen niederländischen Labels Villa Venga gedacht. Sie bieten Schonbezüge für alle gängigen Ikea-Möbel an und das in auffälligen und manchmal auch schrägen Designs. Seinen Bezug wählt man einfach im Onlineshop aus und kann damit seine Möbel immer wieder in ein neues Licht rücken. Platform 21 - Flatpack re-arranged. Tutorials. Baby-Wickeltaschen - CAYS. Pop Art Poster: Become a pop icon! First time here?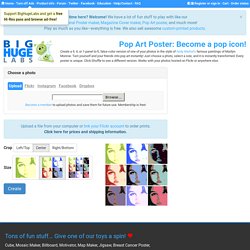 Welcome! We have a lot of fun stuff to play with like ourMotivational Poster maker, Magazine Cover maker, Pop Art poster, and much more! Play as much as you like—everything is free. Origami School - Gibbon. Initiative Handarbeit | Modelle. House diorama. Left: The actual house, Right: The paper diorama I always ALWAYS forget to photograph these before I put them under glass.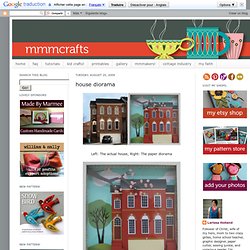 Then I have to deal with the ever present glare and reflection of myself in the glass. Erg. Sorry. Our wonderful friends, the Smileys, hosted our family last May at their house near Washington D.C. Kids' Crafternoon Book Giveaway. I'm happy to be part of the blog tour for the new kids' crafting books from Kathreen Ricketson of Whip Up. Kids' Crafternoon Sewing and Kids' Crafternoon Papercraft are published by Australian publisher Hardie Grant, but you can also find the books online in the U.S. from independent sellers through amazon.
Kathreen compiled and edited this series of books with many different contributors (including me), who developed 25 projects for each of the books. Two more books in the series will be available this fall — beading and felting. As with all of Kathreen's kid projects, they seem to be "kid-tested, mother-approved". Workshop: Teeadventskalender. Ja, ist den schon Weihnachten? Auf Wunsch der Stempelhühner habe ich, mitten im Sommer, einen Workshop für meinen Teeadventskalender entworfen *g Materialbedarf:Teebeutel im Kuvert (vorzugsweise 24 verschiedene)1 Bogen Cardstock oder Tonkarton 30,5 x 30,5cm1 Bogen Scrapbookpapier 30,5 x 30,5cmcolorierter StempelabdruckMoosgummiAusdruck: "Titel" und "Zutaten" (siehe weiter unten) auf dickem DruckerpapierAusdruck: "Sprüche 1-24" (siehe weiter unten) auf dünnem DruckerpapierWerkzeug: Schere, Klebestift, Falzbein, Lineal, Cutter, Bleistift, Radiergummi, Stempelkissen zum WischenÜbertragt die folgende Vorlage auf den Cardstock/Tonkarton.
(studs and pearls) Rodgeblog. Mosaik aus Gips » unikatissimas. Häkelblumen - farbenmix-de. Welcome to the heart of Here you will find: basic sewing tips, step-by-step photo instructions to all of our farbenmix patterns, detailed sewing instructions, a lot of design examples and many more. What is the best way to copy a pattern? Handmade Berlin | Etsys Deutscher Blog. Ugly bunny pincushion and bag charm (with patterns) Making a pincushion is a delicate task. Ofcourse, you don't want to make it so cute that you don't want to jab your collection of pointy things in it. On the other hand, you'll also want to make it look cool enough, otherwise you're reminded of your failed project every time you go crafting! Espandrilles mal etwas anders @creadoo! Lifestyle, Dekoration, Basteln und mehr... Creative Studio. Download Projects for Cards, Games, Gifts & More. Pipe Cleaner Creatures -- Martha Stewart Crafts.
Gehäkelte Pantoffeln für jeden in 2 Stunden @creadoo! Lifestyle, Dekoration, Basteln und mehr... Schleifen binden @creadoo! Lifestyle, Dekoration, Basteln und mehr... Tiny Polaroid Magnets | { Ambrosia Girl }
---